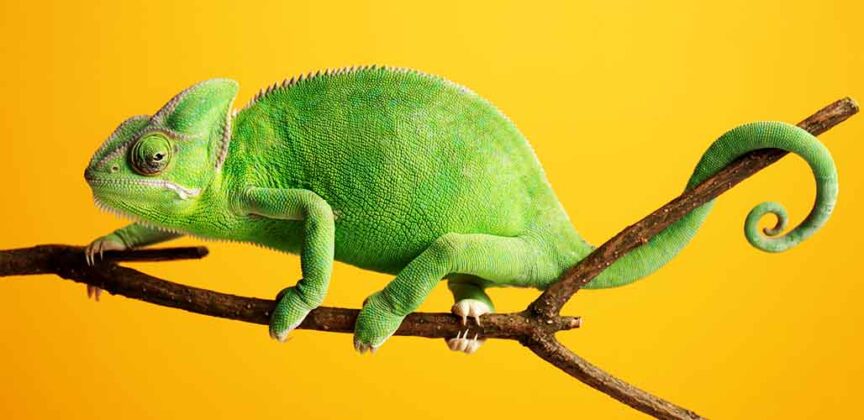 Chameleon names should be as cute, curious and active as these delicate pet lizards. Pet chameleons aren't the longest living reptile companions, but their amazing colors, changing appearance and sensitive souls make them a brilliant choice for experienced reptile owners. And these fragile pets need strong, awesome Chameleon names. Today we'll share dozens of ideas that will fit any baby chameleon perfectly.
Chameleons are quite unusual pets, but this popular little reptile is becoming a more common sight in domestic settings. Whether you're naming a new pet, or simply searching for cool chameleon name inspiration, we've gathered together over 175 ideas for you to choose from. Whether you want to choose a famous name, like Pascal, the chameleon from Tangled – or something a little more unique! The best chameleon names can be funny, cute, or clever! We take a closer look at over 175 ideas to help you find the perfect name choice. Let's get started with some of our favorite chameleon names.
Our Top 25 Chameleon Names
Beady
Cameron
Cheeky
Chloe
Clown
Colin
Dino
Gaudi
Giggles
Greta
Karma
Kooks
Leon
Mystique
Ninja
Pedro
Pogo
Poppy
Rainbow
Rango
Spud
Stripe
Violet
Warhol
Zuko
Chameleon names are fun to plan and create. But, if you're looking for something specific, our different sections might help. Let's kick off with some human names for your new reptile!
Female Chameleon Names
Arya
Beth
Brooke
Cassie
Dinah
Ellie
Faye
Gail
Harriet
Imogen
Joy
Justine
Katherine
Louise
Mollie
Opal
Pansy
Quinn
Rochelle
Sadie
Tilly
Uma
Wendy
Yvonne
Zoe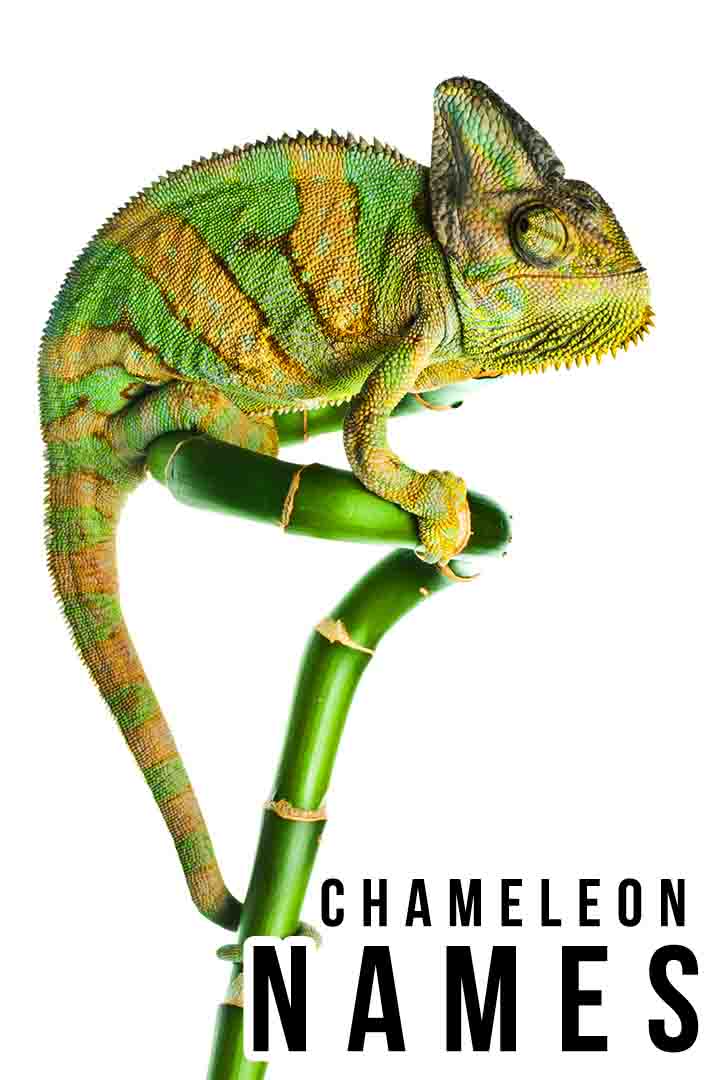 Male Chameleon Names
Andy
Biron
Charlie
Chidi
Drew
Ethan
Frank
George
Gino
Harry
Ian
James
Kai
Kylo
Liam
Max
Noah
Oscar
Pete
Ryan
Simon
Tyler
Vinny
Wyatt
Zeke
There are thousands of wonderful female and male name ideas available. Baby name websites are a great source if you're looking for a human name, but haven't found the perfect one above!
Cute Chameleon Names
Acorn
Adora
Bean
Bear
Blossom
Blush
Bubbles
Button
Cloud
Cupid
Daisy
Duke
Faith
Fizz
Fudge
Hope
Luna
Minnie
Petal
Princess
Scooby
Snoopy
Tink
Toffee
Willow
Human-sounding names aren't for everyone. So, perhaps one of the cute name ideas above will be better-suited to your chameleon!
Funny Chameleon Names
Bashful
Camilo
Camo
Chamillionaire
Chamwow
Charmander
Chomper
Frodo
Ghost
Lizzo
Lost
Magician
Marco
Mask
Morph
Nemo
Phantom
Predator
Teller
Tie-dye
Transformer
Vanisher
Waldo
Whereisit
Wizard
Funny names are a great way to make people smile when introducing them to your reptile!
Cool Chameleon Names
Aang
Axel
Banksy
Blade
Bolt
Buffy
Captain
Cobra
Dragon
Harley
Hiro
Hunter
Gunner
Jigsaw
Jinx
Maddox
Mona
Moss
Ox
Punk
Shark
Sketch
Spike
Vamp
Viper
Chameleons are cool reptiles! So, perhaps one of the cool names in our list will be the right choice for your new pet.
Badass Chameleon Names
Aragorn
Bane
Brienne
Bucky
Gandalf
Geralt
Goblin
Hela
Katara
Kira
Loki
Mac
Mandalorian
Moirane
Palpatine
Ripley
Sabrina
Smaug
Starbuck
Stark
Thor
Venom
Vin
Wanda
Yoda
There's plenty of awesome inspiration available if you're looking for a badass name. Why not choose a character from one of your favorite shows or movies?
Caring for a Pet Chameleon
Chameleons can make cool, unusual pets, but they have some very specific care needs that must be fulfilled. So, make sure you're fully prepared before bringing one home! If they aren't properly looked after, they can experience some nasty health issues.
Like most reptiles, chameleons need plenty of space to roam and mimic their natural environment. The specific care needs of your chameleon will partly depend on the type of chameleon you own. So, do plenty of research to ensure that you're offering the best possible care. Veterinarians that specialise in reptiles can be a great source for advice and help, so check if there are any in your local area.
What Name Did You Choose?
Did you choose a name from one of our lists, or have you thought of an even better option for your new chameleon? Make sure to leave your favorite name ideas in the comments!
Readers Also Liked
References and Resources
McGeough, R. 'Furcifer Pardalis (Panther Chameleon) – A Brief Species and Details on Captive Husbandry', Biology, Engineering, Medicine and Science Reports (2016)
Diaz Jr, R. (et al), 'Captive Care, Raising, and Breeding of the Veiled Chameleon (Chamaeleo Calyptratus)', Cold Spring Harbor Protocols (2015)
Loeb, J. 'Reptile Illness is Caused by Bad Husbandry', The Veterinary Record (2018)