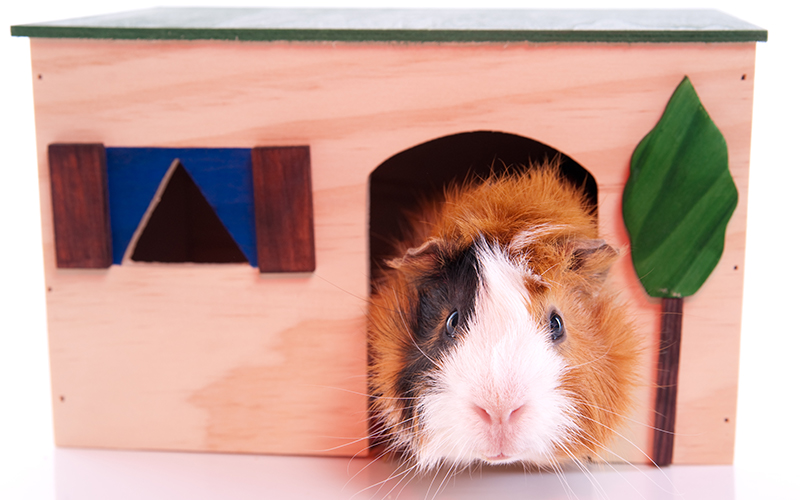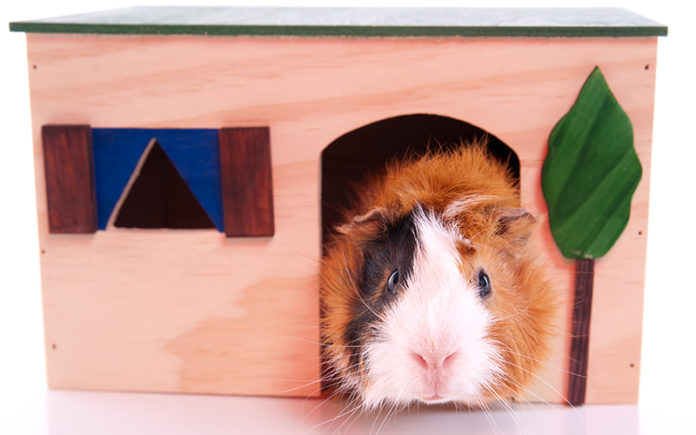 Welcome to our complete guide to the best guinea pig houses, caves and other hiding places!
Approximately two percent of Americans are guinea pig parents.
This works out to just under 6.5 million people in the United States alone who share your love of cute, precious guinea pigs!
Not surprisingly, a full 60 percent of your fellow pet owners also think life "with pet" is much better than life "without pet."
This in turn translates into plenty of time contemplating more ways to enrich a pet guinea pig's life, whether through toys or hideaway huts or treats or something else.
But with our hectic schedules and the sheer volume of choices, it can be so hard to know what is best to get for our pets!
For instance, perhaps you know your guinea pig needs a hideaway for snoozing and resting, but which one should you get?
We are here to help you with this! Read on for a personally curated list of the very best guinea pig house ideas and options in a variety of categories!
We hope you will find the absolutely perfect indoor guinea pig house as you read this list, and we can't wait to hear which one you choose.
What is a guinea pig house?
There are two different types of guinea pig houses. There is the main structure, or house, that encloses your guinea pigs in safety as they eat, rest, play and explore.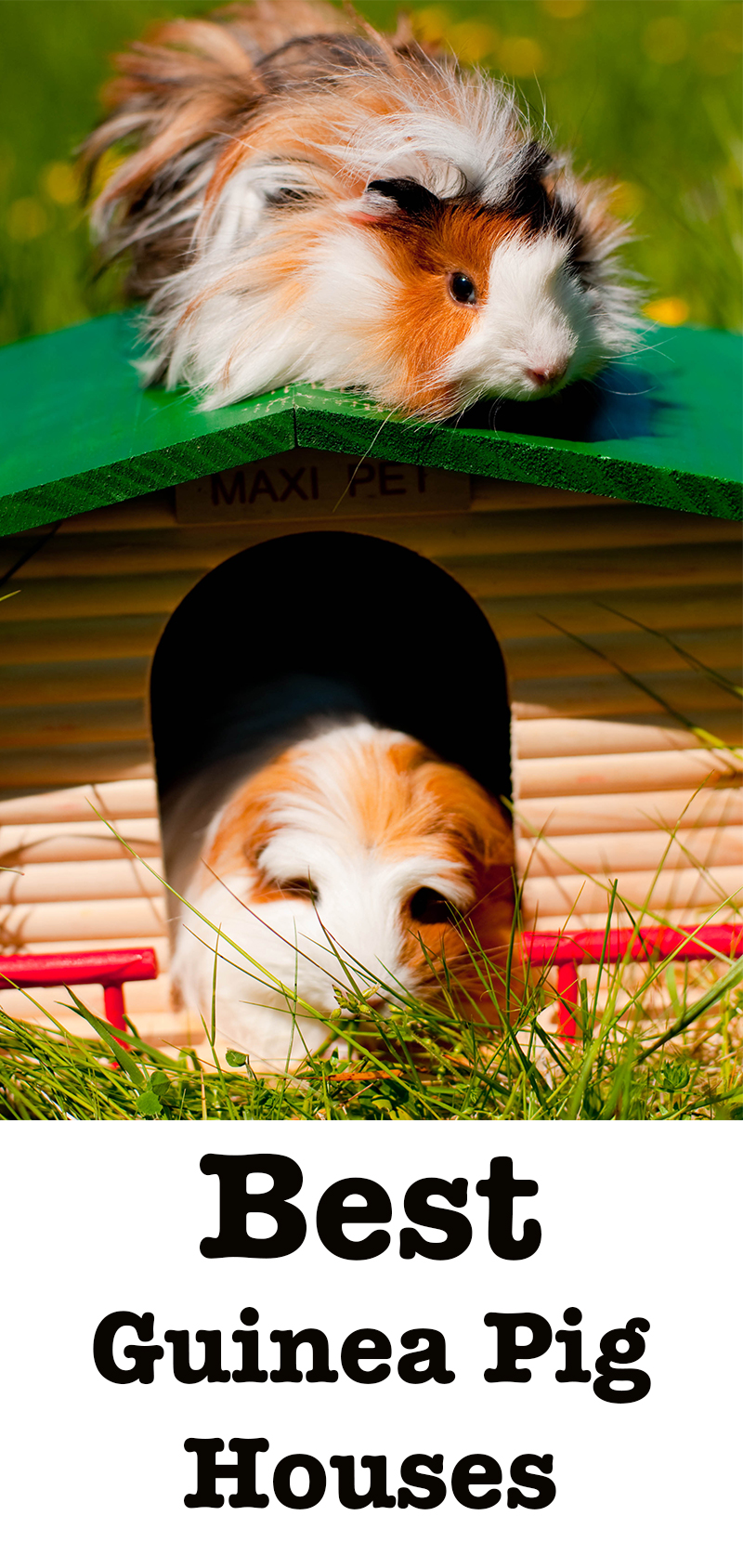 And then there is the interior guinea pig house that your piggie can use for resting, nesting, snoozing, or just "taking a break from it all."
We have presented a wonderful curated selection of main housing structures you can use for guinea pig cages/hutches in these detailed articles:
Best Indoor Guinea Pig Cages
Best Guinea Pig Runs and Playpens
We highly recommend that you read through this article to learn about veterinarian-recommended minimum cage sizes for one or multiple guinea pigs housed together.
Here, in the following article, we introduce our top picks for an interior guinea pig house (also called a cave, hide, hideout hut, or hideaway) that your piggie can retreat to for some daily R&R.
Guinea pig hide house safety
When you are selecting a guinea pig hide house to place inside your main guinea pig hutch or house, there are a few safety features you will want to keep foremost in mind:
Guinea pigs cannot climb
Steer clear of top-mounted hide houses, since your guinea pig won't be able to access them easily and the risk of accidents is high.
Rather, look for freestanding or side-mounted hide houses (some of these can save a precious bit of floor space if you are housing multiple piggies in one smaller structure).
Pay attention to materials
You can pretty much expect your piggies to give the new hide house some personalized chewing attention, so you want to be sure you pick a hideaway that is made from guinea pig-safe materials (wood, plastic, cloth, et al).
Sanitation
Some of the hide houses featured here are three-sided and some are fully enclosed.
If the hide you select has a floor, you will need to decide how to handle daily hide hut sanitation, which is incredibly important for guinea pig health and safety. One good approach is to insert a liner or some hay that you can easily empty out and clean and/or replace as needed.
Hideout size
If you have more than one piggie being housed together, it is important to pay close attention to how roomy a particular hideout is.
Some of the following guinea pig houses will accommodate only a single piggie at a time, while others may accommodate two or even more guinea pigs at one time.
Single or multi-pig use
It is now known that guinea pigs, while they love being together, can also benefit from having some time to themselves daily in solitude away from their cage-mates.
So even if you have multiple piggies housed together, you might consider opting for a package of two or three single hideaways so each pig can have their own personal hide.
Wooden guinea pig houses
Wooden guinea pig houses can feel quite realistic and homey to your piggies. These wooden guinea pig huts come highly rated by pet owners and guinea pigs!
Kaytee Woodland Large Guinea Pig House
Kaytee Woodland Get-A-Way Large Guinea Pig House.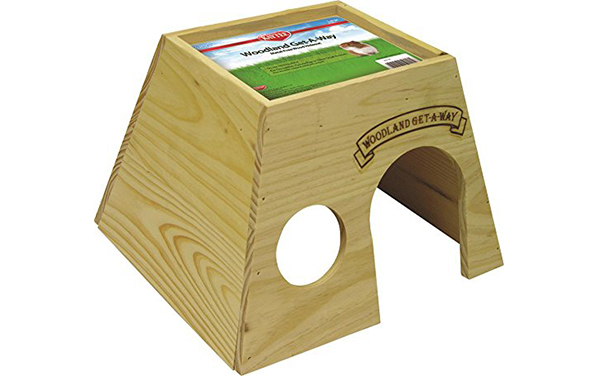 This lovely, roomy wooden guinea pig house is made out of all-natural, pet-safe wood. It can be used as a nesting site, hideaway house, sleeping nook, or all three!
The dimensions are 9L X 10W X 7H inches.
Prevue Pet Products Wood Guinea Pig House
Prevue Pet Products Wood Hut. This cute little wooden guinea pig hide house has one top and one side entry/exit hole and an extra side cut-out entry/exit.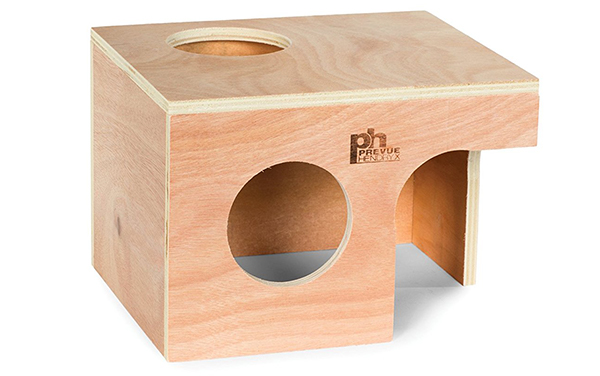 It is made of unvarnished wood. The dimensions are 10L X 8.375W X 7H inches for the hut made specifically for guinea pigs to use.
Plastic guinea pig houses
These fun and durable plastic guinea pig houses both have unique shapes and extra features so your piggie won't get bored with "in cage" time each day.
Kaytee Igloo Guinea Pig House
Kaytee Igloo Hideout cute plastic guinea pig house is shaped just like an Eskimo igloo. In fact, some doting pet owners even call it a "pigloo guinea pig house" for just that reason!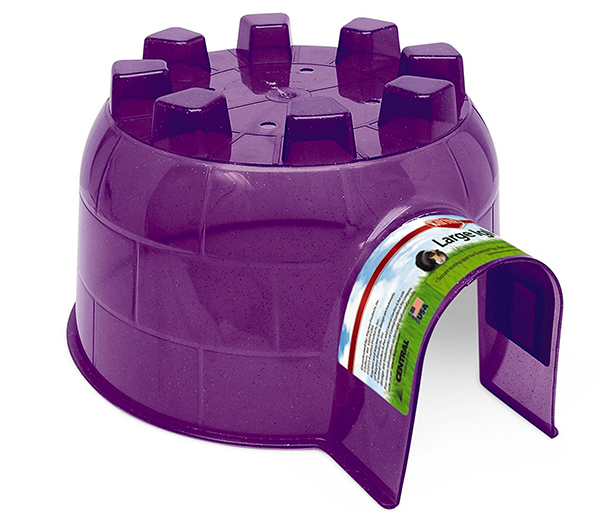 You can choose from three packages (1 single house, 2 houses, three houses) which is good if you have several piggies.
There are two house sizes (mini: 6.5L X 7.87W X 3.62H inches, large: 10.25L X 12.25W X 6.5H inches). The large is a better choice for guinea pigs.
Guinea Pig Barn House
JW Pet Walk Up Small Animal Barn. This unique guinea pig plastic house offers two options: your piggie can walk up the stairs to have a little look-out point at the top, or she can crawl inside to rest and nap.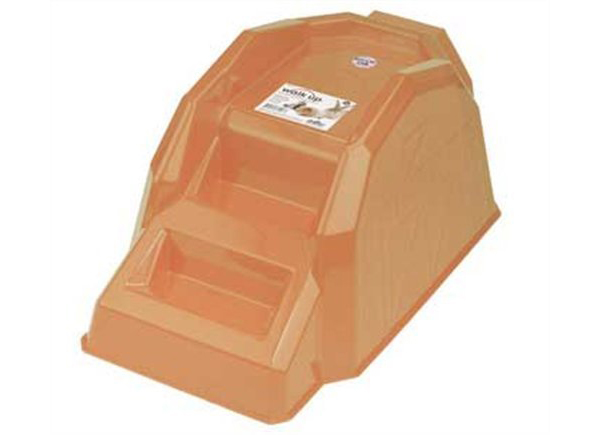 The house comes in four sizes to accommodate a single guinea pig or multiple pigs at once.
The plastic is somewhat translucent and resistant to odors. The color of the house varies by the size. Owners say the large size can fit two regular size adult guinea pigs.
Straw guinea pig houses
Straw guinea pig houses may require replacement faster than the wooden and plastic hideaways, but they can sure be fun for your piggie because they are so chew-friendly!
Grass Guinea Pig House
Prevue Hendryx 1097 Nature's Hideaway Grass Hut Toy. This rustic and super cute guinea pig house is hand-woven from natural sisal grasses to serve as a burrow, tunnel, and hideaway house for a single pig.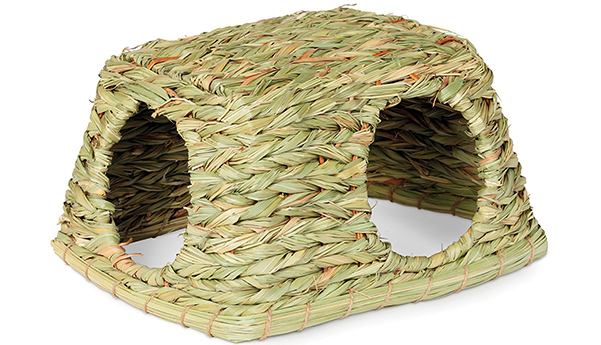 Its dimensions are 11L X 9W X 6H inches. There are two entry/exit holes, each roomy enough for even "big boned" pigs to enter and exit easily according to guinea pig owners.
Willow Guinea Pig House
Ware Manufacturing Hand Woven Willow Twig Tunnel. This lovely little tunnel hideout is hand-woven out of all natural renewable willow and is safe for chewing.
The large size is roomy enough for a guinea pig at 8W X 10L X 7H inches. Owners say the natural wood and hand-weaving can make the structure somewhat warped looking, but their pets love it and the fact that it has no bottom makes it easy to clean.
Grass guinea pig houses
These grass guinea pig houses go the extra mile to provide your piggie with maximum enrichment. They are soft and comfy, cozy and protected, and also chewable.
What could be better than that!
Guinea Pig Hay Tunnel House
Oxbow Timothy Hay Tunnel. This hay-based house guinea pig option is a sure win because of what it is made of.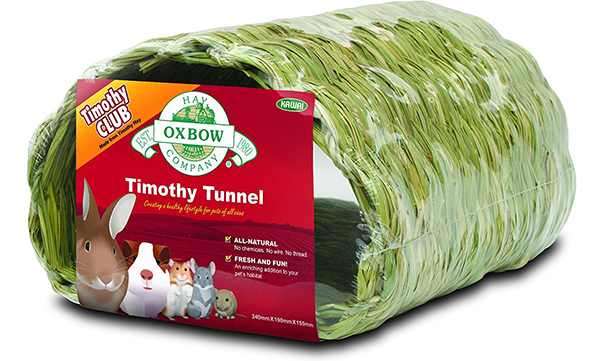 The Timothy hay used to make this tunnel hideout is untreated, high fiber and all natural. The dimensions are 7H X 7.5W X 10L inches.
It has an enclosed bottom so you will need to watch how your piggies use it for sanitary reasons, but pet owners say their guinea pigs just love it!
Guinea Pig Grass Tunnel
Prevue Hendryx 1098 Nature's Hideaway Grass Tunnel Toy. This highly rated multi-purpose guinea pig indoor house makes resting, nesting and exploring more fun for your guinea pig – and tastier too!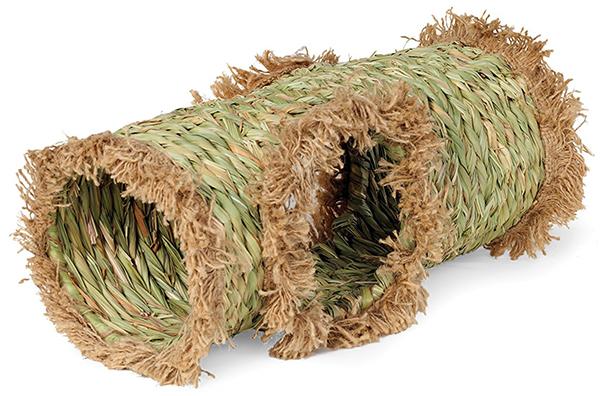 It is made of natural couch grass, which is safe for guinea pigs to chew on. The structure is hand-woven and the dimensions are 13.5L X 6W X 6H inches.
Cloth guinea pig houses
If you have ever cuddled up in a sleeping bag or a soft, fleecy throw on a chilly night, you already know what the main appeal of these cloth guinea pig houses will be for your fur babies!
While a cloth-based hideaway won't ever be as durable or long-lasting as a plastic or wooden hut, the comfort they have to offer will be well worth the trade-off!
Hanging Cloth Guinea Pig House
Amariver Hammock Hanging Bed Toy House Cage. This adorable cozy and comfy cloth hanging guinea pig house comes with three clips for attaching it to the sides of the cage, which may save a bit of floor space in smaller habitats.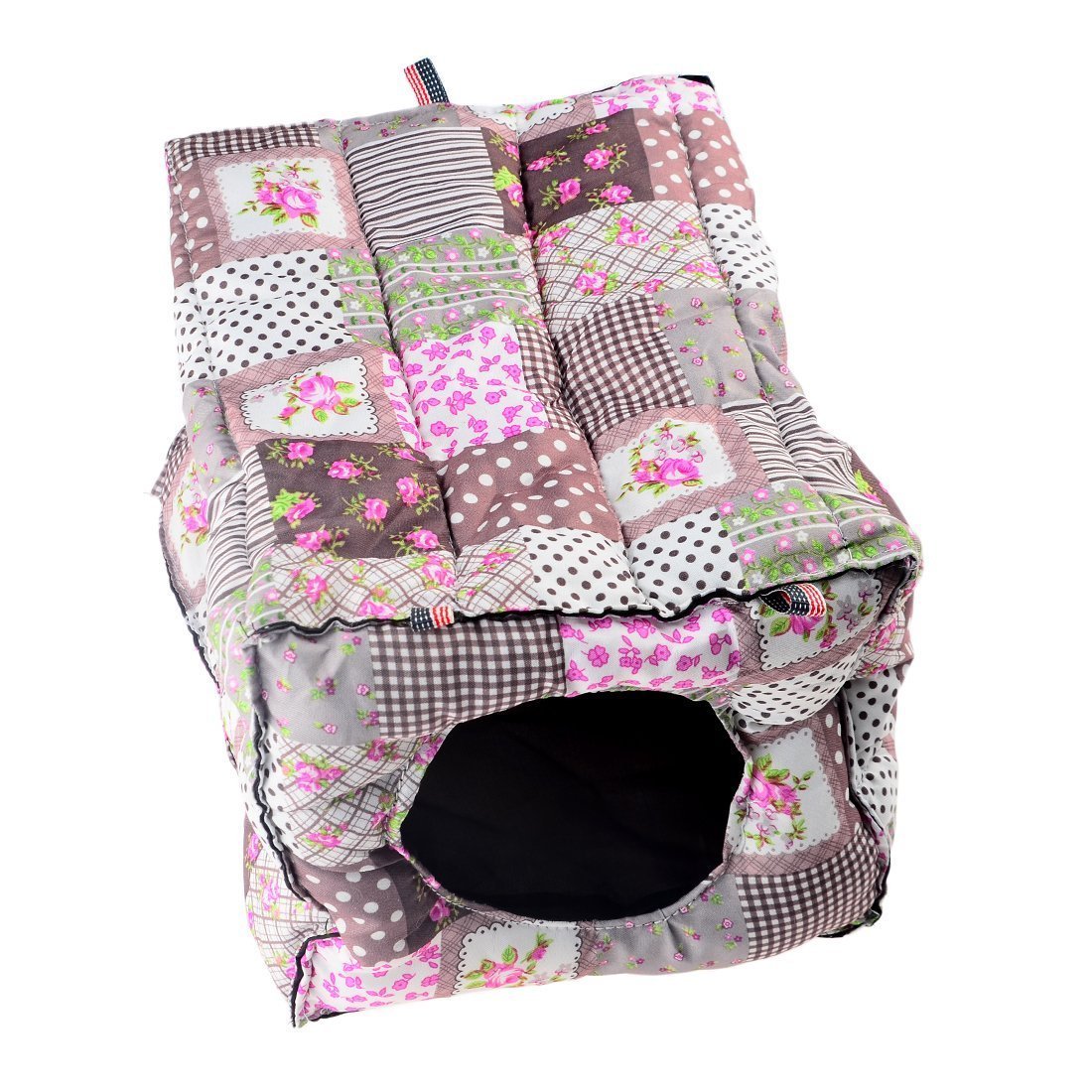 It isn't going to be the sturdiest hideaway in the bunch, but pet owners say their pets just love it.
The exact dimensions are not listed by the manufacturer, and the colors will be selected automatically for you when you order.
Hammock Cloth Guinea Pig House
Mkono Cozy Warm Hammock Hanging Tent Bed House. This fun little cloth hideaway is made of a thick and warm fabric that encloses your piggie on three sides.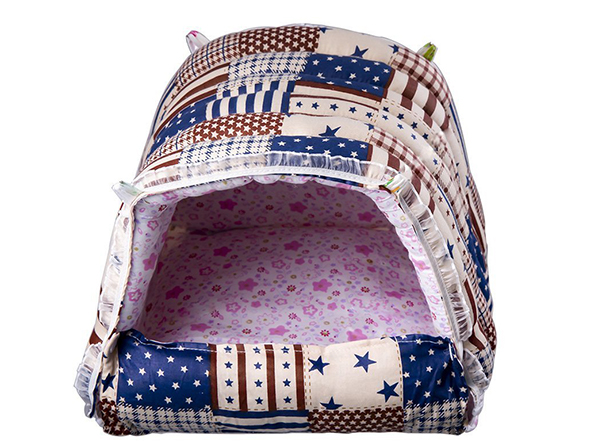 The front door area is left open for ventilation. This hut comes in four sizes (small, medium, large, X-large).
The manufacturer suggests using the large (8.6L X 7.8W X 7.1H) or X-large size (11.8L X 11.8W X 9.4H inches) for guinea pigs.
Cool guinea pig houses
As we learn more and more about animal intelligence and enrichment needs, pet products like guinea pig hides are becoming more creative and innovative every day.
These super cool guinea pig houses have clearly been constructed with a guinea pig's enrichment and environmental needs and habits in mind, and we just love them!
Tree Trunk Guinea Pig House
Kaytee Natural Tree Trunk Hideout. This hideout is a highly rated favorite among cool guinea pig houses by pet owners.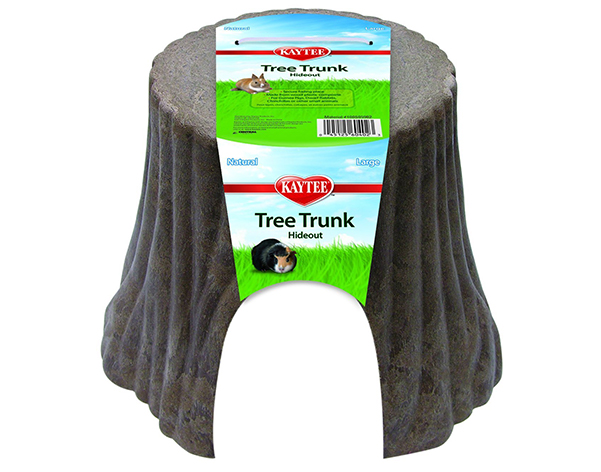 It comes in two sizes but only the large is roomy enough for guinea pigs. The dimensions of the large are 10.75L X 10W X 8H inches.
This hideout is available for order in a single or a two-pack. The material is a wood and plastic composite and the visual effect is of a large up-turned tree log.
Guinea Pig Treat House
eCotrition Snak Shak Guinea Pigs House Pet Treat. This is one of the neatest guinea pig house ideas ever.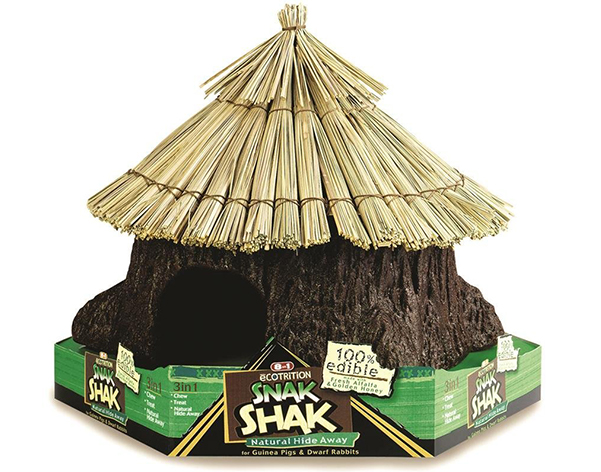 It is part snack, part hideout, part toy – and best of all, it is 100 percent edible (made of alfalfa and golden honey)!
The Snak Shak is also really cute with a thatched roof and realistic-looking tree trunk walls. The dimensions of the large size Shak are 14L X 13W X13H inches.
Guinea pig house for two
With the exception of Syrian guinea pigs, who absolutely must be housed alone, most other domestic guinea pig species much prefer companionship with other guinea pigs as well as with you. This can mean having to "up-size" everything, from the exterior habitat/cage to the interior hideaway hut you select.
Here, finding a suitable guinea pig house for two can depend on each guinea pig's full adult size and weight.
For instance, some breeds of guinea pigs are as petite as 7 inches long (17.78 cm) when fully grown, but others can grow up to 14 inches (35.56 cm) before reaching their full adult size.
In the same way, some guinea pigs will top out around 1.5 pounds (700 grams) at their full adult weight, while others may keep growing until they reach 2.5 pounds (1100 grams).
Best Large Guinea Pig Houses
These roomy guinea pig houses are more likely than most others to accommodate two adult guinea pigs at the same time.
Giant Guinea Pig Igloo
Kaytee Igloo Hideout, Giant Size. This giant-size version of the Igloo hideout listed in the earlier section on plastic guinea pig houses here could be considered a "pigloo guinea pig house deluxe!"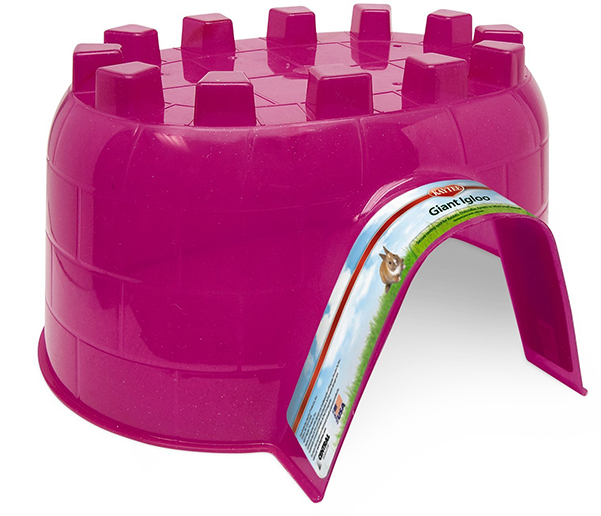 The dimensions are 12.8L x 15.8W x 8.5H inches and guinea pig owners say up to five smaller guinea pigs can fit inside with ease.
Guinea Pig Tent
Living World Tent for Pets. This super roomy tent-like hideaway can definitely serve as a guinea pig house for two, with dimensions of 14.6L X 14.6W X 14.6H.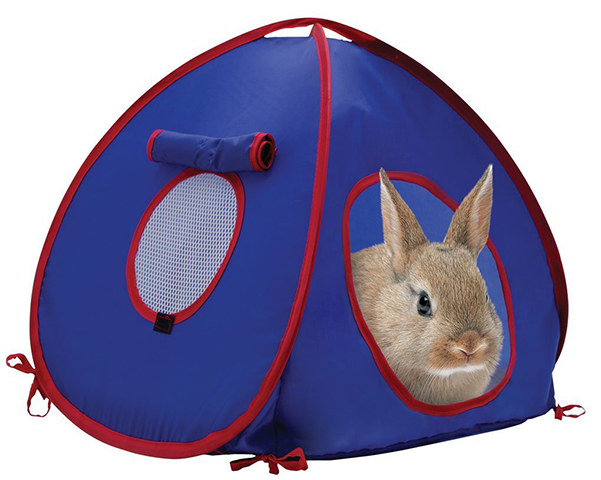 It is a really cute tent replica, complete with rolled up "rain guard" on the side window. The tent is nylon fabric built over a sturdy metal frame.
The color is blue with red trim. Some customers say this will fit a 12 pound cat, so if you have several piggies, they will probably love climbing inside together to get cozy!
Best guinea pig hide houses
We hope you have enjoyed this curated list of houses for guinea pigs!
If you have already decided which guinea pig house you want to use for your piggies, please let us know – we always appreciate recommendations from happy guinea pig parents and satisfied guinea pigs!
If your guinea pig is currently using a hideaway hut that isn't listed here, we would love to know which one it is – and we may even feature it in an upcoming post!
Resources and Further Reading
Newport, F., et al, "Americans and Their Pets," Gallup, 2006.
Olfert, E., M.D., et al, "Guide to the Care and Use of Experimental Animals," Canadian Council on Animal Care, 1993.
Busby, D., BSc(Hons), MBPsS, "How to Train Your Dragon: Behaviour and Training for Exotic Pets," Association of Pet Behaviour Counselors, 2013.
Goldman, J., "The Thoughtful Animal," Science Blogs, 2010.
Grandin, T., et al, "Genetics and the Behavior of Domestic Animals," Behavioral Genetics and Animal Science, 1998.