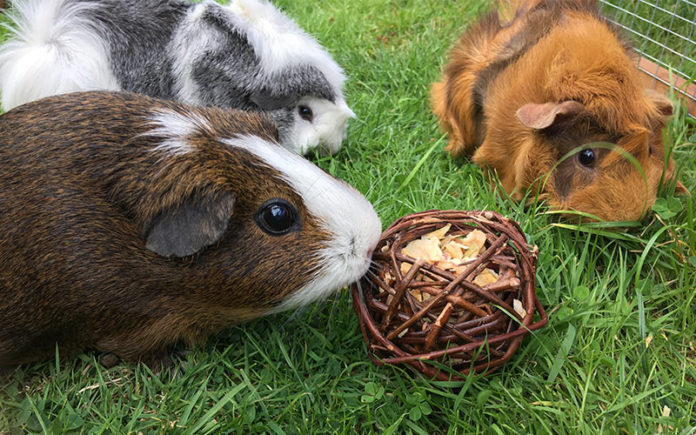 The best guinea pig toys are safe, durable, and fun for your guinea pig to play with!
Guinea pigs love toys that they are able to chew, rather than things to run around in. They might not play in the way you expect them to. Rather than pushing things around, or throwing them in the air, guinea pigs will love munching on their toys!
So, you might want to choose chew toys, or wooden options, like burrowing toys.
Let's take a look at some of our tried and tested guinea pig toys that your cavy is bound to love.
Our Top 5 Best Guinea Pig Toys
Guinea Pig Toys Quick Links
What Is A Guinea Pig Toy? The Importance of Toys for Guinea Pigs
Do guinea pigs like toys? The million-dollar question! And the answer is yes and no…
Yes, guinea pigs like some toys. But also no, possibly not the kind of toys you would instinctively think of as playthings. Good toys for guinea pigs include things that you might chew rather than things they might run around in.

Whilst guinea pigs do like some kind of toys, they probably won't play in the sense that you expect.
They probably won't toss a ball in the air, and may not push it along with their nose. Although some guinea pigs do this, I've never seen it myself in over thirty years of guinea pig parenthood!
What guinea pigs do enjoy however is eating. Chewing can help to keep their teeth healthy. Chew toys for guinea pigs are very popular. They are quite partial to hiding too.
So treat toys and hiding hole toys are good choices.
But what about generic guinea pig chew toys?
Do Guinea Pigs Need Chew Toys?
In order to keep their teeth in tip-top condition, guinea pigs do need to chew.
Chew toys don't need to be toys in the traditional sense, they can simply be an appropriate block of wood! But specially designed wooden chew toys are a great way to amp up the fun factor for a necessary task.
The best guinea pig toys
There are a few simple criteria for choosing good toys for guinea pigs. The criteria change slightly whether you want guinea pig chew toys or wooden options such as burrowing toys.
Durable guinea pig toys are also a must. Keep in mind the fact that they love to chew. Pretty much anything you put in the cage with your guinea pig will have to withstand some serious chewing. Not all of the products are designed to last forever, but it helps if they don't break in the first week.
Guinea Pig cage toys for chewing
All the toys we will cover in this review are suitable as guinea pig cage toys as well as toys to play with in their outdoor run. But there are some guinea pig cage toys I wanted to recommend first.
Because of their popularity with my pets, but also their enduring use. You will seriously get your money's worth here.
Let's start with the wooden flexible bridge.
Safe guinea pig toys
Ensure that the product is suitable for guinea pigs before buying. This means checking that it is the correct size. Also, it should be made out of products that are safe for guinea pigs. Chemical coatings are a no-no. These can make your guinea pig unwell.
Anything that is toxic can create a big risk for your guinea pig.
Also, try and opt for products that don't get sharper if they are chewed or run the risk of cutting your guinea pig.

Wooden Guinea Pig Bridge
My guinea pigs have had a wooden flexible bridge in their cage for several months. Wooden guinea pig toys are very common.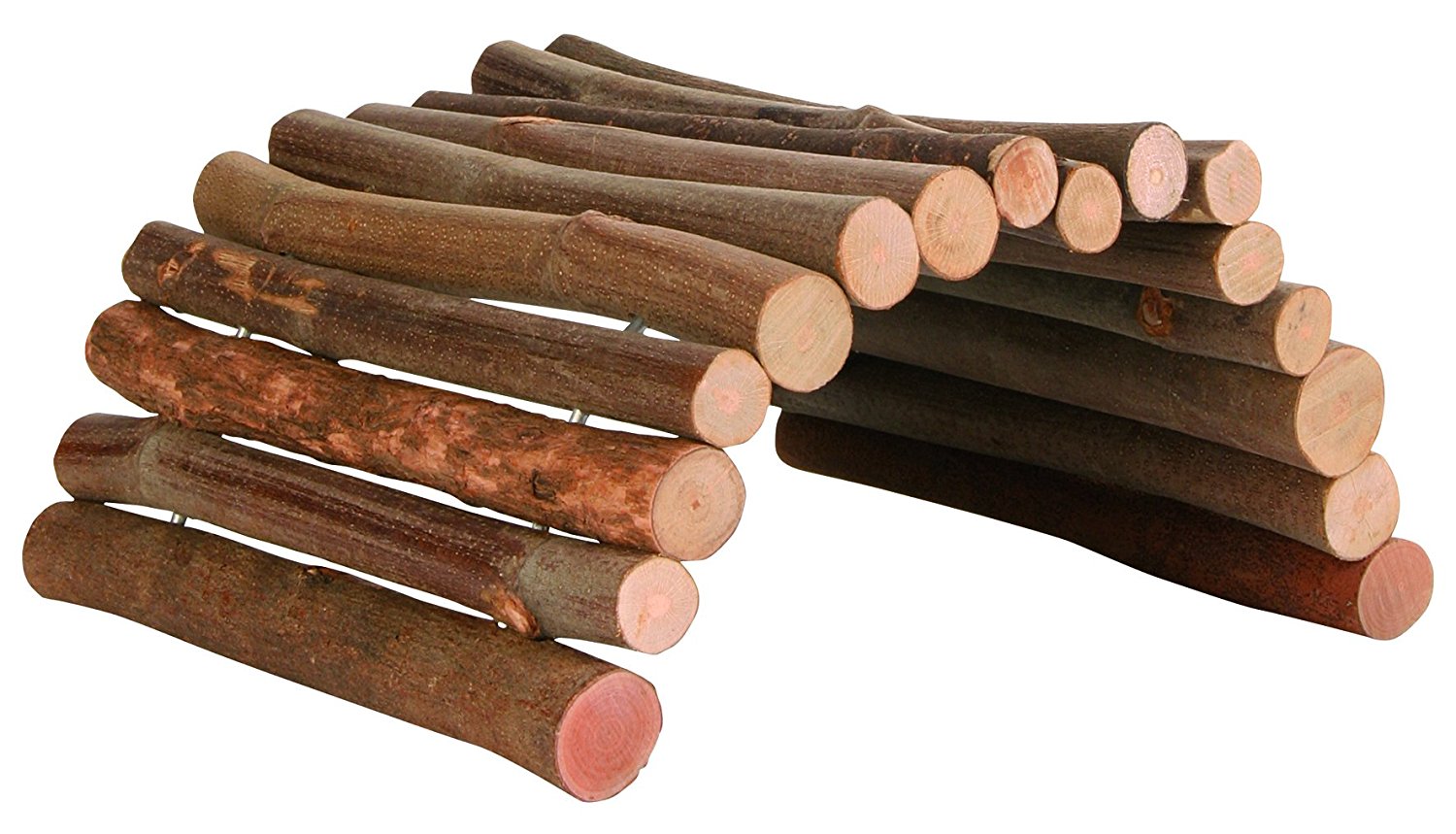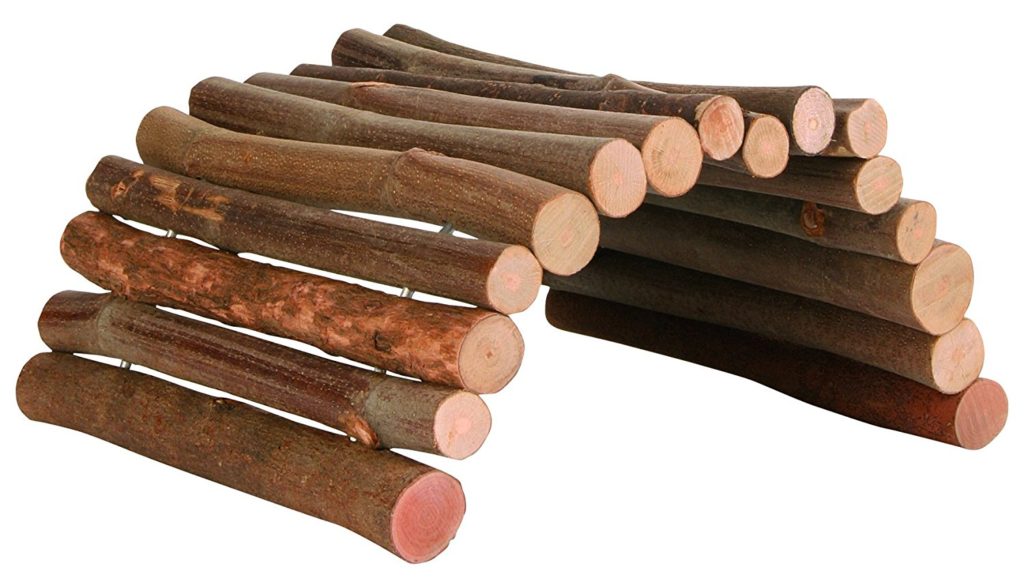 It is regularly chewed and provides them with a great source for this need. The bridge is bendy, although they won't bend it themselves. It just gives them more angles to chew from.
You can order yourself a wooden guinea pig bridge from Amazon here.
Their other firm long term favorite is their wooden tunnel.
Wooden Guinea Pig Tunnel
Wooden guinea pig toys can also come in the form of tunnels. The wooden guinea pig tunnel isn't a tunnel in the crawling through it sense. It's simply a cylindrical piece of hollowed-out wood.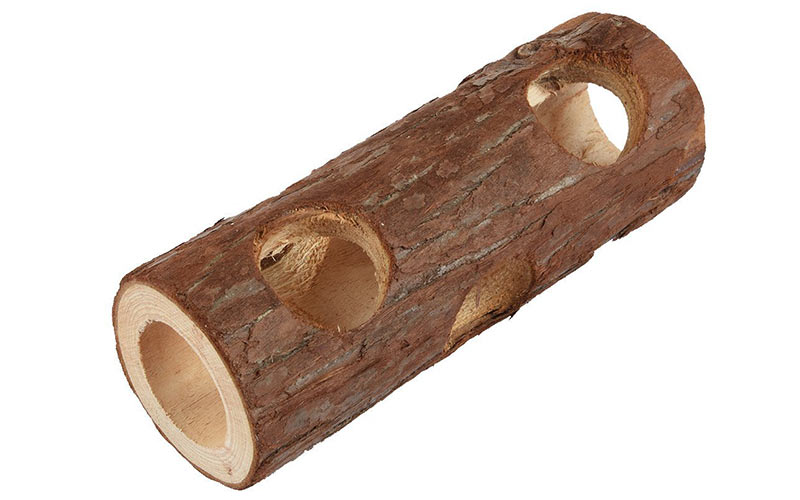 This product can last many months.
A lovely bonus of this is it's a perfect shape to push hay or grass into, which they then have to work to remove. Pop in some of their favorite good and off you go.
Guinea pig treats and toys in one healthy parcel!
You can get your guinea pigs a wooden tunnel online here.
Guinea Pig Ball Toy
Guinea pigs can get a lot out of chasing around balls. Some guinea pigs will enjoy nudging them around the cage with their nose. They're excellent guinea pig exercise toys! They can chew them, which is even better.
The Niteangel Small Animal Activity Toy is a brilliant option for a guinea pig ball toy. They're sold as a multipack. If your piggy chews though one of these, you can be assured you have a backup.
Guinea Pig Chew Toys
Guinea pig chew toys don't have to be the traditional wooden variety. There are a few other options out there, in fun colors or using different materials. I gave a couple of these a go recently, with rather mixed results.
Let's look at the less popular one first.
Kaytee 3 Count Chew Toys
My guinea pigs love spending time on the lawn, munching grass. They get a mixed diet of veggies, hay and guinea pig food, but for most of them grass is always a winner.
So it perhaps wasn't a big surprise when I popped the 3 count chew toys in with them and they didn't get a lot more than a cursory glance.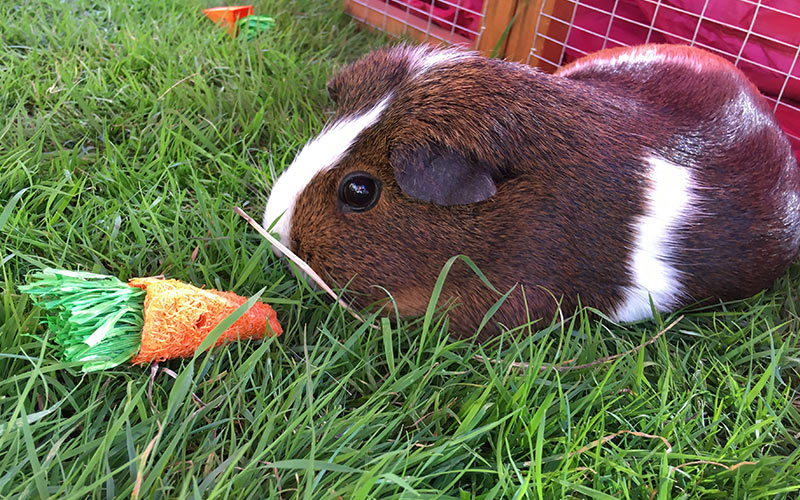 Although one of the girls did spend a fair amount of time sniffing them, they really weren't too impressed.
I thought however that they'd get a better reception overnight, when they are away from their precious grass!
Sadly, not. When I retrieved them in the morning from the night quarters, I could see they were pretty much where I'd left them and barely chewed.
It's interesting and worth mentioning that these do have good reviews on Amazon from guinea pig owners, but my herd definitely were not too bothered in the slightest.
They didn't go to waste however, as I passed them on to my bunny Coco, who loved them!
You can find out more about the Kaytee 3 Count Chew Toys on Amazon here.
Kaytee Nut Knot Nibbler
The Kaytee Nut Knot Nibbler looks like great fun. And it had a very mixed, and eventually somewhat surprising, response from my piggies.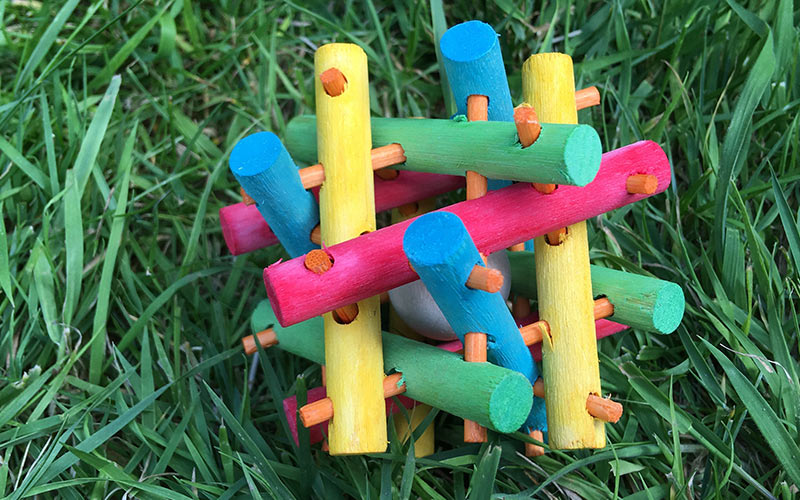 I gave it to the girls first. They sniffed it, were a little interested, but basically once again paid it no attention.
So I passed it along to the boys.
Now, the girls live in a herd of nine. The boys are a pair. For obvious reasons, they live in separate enclosures!
The girls range in age from a year to six years old. The boys are both still young.
I am not sure if their smaller herd or younger age has an impact here, but they loved this toy. In fact, they maybe loved it a bit too much. As it only lasts about twenty-four hours before it was completely destroyed.
So great fun, but not long lasting. I think I will try the one designed for rabbits next to see if that is a bit more durable.
In the meantime you can check out the Kaytee Nut Knot Nibbler for yourself here.
Kaytee Perfect Chews For Guinea Pigs
Of all the new Kaytee toys I've tried, this is my personal favorite.
The Kaytee Perfect Chews. They are a hanging chew toy made up of different sections with various textures. You can click it onto your pig's enclosure and leave it hanging for them to have a nibble on.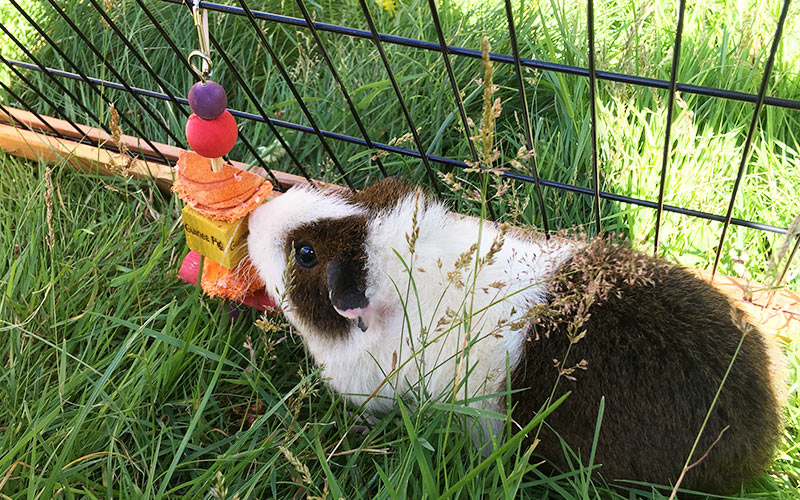 This chew has been a big success. Not only are the boys showing a good interest in nibbling it, but it's holding up well to the test of time. They are definitely chewing it, but it's slow going and after two weeks shows no signs of being destroyed soon.
It is also bright and cheerful, and a pretty addition to your guinea pig enclosure!
Check out the Kaytee Perfect Chews For Guinea Pigs here.
Guinea Pig Play Toys
So we've had a look at some traditional chew toys, but what about playing?
One of the most important things for guinea pigs is companionship. And with nine little darlings in my female herd, there is no shortage of that!
But I still want to make sure that they have everything they need in terms of entertainment. So I have recently been trying out a range of different toys, to see if anything takes their fancy.
Let's take a look at some of those now! And what the piggies thought. Once again, I've taken the liberty of giving you a rating on their behalf.
Guinea Pig Treats and Toys
If you've owned guinea pigs before, you'll know they aren't one to turn away a snack. So lots of toy options include some sort of food.
Here are a couple of the other toys I've tried out recently.
Willow Branch Ball
The willow branch ball combines several positive piggy factors. It's chewable, contains treats and can be played with.
Unfortunately, my bunch were not hugely impressed. Although they gave it a few nibbles and a good sniffing, they never really made a dent. They definitely were not interested in playing with it either.
This was another toy that ended up with Coco – who thought it was brilliant. So, full marks from the bunny. Less from the guinea pigs!
Recommended for guinea pigs, highly recommended for rabbits, you can buy your Willow Balls here.
Guinea Pig Rice Pops
These guinea pig rice pops are funky looking things. They are long, colourful sticks for your guinea pig to play with and eat.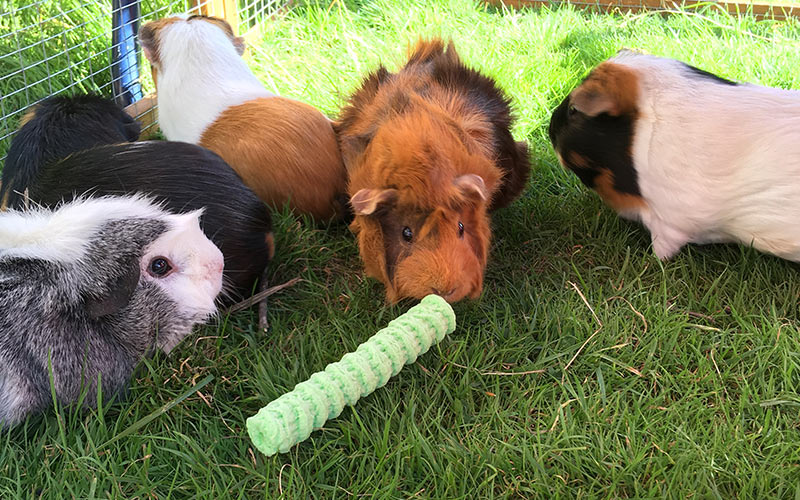 The had a very mixed reception with my bunch.
When presented with them on the lawn they were fairly disinterested. But when given them overnight, they had vanished in the morning.
So a good option for those less exciting hours of the day – although probably more a treat than an actual play thing!
Check out the guinea pig rice pops on Amazon here.
Best Guinea Pig Toys
Guinea pigs are fairly chilled out little creatures.
They are not that interested in playing with balls, and you'll probably never get one to fetch a stick or do a trick. But what they do love, is food.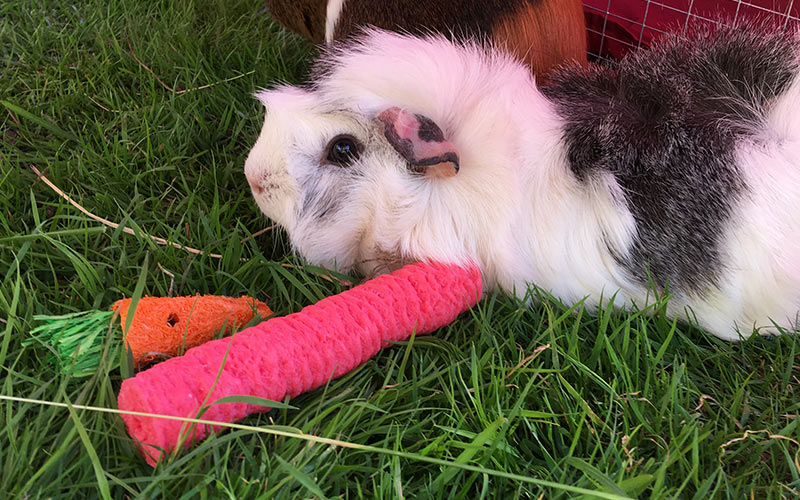 The best guinea pig toys are really just glorified treats. Ones that give them a tasty snack, but involve some kind of interaction or activity to get the food. Just make sure it's not too complicated, because your little cuties probably won't bother if the effort is too great.
The other choices which are confident contenders are those which are basically chewing blocks. We've had the most success with those that are basically wooden blocks! If you can combine this with a ball or something that makes them want to run around the cage, you end up with the closest thing to guinea pig exercise toys.
The most important thing to do is to pick an option that's been approved for their use, and watch them have fun chowing down.
Do your guinea pigs like toys? And if so, what are their favorites?
Do let us know in the comments section below!