There are so many great hedgehog names out there, it can be hard to know where to start.
So we've gathered all the best names for prickly pets in one place, to help you choose.
We've got cute hedgehog names and funny ones, disney hedgehog names, and names from classic literature.
When you've found your favorite, don't forget to let us know in the comments at the end!
Naming Your Hedgehog
Before you start browsing lists of cute hedgehog names, here are our top tips for picking the perfect name for your prickly pal.
Pick a name you really, really like! After all, you are likely to be saying it (and hearing others say it) many times each day.
Avoid names that sound too much like the names of other family members or friends. Remember, not everyone might assume it is an honor to have a tiny spiky hedgie named after them!
Agree as a family. If you are the sole namer, you may have an easier job, but if you are deciding on a name as a family, you definitely want everyone to be happy!
Do some research. The more you learn about your new pet hedgehog, more name ideas you'll come up with – and the better you will be at caring for them. Win win!
Now lets take a look at all our favorite cute hedgehog names, to get you started.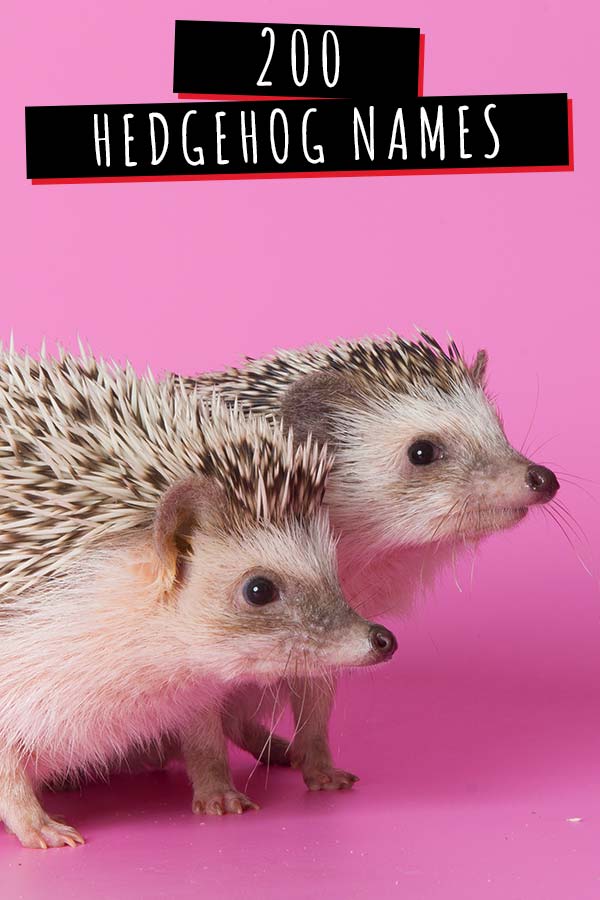 Girl Hedgehog Names
These cute female hedgehog names are unique and lovely – just like your little spiny gal!
Yona ("Watership Down")
Lindsfarme Dewclaw ("Kevin & Kell")
Espinete ("little spine")
Ruby ("Saint Tail")
Amulet
Giza
Nilla
Nia
Starlight
Snow White
Elsa
Betty
Prune
Hula
Dauria
Hester Hedgie
Eva
Elena
Muriel (author of "The Elegance of the Hedgehog")
Daisy Mae
Choll
Hennie
Shaanxi
Tali
Hailey
Boy Hedgehog Names
These cute boy hedgehog names will bring your sweet hog's personality to life. Try on these fun and unique male hedgehog names for size!
Brillo
McDonald (or McFlurry, as you wish)
Prickle
Spike
Cricket
Wisdom
Tortoise (a nod to Balkan folk songs)
Igel (the German word for hedgehog)
McGillicuddy
Burton Silver (a cartoonist whose work features hedgehogs)
Milkman Hedgehog ("Little Grey Rabbit")
Fuzzypeg (Milkman's son)
Sebastian
Needle Harry
Roll
Alfred ("The Mysteries of Alfred Hedgehog")
Shiro
Bino
White Knight
Bristle
Foggy Bottom
Olaf
Sneaky Pete
Hugh
Barnes
Cute Hedgehog Names
Whether you are looking for boy or girl hedgehog names, these cute pet names for hedgehogs are perfect for tiny adorable pets.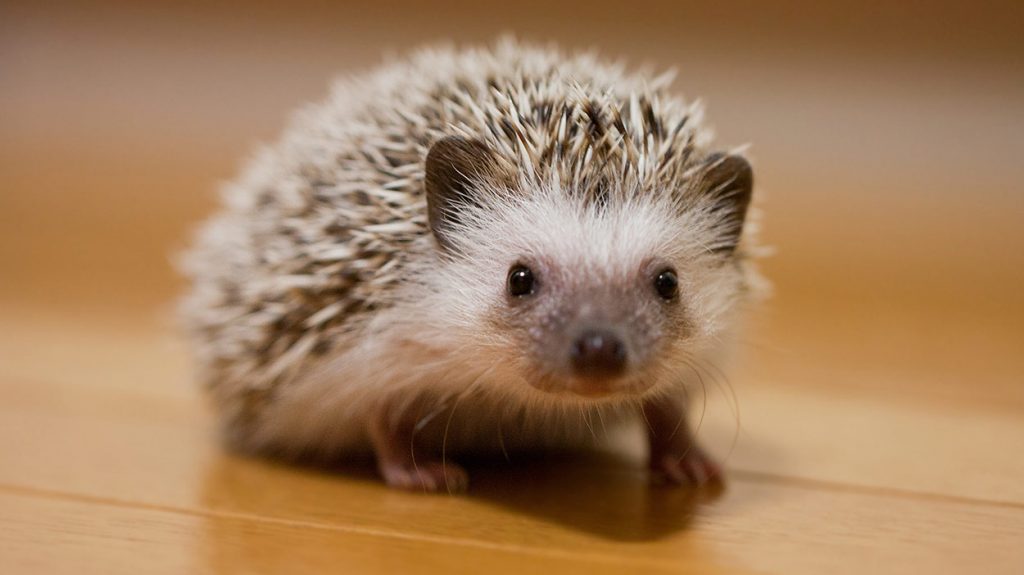 Crispy (yum, right?).
Champion (in the UK, as of 2016).
Snake Charmer (rumor has it hedgies have a natural immunity to snake venom!)
Snuffle
Hoglet
Groundhog (the holiday that, sadly, has eclipsed its predecessor, Hedgehog Day, in modern times)
Cuddles
Bubblebutt
Cubby
Turnip Top
BooBoo
Quilling
Voodoo
Rolypoly
Rootabaga
Teacup (a reference to their size)
Grunt
Pincushion
Sir Lancelot
Brambles
Stubby
Alan
Hero
Lincoln
Pokee
Famous Names For Hedgehogs
Hedgehog celebs are no stranger to social media. And many people name their kiddos after superstars, so why can't you do the same with your pet hedgehog?
Check out this list of famous hedgehogs' names for some inspiration!
Biddy
Darcy
Lionel
Tank
Earnest
Herbie
Calico
Meeps
Hogy
Sunny
Hedgy
Ozzie
Azuki
Lily
Hamlet
Busterbeans
Walt
Marutaro
Amelia
Matthew
Sarrah
Henry
Lionel
Lilo
Sir Hodge Huffington the Cricket Slayer.
Funny Hedgehog Names
If you like puns, the hedgehog is definitely the pet for you! There are infinite ways to turn popular names into punny, funny, hedgehog names.
Consider making a punny name out of hedgehog descriptive words such as quill, spike, pig, hog, spine, hedge, sharp, stick, needle – for inspiration, check out the examples in this list!
Hedgehog Quill-Based Names
Quill-helmina (play on Wilhelmina)
Quilliam or Quilly Willy (play on William)
Q-Ball
Q-Tip
Curly-Q
Spiny Norman (of Monty Python fame)
Spine Cone (play on pine cone)
Amy Spine-house (play on Amy Winehouse)
Spine-dau Ballet
Pig and Hog Puns
The Notorious P.I.G. (play on B.I.G.)
Pig-nic (play on picnic)
Ma-hog-any
Hound-hog (play on hound dog)
Hedge-based Names
Marie Hedgie (play on Marie Curie)
Cutting-hedge (play on cutting edge)
Hedge-fund
Prickly Puns
The Original Sharp-ee (play on the Sharpie pen)
Sharp Kent (play on Clark Kent)
Sir Sticks-a-lot (play on Sir Mixalot)
Stick-silver (play on quicksilver)
Spiny Stickleback (actually a type of fish!)
Prickly Pear
Stickly Prickly (thanks, Rudyard Kipling)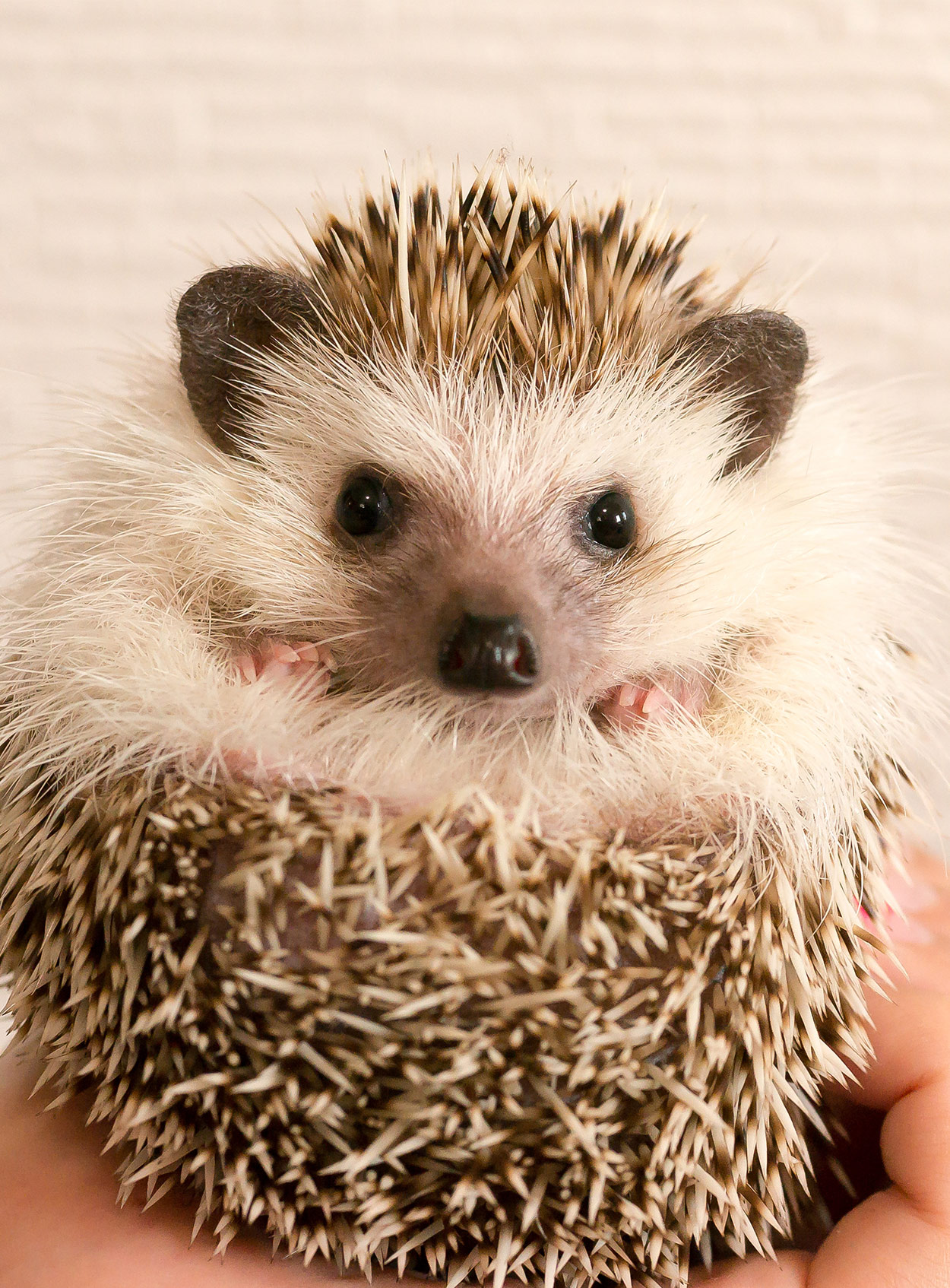 Good Hedgehog Names From Literature and Art
This is the rich pot of gold at the end of the rainbow material of which awesome hedgehogs are named!
There are so many cute hedgehog names to be found in great books! Check this selection out:
Urchin (name given to hedgies in Shakespeare's "A Midsummer's Night's Dream")
Hedgepig (name given to hedgies in Shakespeare's "The Tempest")
Anabelle ("The Tale of Anabelle Hedgehog")
Max ("The Hodgeheg")
Hadrian ("The Adventures of Hadrian Hedgehog")
Hazel ("Hazel the Hedgehog")
Hodge ("Hodge the Hedgehog")
Howdedo ("Hedgehog Howdedo")
Harriet ("Harriet Dancing")
Little Hedgehog ("One Winter's Day")
Hedgie ("The Hat")
Isaac ("The Very Helpful Hedgehog")
Earl ("Buddy and Earl")
Horace and Hattie ("Hedgehugs and the Hattiepillar")
Herbie ("Herbie's Big Adventure")
Sami ("Don't Turn the Page")
C.R. Mudgeon ("C.R. Mudgeon")
Herodotus ("Herodotus the Hedgehog")
Jasper ("Jasper Hedgehog Meets the Major")
Hogart ("Hogart the Hedgehog Turns Nink")
Sam ("The New Arrival")
Horatio ("Horatio's One Wish")
Stuffy ("Stuffy the Hedgehog")
Henley ("Henley the Hedgehog")
Hedgemond the Hunter ("Hedgehog's Home")
Albino Hedgehog Names
If you think a regular hedgehog is cute, wait until you see a tiny albino hedgehog! These names for albino hedgehogs might be just perfect for your little guy or gal!
White Wizard
Eskimo
Blanco (or Blanca)
Diamond
Blanche
Icecube
Lily
Neve
Pale Rider
Ivory
Cirrus
Powder Puff
Crystal
Anjo (or Angel)
Cloudy (with a side of spines)
Vanilla
Tapioca
Luna
Chilly Quilly
Salty Hog
Cool Whip
FroYo
Starlight
Great White
Cumulus
Cool Hedgehog Names
Hedgehogs were popular in movies long before they became truly popular as pets.
This means films have a wealth of good hedgehog names for boys, and cute girl hedgehog names, to draw inspiration from.
Mrs. Tiggy-Winkles
Sonic
Shadow
Mr. Pricklepants
Silver
Russell
Amy Rose
Harry
Scourge
Sonia
Sebastian
Durry Quill
Manic
Kipi Ben Kipod
Hans
Tansy
Spiny Norman
Stickly Prickly
Alfred
Lutra
Herb
Ferdinand
Bobby
Una, Dos, Tres, Cuatro
Shaymin
Disney Hedgehog Names
No list of good hedgehog names from movies would be complete without some Disney additions. Check out these Disney hedgehog names for a fairytale twist.
We've cheated of course. There aren't a lot of Disney hedgehogs. But here are the Disney names we think might suit your hedgie friend well!
Stitch
Flynn
Pocahontas (aka POKE-ahontas)
Mickey
Minnie
Goofy
Sleepy
Gus
Sebastian
Lilo
Flora
Peg
Best Hedgehog Names
We hope you have had fun reading through this great list of hedgehog names for inspiration!
Are your own creative juices flowing now? Have you discovered the perfect name for your prickly cutie?
Please drop us a comment to let us know if your new hedgie is a boy or a girl, and which name you picked out!
Readers Also Liked