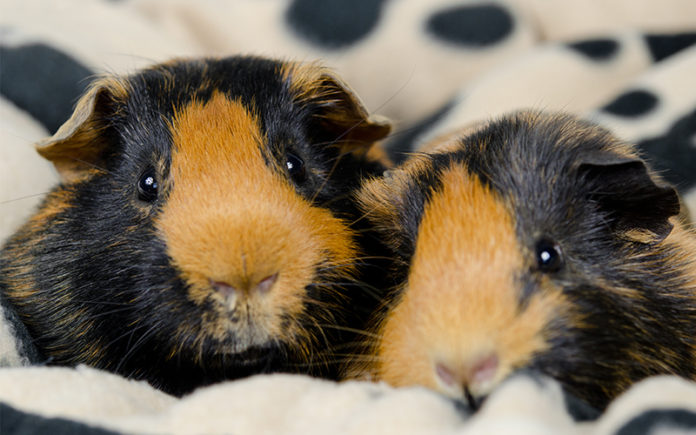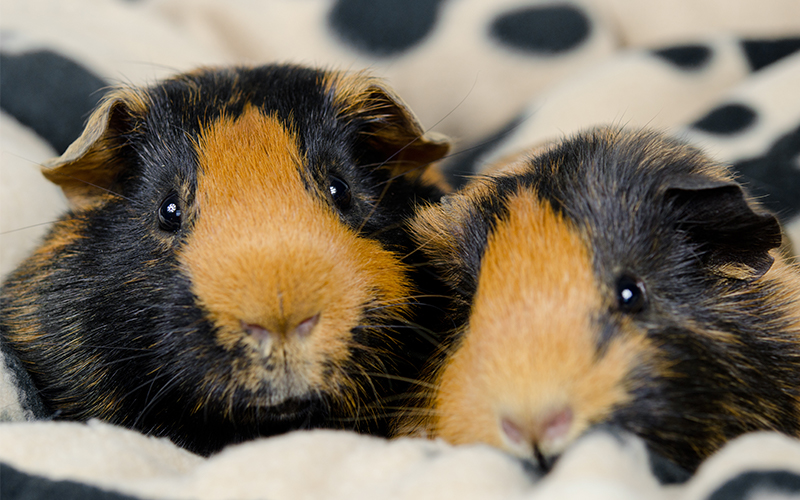 Looking For The Best Bedding For Guinea Pigs? Then You've Come To The Right Place! Check Out Our Reviews Of The Top Guinea Pig Bedding Options.
Did you know that guinea pigs were popular pets as far back as the 16th century?
Spanish Conquistadors first brought guinea pigs to Europe, where historical evidence indicates they became a near-instant hit as household pets.
Even more surprising, guinea pigs' popularity spanned social classes, with royals and commoners alike favoring these sweet furry companions.
We don't know much about housing and bedding provided for guinea pigs in these earlier eras, but we know exactly what pet guinea pigs today need to thrive!
Using safe bedding for guinea pigs can be vital in preventing wet tail disease, allergies and respiratory infection.
In this article, learn about the very best bedding for guinea pigs, including pros and cons of each bedding option!
Why use bedding for guinea pigs?
Both guinea pig owners and exotic animal veterinarians agree that guinea pig bedding can represent one of the pricier aspects of pet ownership.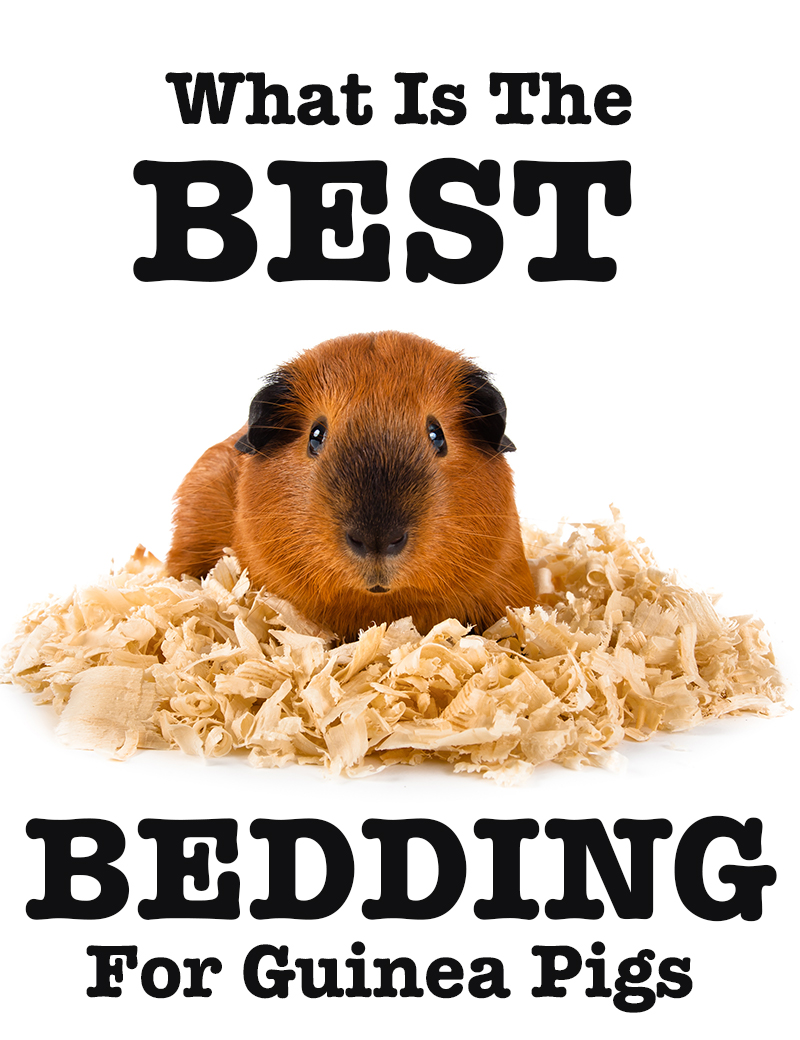 However, when you are trying to decide what is the best bedding for guinea pigs, it is also critical to remember that choosing the right guinea pig cage bedding for your piggie's needs can drastically cut down on costs in other areas, such as veterinary care for preventable illness!
The reason you need to spend time choosing good bedding for guinea pigs is simple. Your pet needs bedding to feel safe and stay healthy.
Wild guinea pigs, called cavies, live on the ground in grassy habitats where they can forage, socialize, rest and nest safely. In captivity, the need for soft, secure guinea pig bedding options still remains strong.
Without soft places to burrow, tunnel, nest, rest and hide, your guinea pig can soon fail to thrive in captivity.
Different types of guinea pig bedding
If you are new to guinea pig ownership, one of your first questions will likely be, what can I use for guinea pig bedding?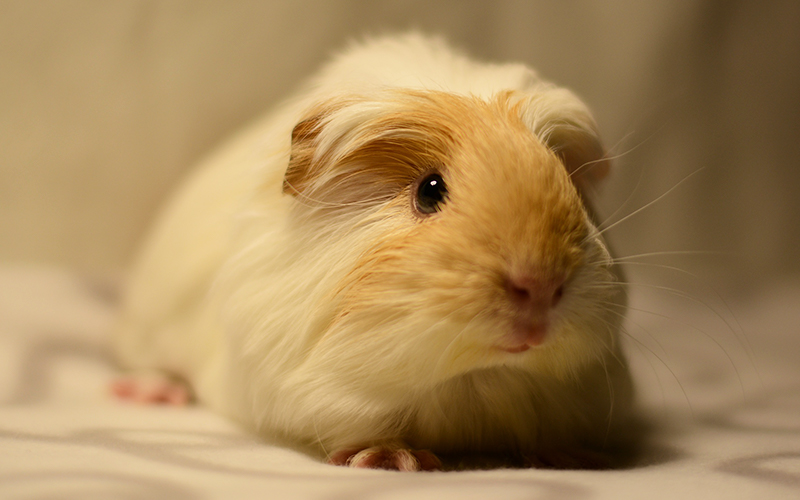 Here, it is vital to know that only a handful of the many available bedding types are suitable and safe for guinea pigs. These include pine and aspen wood, paper, cloth and fleece.
Here are the main pros and cons for each of these suitable guinea pig bedding options.
Fleece Guinea Pig Bedding Pros and Cons
Fleece bedding for guinea pigs has become very popular.
This bedding works differently than wood or paper.
It doesn't absorb liquid waste, but lets it soak through the top layer that remains dry.
You can use fleece guinea pig bedding alone or combine it with other guinea pig bedding ideas inside your piggie's habitat.
Pros: Reusable/washable, economical, soft, guinea pigs like it.
Cons: Needs daily maintenance in potty areas, solid waste must be hand-removed.
Pine Guinea Pig Bedding Pros and Cons
If you choose pine guinea pig bedding, be sure it is kiln-dried, all natural and soft.
Pros: Very economical, absorbent, easy to find.
Cons: Natural pine oils can cause allergies or illness in pigs and humans, can get stuck to towels or cage.
Aspen Guinea Pig Bedding Pros and Cons
If you choose aspen guinea pig bedding, be sure it is soft, dry and contains no additives.
Pros: No volatile oils.
Cons: Pricier than pine, harder to find, less absorbent.
Paper Guinea Pig Bedding Pros and Cons
Paper bedding for guinea pigs has also recently emerged as a new pet owner favorite.
Pros: Soft, absorbent, good for odor control, can be homemade.
Cons: Can be dusty, pricier, can stick to towels when soiled.
Cloth Guinea Pig Bedding Pros and Cons
Like paper and fleece, COTTON (not synthetic) cloth can serve as an economical, affordable and effective type of homemade guinea pig bedding. You can use any cotton cloths, towels or cotton/fleece cloth.
Pros: Low cost, soft, absorbent, reusable, pigs seem to like it.
Cons: Needs daily maintenance in potty areas, solid waste must be hand-removed, may not be as odor-absorbent.
Guinea pig fleece bedding
Guinea pig fleece bedding has become a hands-down favorite among guinea pig owners in recent years. A big part of the reason is just watching how much guinea pigs enjoy nestling and burrowing in soft fleece.
Properly made fleece bedding guinea pig materials feature an upper layer of soft fleece, a middle layer of absorbent cotton and a lower layer that is fleece or waterproof.
This type of guinea pig bedding fleece allows liquid waste to flow through the top fleece layer and get absorbed by the middle layer of cotton, keeping your piggie warm and dry.
Kaytee Super Sleeper Cuddle-E-Cup. This soft and fleecy sleeping cup is a small enclosed nesting and resting pod that your guinea pig can safely cuddle up in.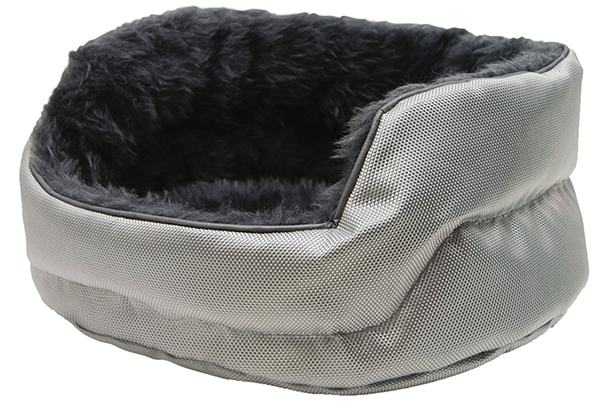 The cup is machine washable and includes an extra-soft fleece interior. The cup dimensions are 10L x 12W x 5.5H inches.
Ware Manufacturing Safari Sleeper Bed for Small Animals. These popular and highly rated small fleece sleeper beds come in three sizes (small, medium, large).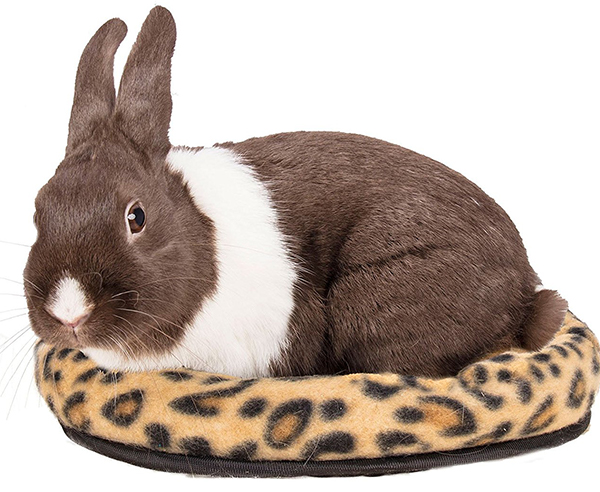 The bottom is waterproof. The bed is foam-free and machine washable. Owners say the large size (14L x 12W x 2H inches) is the best choice for guinea pigs.
Piggy BedSpreads Washable Absorbent Fleece Liners. These fleece pads are designed to be used with guinea pig habitats.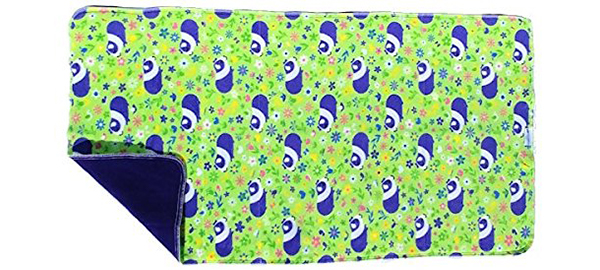 Each liner is reversible for different color combinations and double the usage. The fleece material is extra-absorbent, washable and has a natural wicking action to keep your guinea pig dry. Each pad measures 27W x 51L inches.
Pine bedding for guinea pigs
Finding the bedding that is best for guinea pigs can be a process of elimination for many guinea pig owners.
We always recommend buying guinea pig bedding in the smallest possible quantity until you see how your piggie reacts.
Pine guinea pig bedding is a staple in the industry, and some guinea pigs and their owners love it, while others steer clear because of the natural pine oils.
Kaytee Pine Bedding. This highly rated and popular pine bedding for guinea pigs comes in two sizes (1,200 cubic inch, 2,500 cubic inch).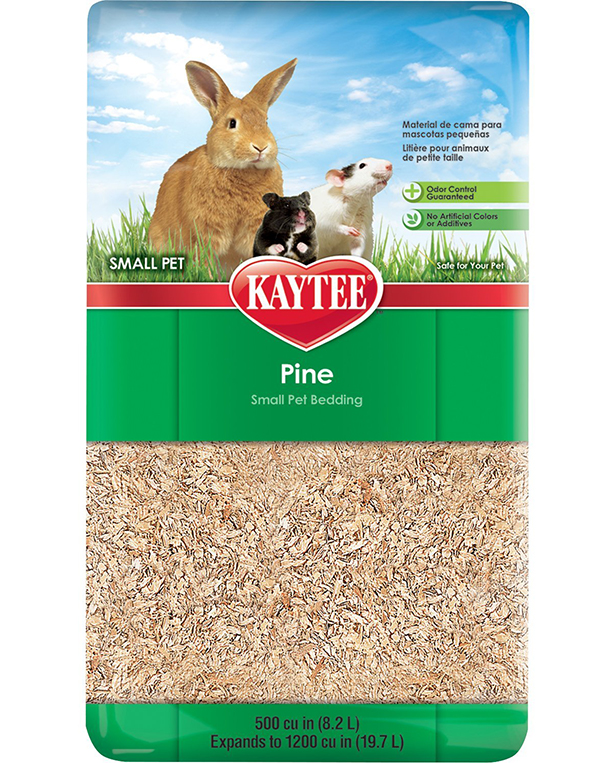 This cheap guinea pig bedding is all-natural, soft, biodegradable and 99.9 percent dust-free, making it perfect for an anti-allergy bedding.
Living World Pine Shavings. This bedding is made from 100 percent all-natural kiln-dried pine wood shavings.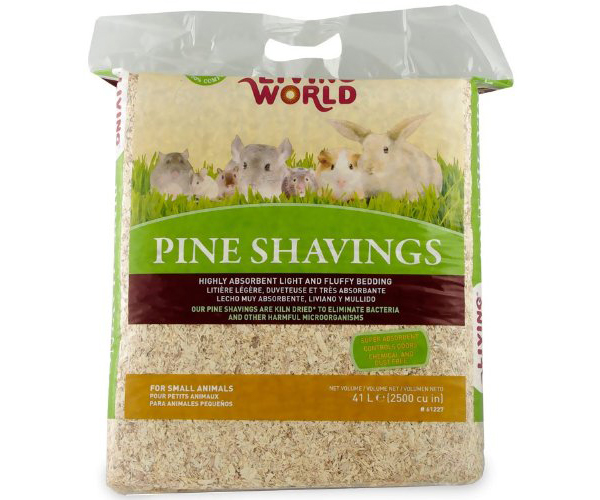 The shavings themselves are fluffy and soft for nesting, burrowing and sleeping. This bedding is nearly dust-free and also naturally reduces odors, including oils and ammonia, while controlling for mold, fungi, mildew and bacteria. The package is 2,500 cubic inches.
F.M. Brown's, Press-Packed Bedding, 4.0 Cubic Feet Pine Shavings. This all-natural, biodegradable and nearly dust-free pine-based bedding is highly absorbent.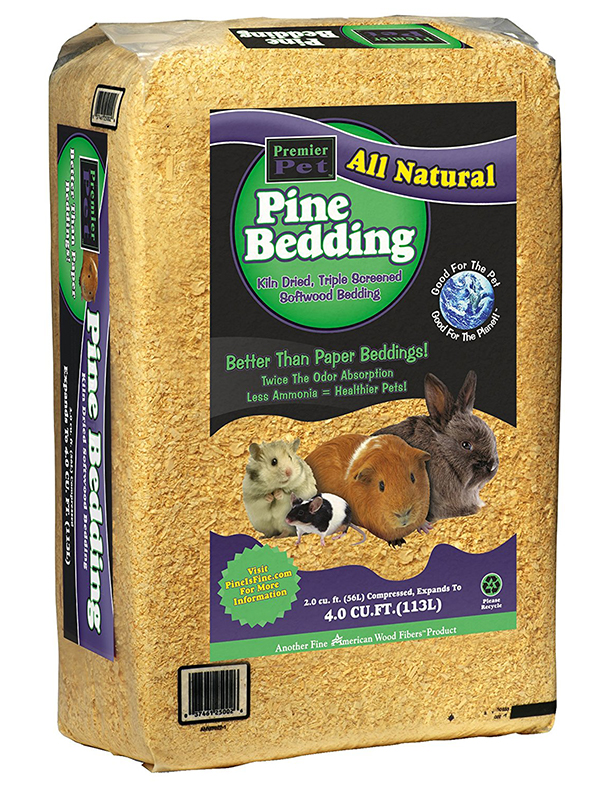 It is destined to control for odor and remain dry for burrowing, nesting and snoozing. These are larger pine chunks than some bedding options, so they are best for larger adult guinea pigs.
Paper bedding for guinea pigs
Guinea pig paper bedding has really become popular among guinea pig owners because their piggies love the softness of paper.
You can use any of these pre shredded paper for guinea pig bedding options or make your own bedding out of dye and chemical-free paper.
Kaytee Clean and Cozy Small Animal Bedding. This paper-based bedding can absorb up to six times its own weight in liquid waste, making it effective for odor and ammonia control.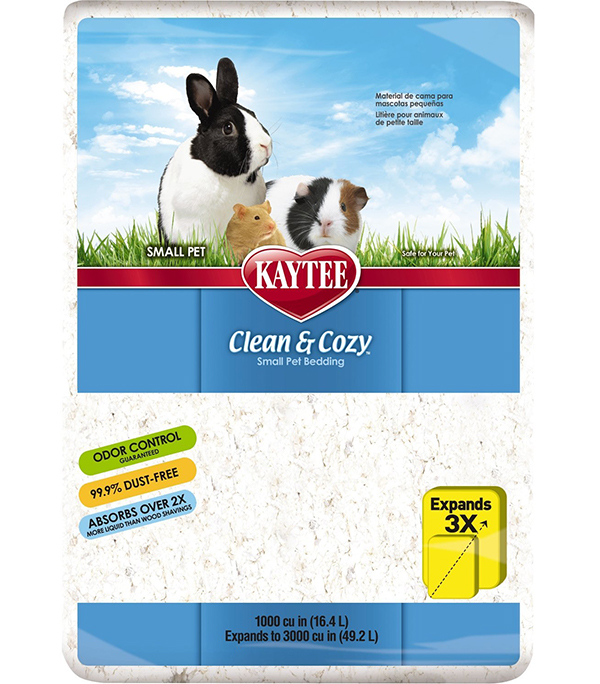 It comes with an odor control guarantee and a guarantee of being 99.9 percent dust-free. This bedding comes in a variety of pet-safe colors and a number of different sizes to accommodate one or multiple pigs.
Carefresh Complete Natural Paper Bedding. This all-natural, biodegradable and sustainable paper-based pet bedding come with a 10-day ammonia odor stop guarantee. The bedding is made from natural reclaimed wood that can absorb up to three times as much liquid as traditional wood shavings.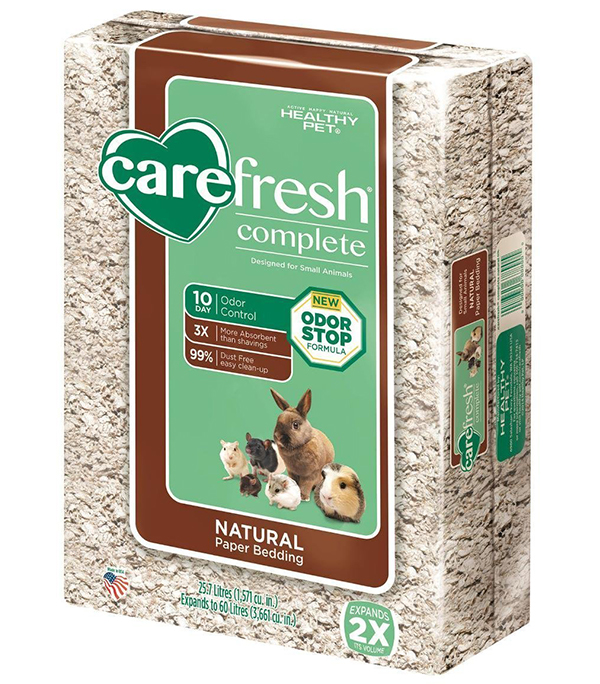 The bedding won't emit dust or disintegrate into a messy clump on the bottom of the cage. It comes in three colors (confetti, blue, natural) and four sizes (10L, 23L, 30L, 50L).
Oxbow Pure Comfort Paper Bedding. This bedding is made of pure paper that has never been printed on. It is clean, safe and 99.9 percent dust-free.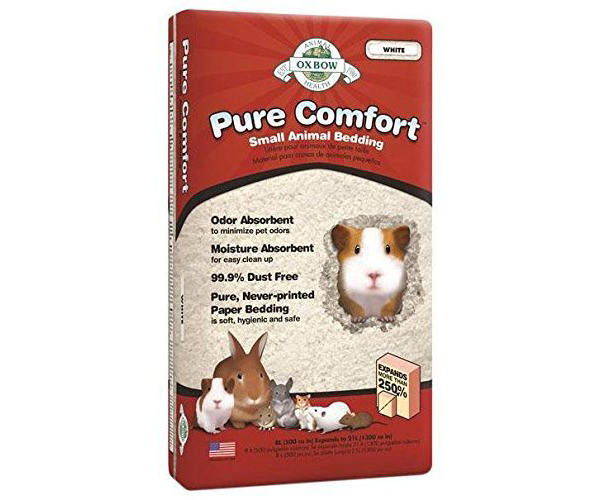 Owners say this bedding truly is paper-only with no twigs or other matter mixed in. It can reduce the sneezing some guinea pigs experience with higher-dust beddings. This paper bedding is also optimized for odor and moisture control.
Aspen bedding for guinea pigs
If you want to use wood-based guinea pig bedding but are concerned about volatile wood oils, aspen bedding for guinea pigs is the safest choice.
Kaytee Aspen Bedding for Pets. This popular, highly rated aspen bedding is free from any oils or inks and is made from pure aspen wood with no debris.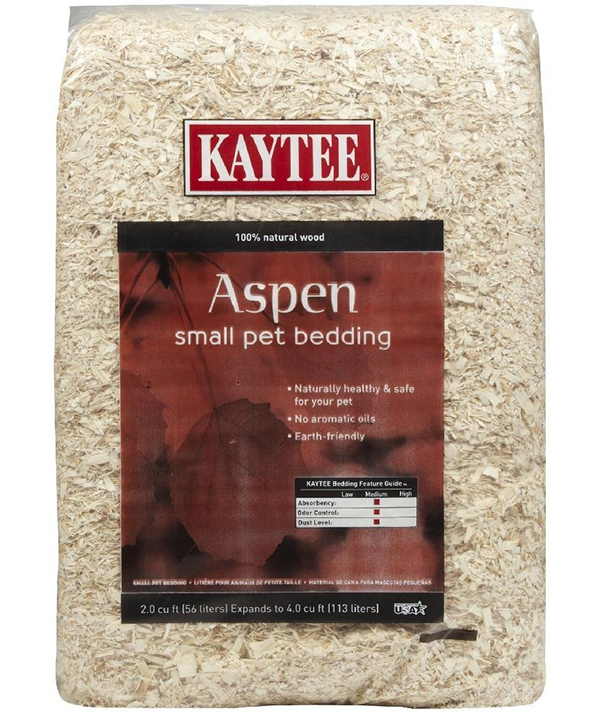 It is formulated to control for moisture and odor while greatly reducing dust. You can choose from four sizes (4 cubic feet, 8 cubic feet, 1,200 cubic inches, 2,500 cubic inches).
Living World Wood Aspen Shavings. This bedding contains pure aspen wood shavings with no additives or debris.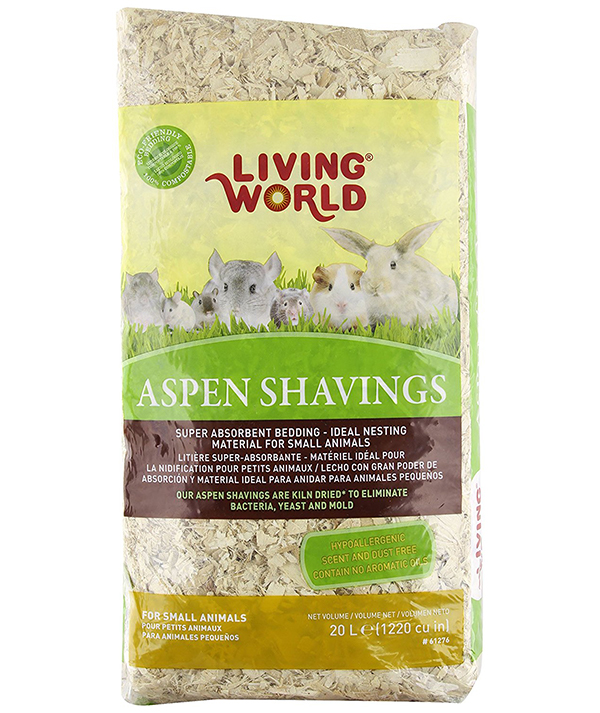 It is designed to absorb odor and moisture up to four times its volume while reducing pet allergies. This bedding is nearly scentless and is naturally resistant to mold, mildew, fungi and bacteria. The package is 1,220 cubic inches.
Green Pet Aspen Supreme Pellets Pet & Bird All Natural Litter & Bedding (by Kaytee). This bedding is made of blended aspen wood shavings that are 100 percent organic and biodegradable.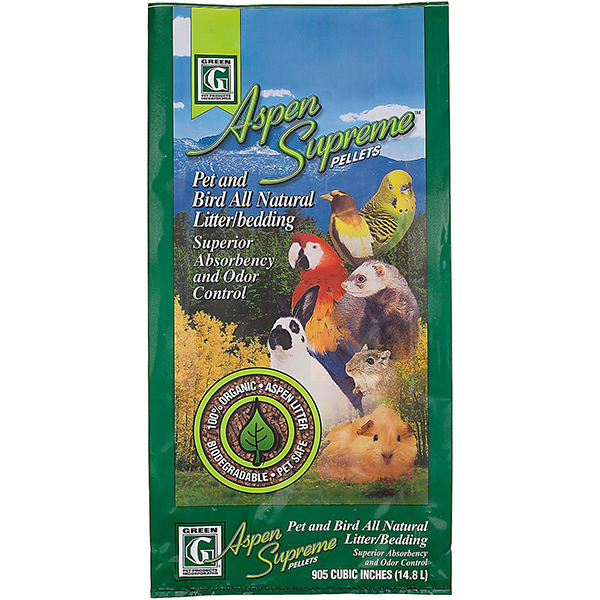 It is naturally mold, fungi and bacteria resistant and offers a high degree of moisture absorption and odor control. You can choose from two sizes (10 pounds, 14L).
Best bedding for guinea pig odor control
For many guinea pig owners, the best guinea pig bedding will always be the option that offers optimal odor control.
Finding the best bedding for guinea pig odor control in part will rest on cage cleaning frequency.
Guinea pigs do not have any odor naturally, but unattended liquid soaked bedding or solid waste left in the cage will generate an odor over time.
You don't have to clean your guinea pig's entire cage or refresh all the bedding daily. But removing soaked bedding and solid waste in the potty area daily can really support the best odor control!
Carefresh Shavings Plus Pet Bedding. Carefresh guinea pig bedding is a trusted name in odor control bedding and pet products.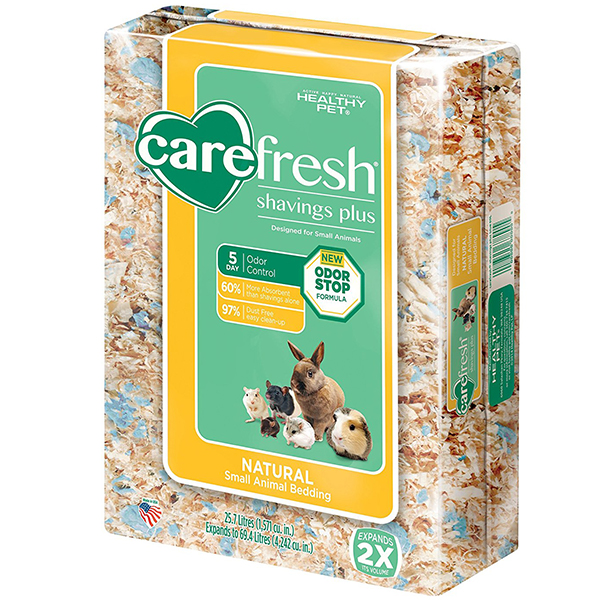 The bedding is made up of 10 percent soft blue bedding (recycled cardboard) and 90 percent shaved soft wood (hemlock, fir, spruce). The bedding is created to suppress the scent of ammonia to greatly reduce any risk of odor. It comes in three sizes (14L, 30L, 60L).
Monster Pets Pet Bedding Ultra (by Carefresh). This pet bedding is flushable and free from pine or cedar oils as well as inks, dyes, chemicals, clay and other harmful additives.
The bedding is dried at 380 degrees Fahrenheit (193.33 degrees Celsius) to guard against mold, mildew or fungi. Best of all, this bedding uses recycled cellulose that is eco-friendly. It comes in a 10L bag.
Small Pet Select Premium Soft Paper Bedding. This 100 percent pure and safe paper-based bedding uses unbleached, chemical and additive-free paper that is completely safe for pets.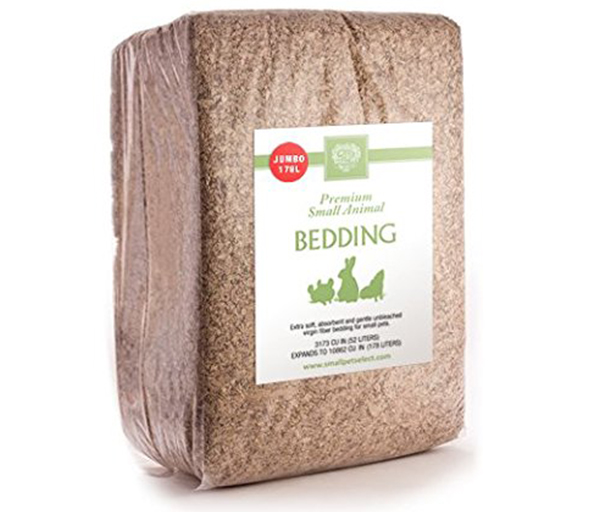 This paper bedding can hold up to three times its volume in moisture for superior odor control and is 99.9 percent dust-free. The manufacturer offers a 100 percent satisfaction guarantee.
Best guinea pig bedding
We hope this detailed post about the best guinea pig bedding options has answered your questions and helped you decide what type of bedding to offer your pet piggie!
If you have a favorite type of bedding, we would love to hear why you think this is the best choice for your guinea pigs!
Resources and Further Reading
Lin, A., "Housing and Feeding Your Guinea Pig," The College of Veterinary Medicine-The University of Illinois at Urbana-Champagne, 2017.
Dell'Amore, C., "Guinea Pigs Were Widespread as Elizabethan Pets," National Geographic, 2012.
Clarke, A., "Husbandry, Handling and Common Disease of Guinea Pigs, Rats and Hamsters," Wisconsin Federated Humane Societies, 2017.
Smit, G., "How wild cavies and domesticated guinea pigs differ," Noldus Behavioral Research Blog, 2014.
Hixon, J., "Cavia porcellus: Guinea pig," University of Michigan Museum of Zoology, 2011.