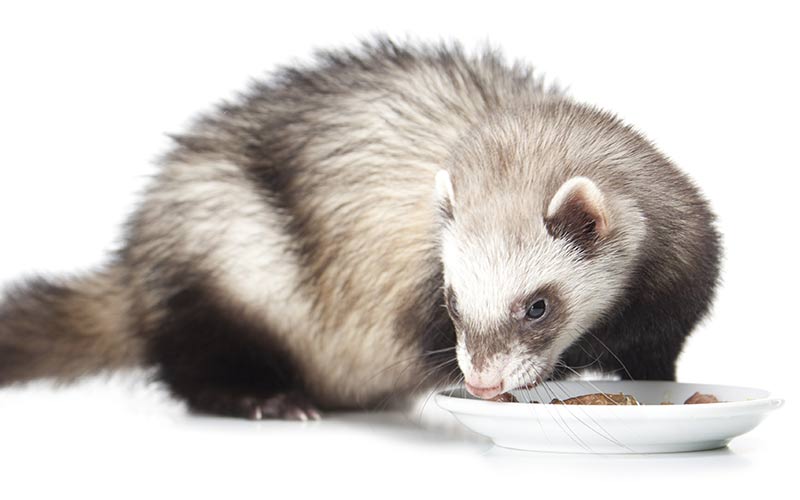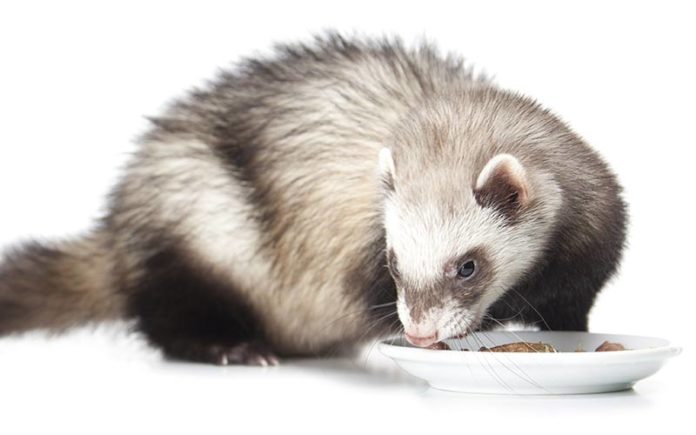 Welcome To Our Complete Guide To The Best Ferret Food. Helping You To Choose The Right Meal For Your Favorite Furry Friend.
We love our ferrets for their wonderful characters, cute faces and loving natures. We've got some great information on ferret diets and feeding styles for you today, including our favorite choices of commercial ferret food.
Contents
Let's find out what ferrets need for dinner!
All products mentioned below were carefully and independently selected by the Squeaks & Nibbles team. If you decide to make a purchase from one of the links marked by an asterisk, we may earn a small commission on that sale. This is at no extra cost to you.
Top choices
In a rush? Check out our best ferret food chart here:
We'll look at these in more detail below, along with some other popular options.
I grew up looking after ferrets, and I have a major soft spot for them.
These cute critters will eat pretty much anything you let them get their paws on, but it doesn't mean that it's all going to do them good.
So, for anyone asking 'what do you feed ferrets', in this article we'll take a look at your options!
And we'll start by going back to nature.
What to feed ferrets?
Ferrets are carnivores. In the wild your ferret's ancestors would hunt and kill their food, surviving only on meat. The diet that would be closest to their natural one is one of raw meat and bones.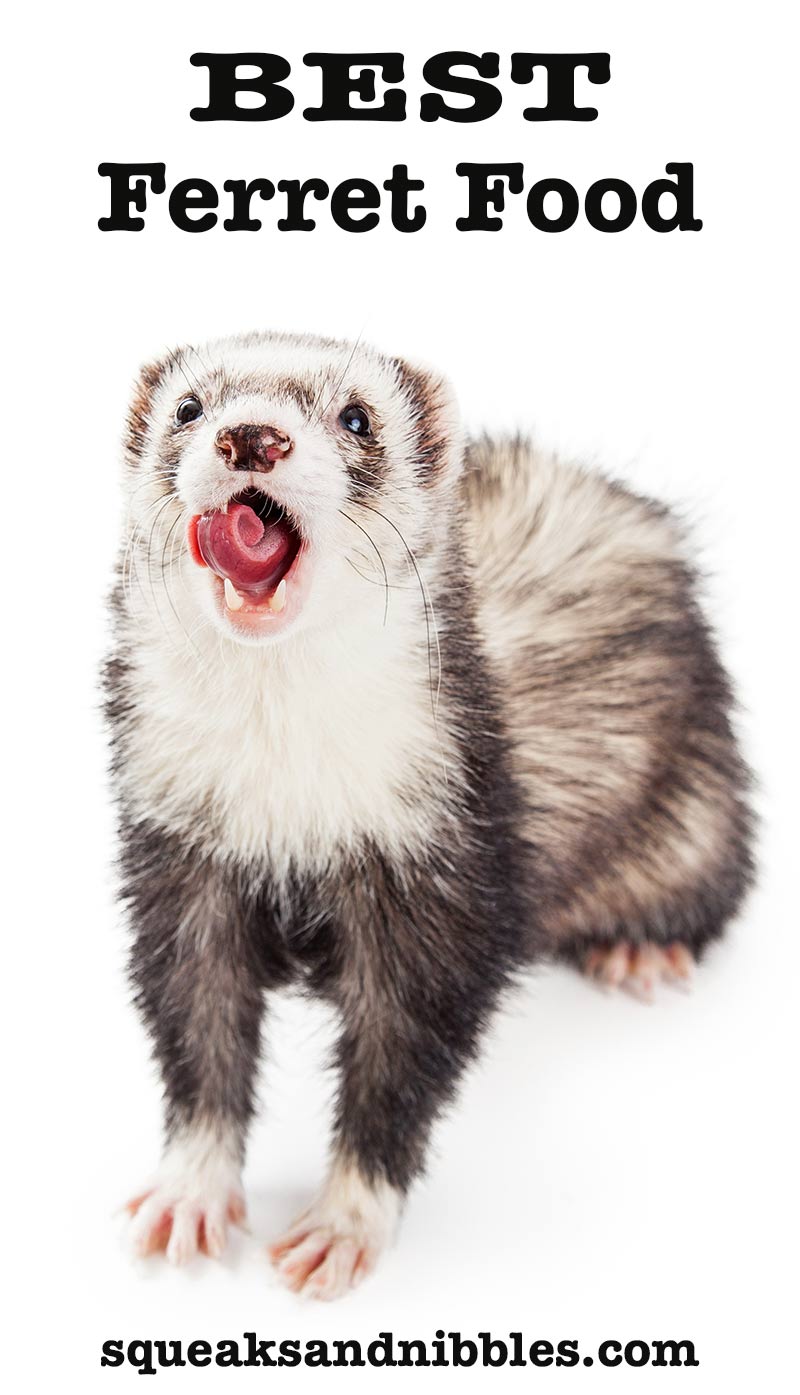 A ferret's food would consist of any smaller animals it might come across day to day. Including mice, voles, and probably even beetles and worms. Ferrets will also sometimes eat fruit and berries.
Feeding ferrets on raw meat
Feeding your ferret a raw diet is definitely an option. Health benefits include good dental health and the pleasure that the ferret gets from gnawing on bones and eating fresh meat. But feeding raw, requires some planning and knowledge.
Raw feeding is definitely the closest to a ferrets diet in the wild, but the meat you give your ferret will be quite different to what it would find in nature. Your ferret would probably get these in the wild by eating lots of different animals, and entire carcasses. The easiest option for most of us when raw feeding a ferret is chicken meat. But this means many raw fed ferrets have a rather restricted diet. It's likely that just feeding raw chicken meat wouldn't be varied enough to provide a range of nutrients.
In addition, you can't just feed the meat itself, it doesn't have enough nutrients. Carnivores need bone and organs too in order to benefit from a raw diet. Don't be put off if you are keen to go down the raw route, just make sure you arm yourself with information. So you'll need to read up on getting a good balance of meat and bone, and other sources of food such as eggs, to provide all the nutrients your ferret needs.
Feeding ferrets on dry food
Despite its benefits raw feeding can be expensive and impractical for a lot of people. So most ferret keepers feed a commericially produced dry kibble.
Dry food is not as close to your ferrets diet in the wild, but is much easier to store in bulk. A good quality dry ferret food also has the potential advantage of containing all the vitamins and minerals that may help to keep your pet healthy.
Best ferret food
What can you feed ferrets, then? And, what makes the best ferret food? Because they subsist on meat alone, ferrets have very short digestive tracts. Food moves through them really quickly and they need plenty of easily digestible protein and fat.
A study published in 'Veterinary clinics of north America' explains exactly what ferrets need in their food. Dry food should be at least 15% fat and 30% protein, and no more than 30% carbohydrates.
To answer the question 'what is the best ferret food' we need to find a food that fits these parameters. We'll also take a look at what potential risks some foods may pose.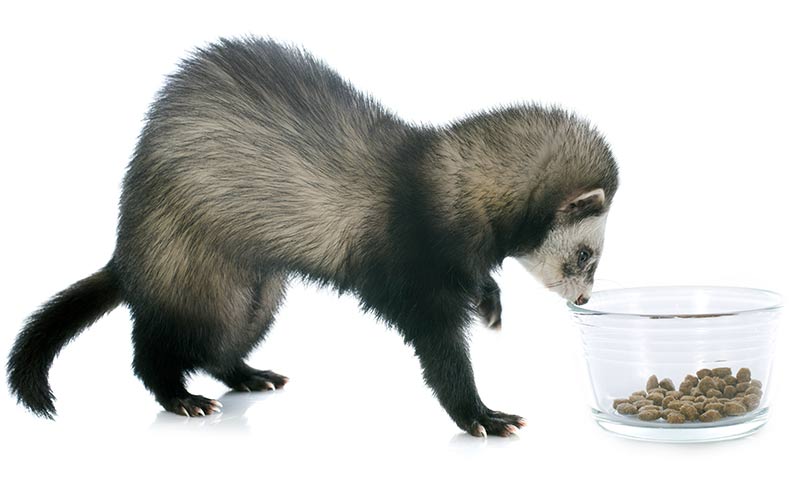 It's important to point out that any new food should be introduced gradually. Most foods reiterate this on the packaging, but it should be applied to all new foods.
Completely changing your diet in one day would make you feel a bit funny, and it would probably upset your ferret's stomach too.
Let's first take a look at some ferret food by Marshall.
Marshall ferret food