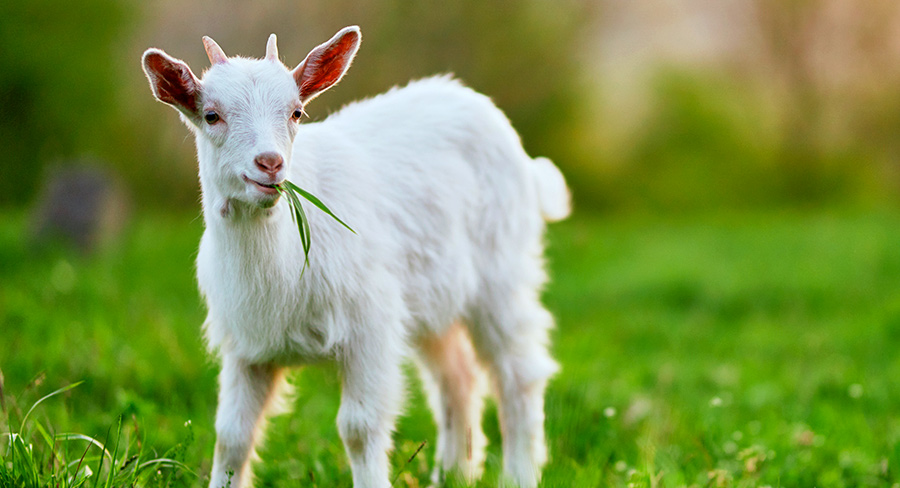 Looking for the best boy goat names? Look no further! If you have a new goat that needs the perfect name, or even a pair of goats, we have plenty of ideas and inspiration for you to browse through. Whether you want something funny, something cute, or something tough! No matter what your goat's personality, we've got 200 options for you to choose from. Which one is going to be your favorite? Let's get started by diving straight into our top 25 boy goat names.
Best Boy Goat Names
Billy
Blaze
Bramble
Caesar
Charming
Duke
Freddie
Houdini
Kingsley
Legend
Mac
Marshal
Ozzy
Percy
Perry
Pongo
Prince
Rico
Rodeo
Sarge
Seamus
Spud
Waffles
Winston
Zeus
Cute Boy Goat Names
Goats are pretty unusual pets. But, whether you have goats on a smallholding, have a goat as your only pet, or even are trying to name a goat on Minecraft, the name is always important! Here are some adorable ideas that might suit your new friend.
Acorn
Almond
Biscuit
Boo
Butters
Button
Clover
Cookie
Cosmo
Donut
Freckle
Giggle
Hershey
Marshmallow
Mocha
Nibbler
Pea
Pickles
Pudding
Pumpkin
Radish
Socks
Sprout
Squish
Sunny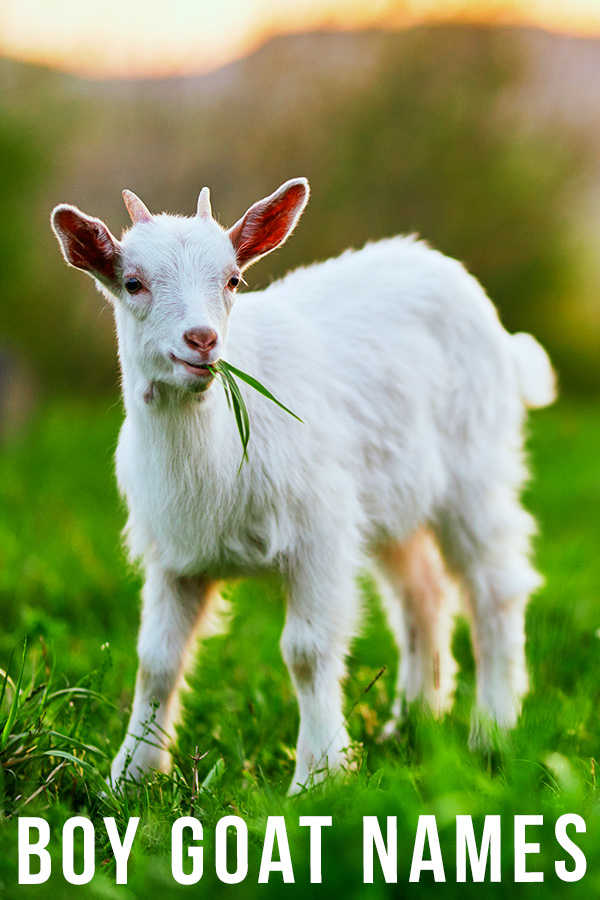 Baby Boy Goat Names
Did you know that baby goats are called kids? Here are some fun, cute, and silly ideas that are just perfect for your new kid.
Apollo
Beau
Benny
Bowie
Bumper
Cashmere
Chunks
Coco
Gary
Fluffy
Fuzz
Gromit
Huckleberry
Milo
Pan
Popcorn
Rupert
Scruff
Smudge
Sooty
Toffee
Trouble
Vinny
Woody
Wooly
Twin Boy Goat Names
Are you lucky enough to have two boy goats in need of names? Why not choose a theme! Here are some well known pairs that can make perfect names for your new boys.
Ant and Dec
Batman and Robin
Beavis and Butthead
Berries and Cream
Bert and Ernie
Bill and Ben
Bill and Ted
Chandler and Joey
Chip and Dale
David and Goliath
Gavin and Smithy
Holmes and Watson
Itchy and Scratchy
Jack and Coke
Jim and Dwight
Lemon and Lime
Lewis and Clark
Peanut Butter and Jelly
Ping and Pong
Pinky and the Brain
Ren and Stimpy
Salt and Pepper
Shaggy and Scooby
Steak and Kidney
Will and Carlton
Cool Boy Goat Names
Still haven't found the right name yet? How about one of these awesome ideas to suit the coolest goats out there?
Astro
Buck
Bullet
Colonel
Comet
Crusher
Dodger
Fang
Flint
Floyd
Gaston
Gruff
Gunner
Hank
Lightening
Max
Mustang
Phoenix
Pistol
Rocky
Tank
Thunder
Turbo
Whiskey
Ziggy
Funny Boy Goat Names
Maybe serious names aren't your thing. Is your goat playful and cheeky? A funny name could suit him perfectly! Or even a funny spin on a celebrity name. Here are some ideas that might make you giggle.
Andrew Goatfield
Billy Joe Armstrong
Billy Rae Cyrus
Bleater Pan
Capricorn
Captain Hoof
Goatee
Goatzart
Goatzilla
Great Goatsby
Hill Billy
Jean Paul Goatier
Jumping Jack
Justin Bleater
Kid Rock
Lawnmower
Milkman
Milk Shake
Motorgoat
Ryan Goatlin
Scapegoat
Silly Billy
Steak and Kidney
The Goat Father
Vincent Van Goat
Unique Boy Goat Names
Every goat is unique. So why not choose one of these unusual names to set your new boy apart from the herd?
Asterix
Beethoven
Clay
Dino
Evian
Floss
Gadget
Hagrid
Hutch
Iggy
Jagger
Lars
Maurice
Nobby
Orion
Oswald
Otto
Puck
Radar
Rolo
Tater
Wonton
Yates
Yukon
Zazuz
Tough Boy Goat Names
Goats are also pretty tough! How about one of these badass goat names to show off just how strong and powerful your new friend is!
Arrow
Axel
Boxer
Bruce
Butch
Chaos
Colosso
Crusher
Cyclone
Doc
Dragon
Dynamite
Gnasher
Gunner
Hank
King
Knockout
Maximus
Racer
Renegade
Rocky
Shredder
Tank
Thunder
Tornado
Which Name is Your Favorite?
Have you been able to find your perfect name choice in this list? We would love to hear which one you've picked out in the comments. If you've thought of any great ideas we missed off, make sure to let us know!
Related Articles