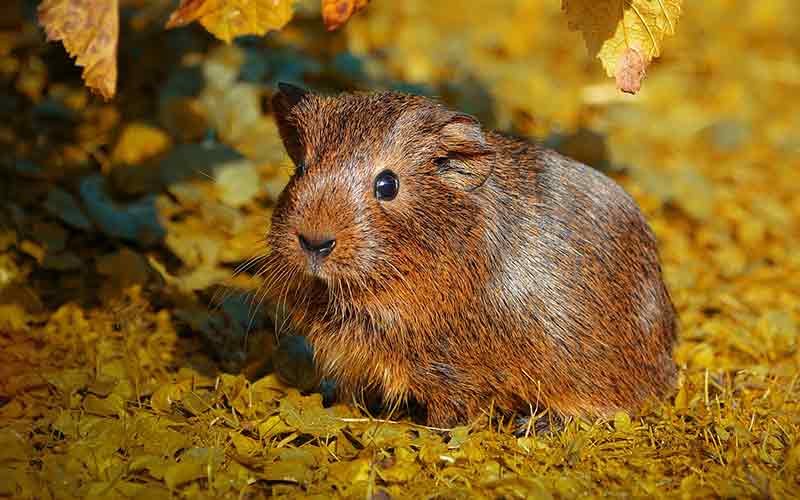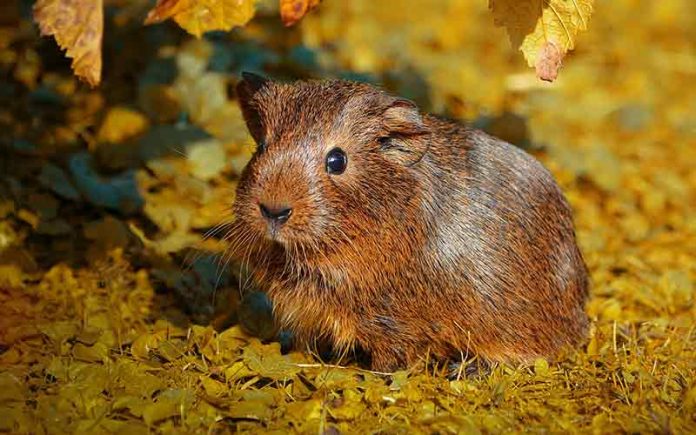 Welcome to our complete guide to the best guinea pig playpens and runs!
Here to help you choose the right playpen for your guinea pig.
Guinea pigs are so much fun and make great pets.
To keep them happy and healthy, we recommend acquiring a guinea pig playpen or guinea pig run.
Giving them lots of places to explore and stretch their tiny legs.
Let's look at all the great reasons why you should get one, and the different varieties that are available.
What is a guinea pig playpen?
Guinea pig playpens are enclosures where your little cavy can run around and get some floor time.
There are different ones for indoor and outdoor use, which we will discuss in a little bit.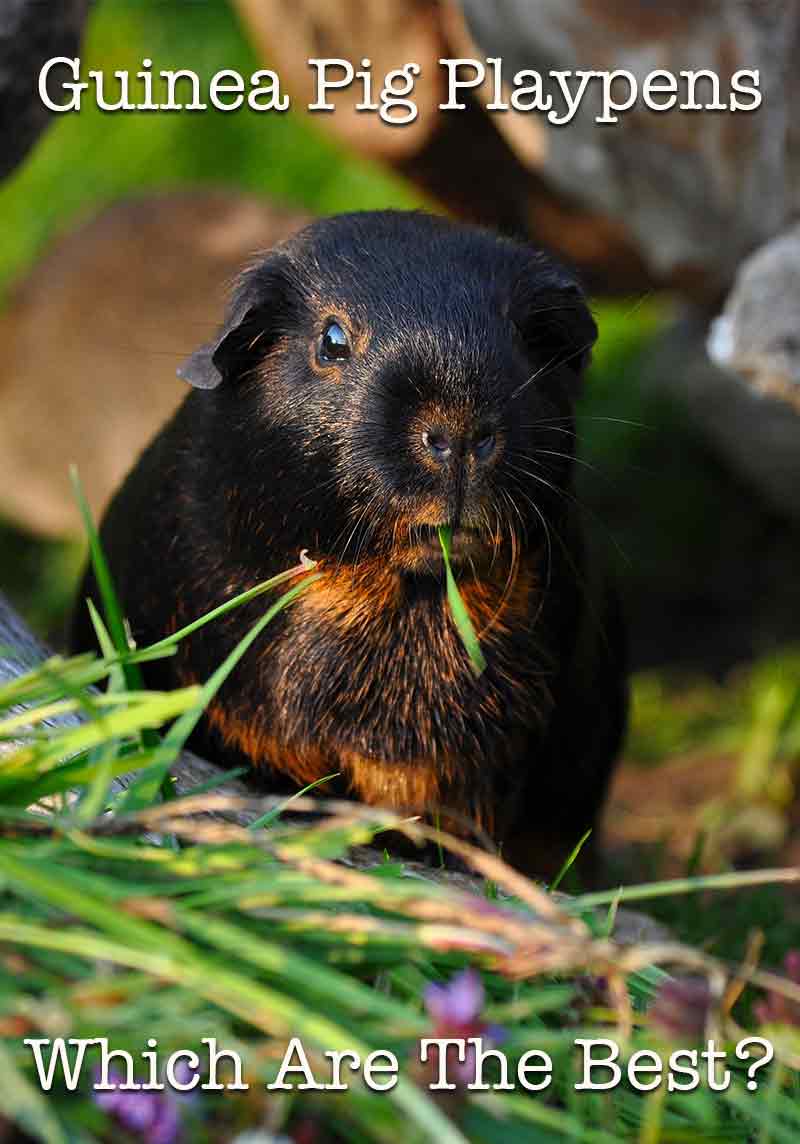 In general the indoor playpens are know as playpens, but the outdoor ones are usually referred to as runs.
The best guinea pig playpens have lots of space, so before we begin check out this article on guinea pig cage size to make sure you pick the right one for your number of piggies.
Why should I use a guinea pig playpen?
If you want to keep your guinea pig happy and healthy, it is vital to get a guinea pig playpen.
These playpens quell boredom for your pet and keep them active, helping to prevent diseases like obesity and related illnesses.
Outdoor runs also give your guinea pig access to your lawn for grazing. But let's start by looking at those indoor options.
Indoor guinea pig playpens
Indoor guinea pig playpens are perfect for letting your cavies run around and exercise while you work or watch television.
These indoor playpens are open from the top, so they are safe for indoor use as long as you don't have a resident cat or dog.
MidWest Homes for Pets makes an excellent indoor guinea pig playpen that allows for nine square feet of play area.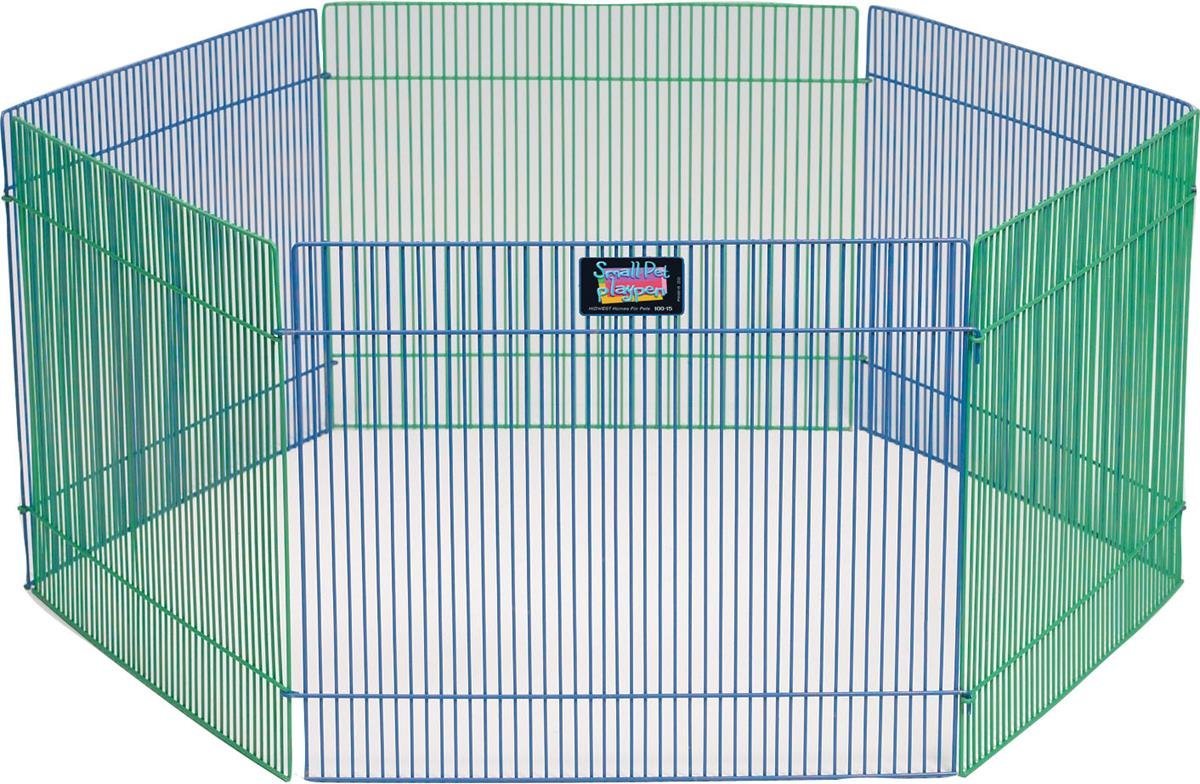 It is made of a strong durable metal allowing for great ventilation and visibility for your pet.
It is perfect for your pets to exercise and play with each other if you have more than one.
To keep it super interesting for your pet, you may want to include some little houses and fun enclosures.
Your guinea pig will love running around and hiding in these spaces. There is no need to spend a lot of money doing that.
Just adding plastic housing or cardbox boxes make for fun hiding holes.
Guinea pig playpen with mat
If you are looking to protect your floors while your guinea pigs get exercise and play time in, then Kaytee makes a guinea pig playpen with mat.
It is called the Kaytee Pet-N-Playpen for Rabbit, Guinea Pig and Ferret.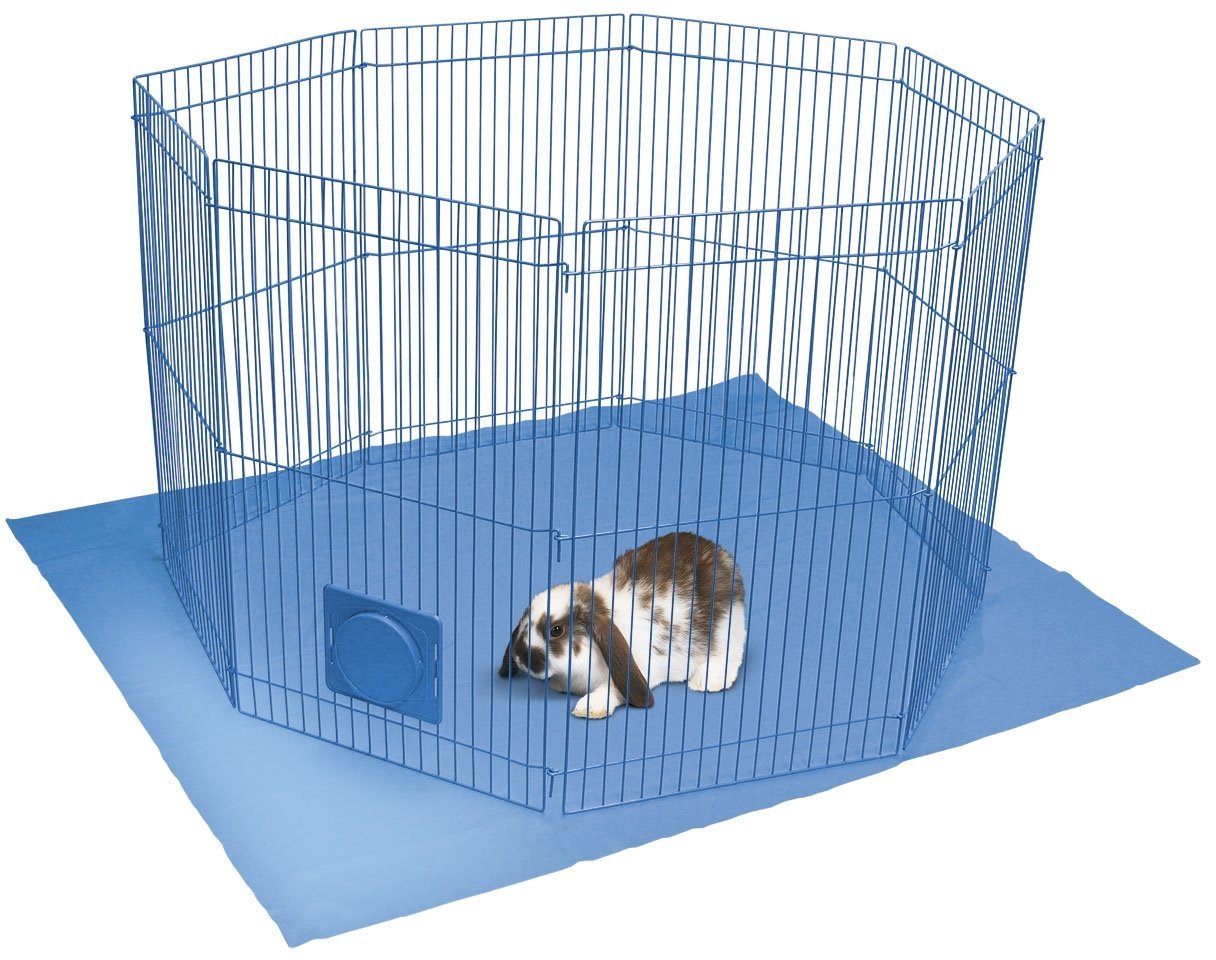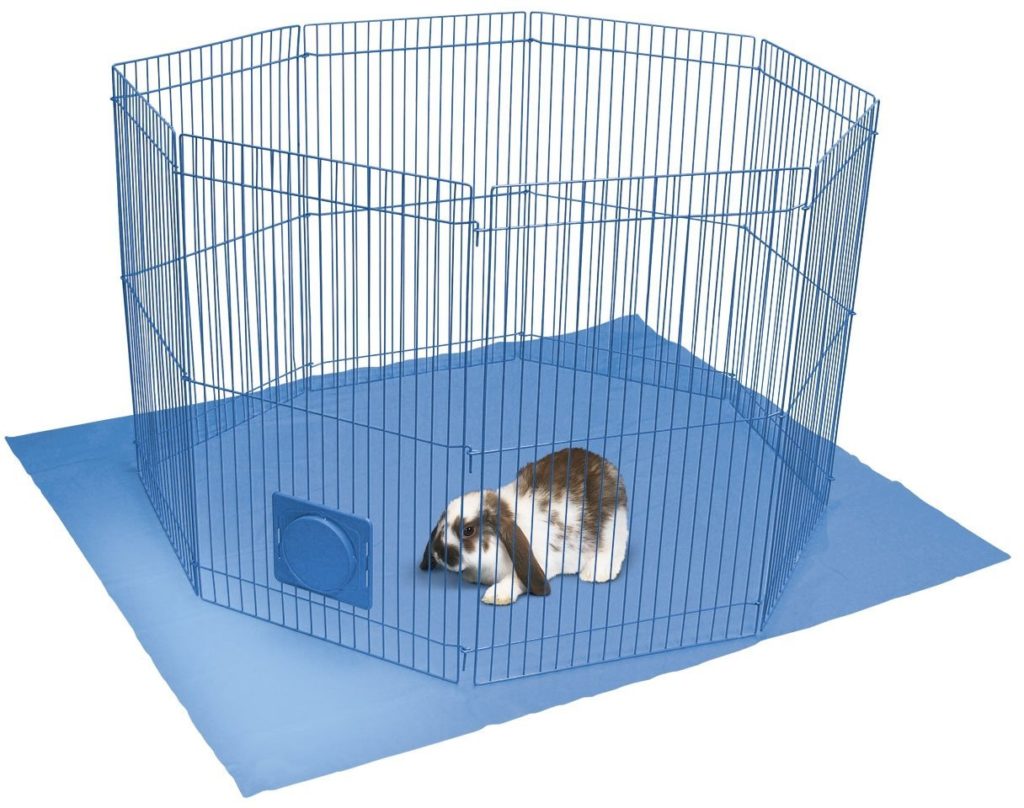 This is a highly rated indoor guinea pig playpen perfect for your cavies.
It is a sizable wire enclosure, which includes eight individual wire panels that can be set up any way you like, creating over nine square feet of space to play in.
Not only that, it comes with a protective plastic mat to protect your floors from messes.
Along the same lines is the great Prevue guinea pig playpen with mat.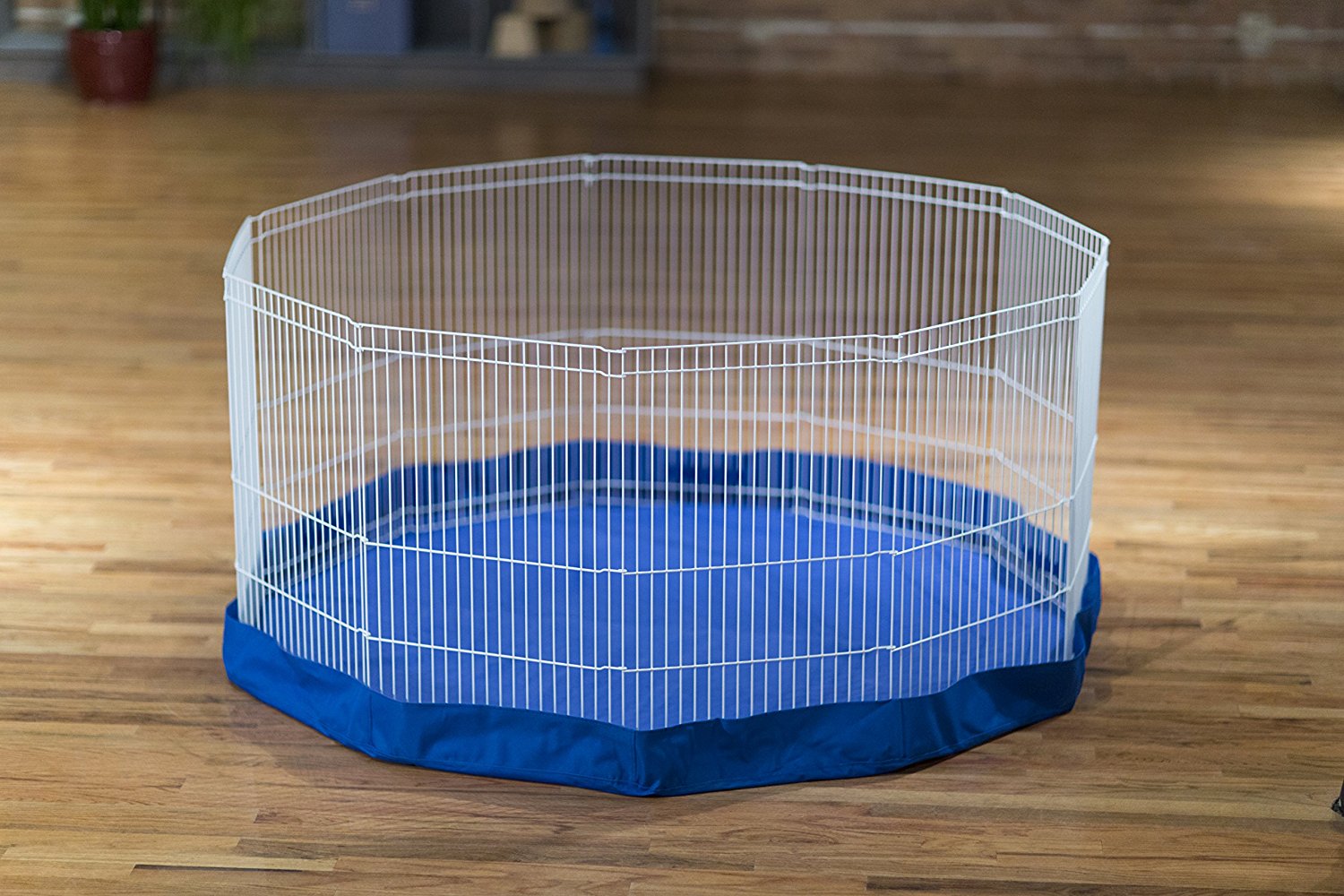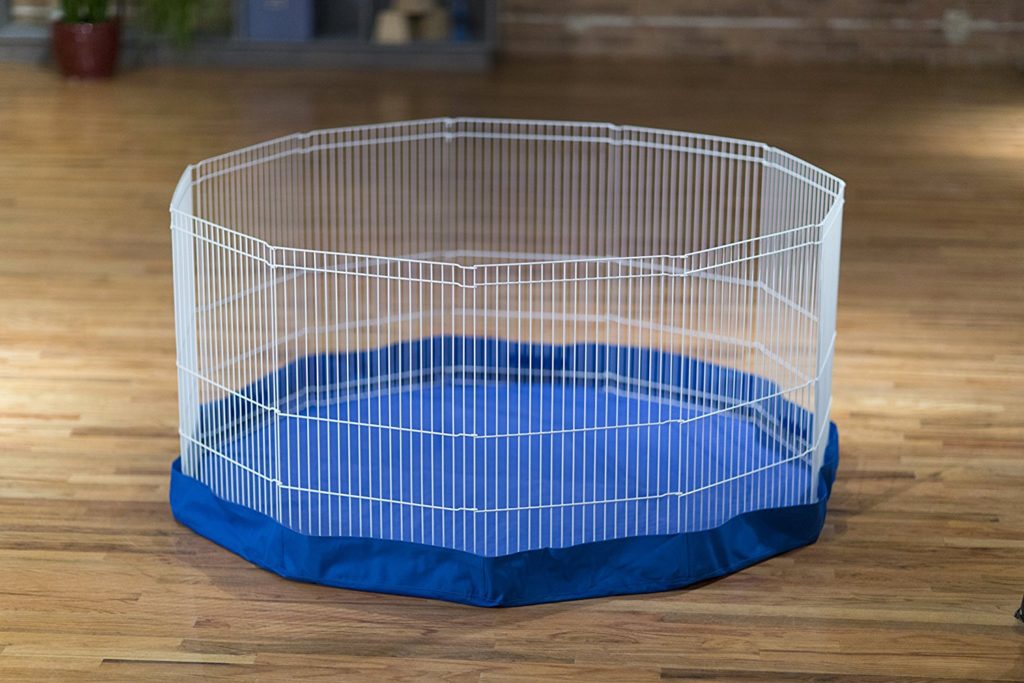 A nice twist to this playpen is that the mat can also be converted to provide a cover. Giving them shade if you use it outdoors.
You need to buy the mat and pen separately, but they are both available through Amazon.
Another really nice choice is the Midwest Guinea Pig Habitat Plus.
This matted play area also has a little separate ramped area.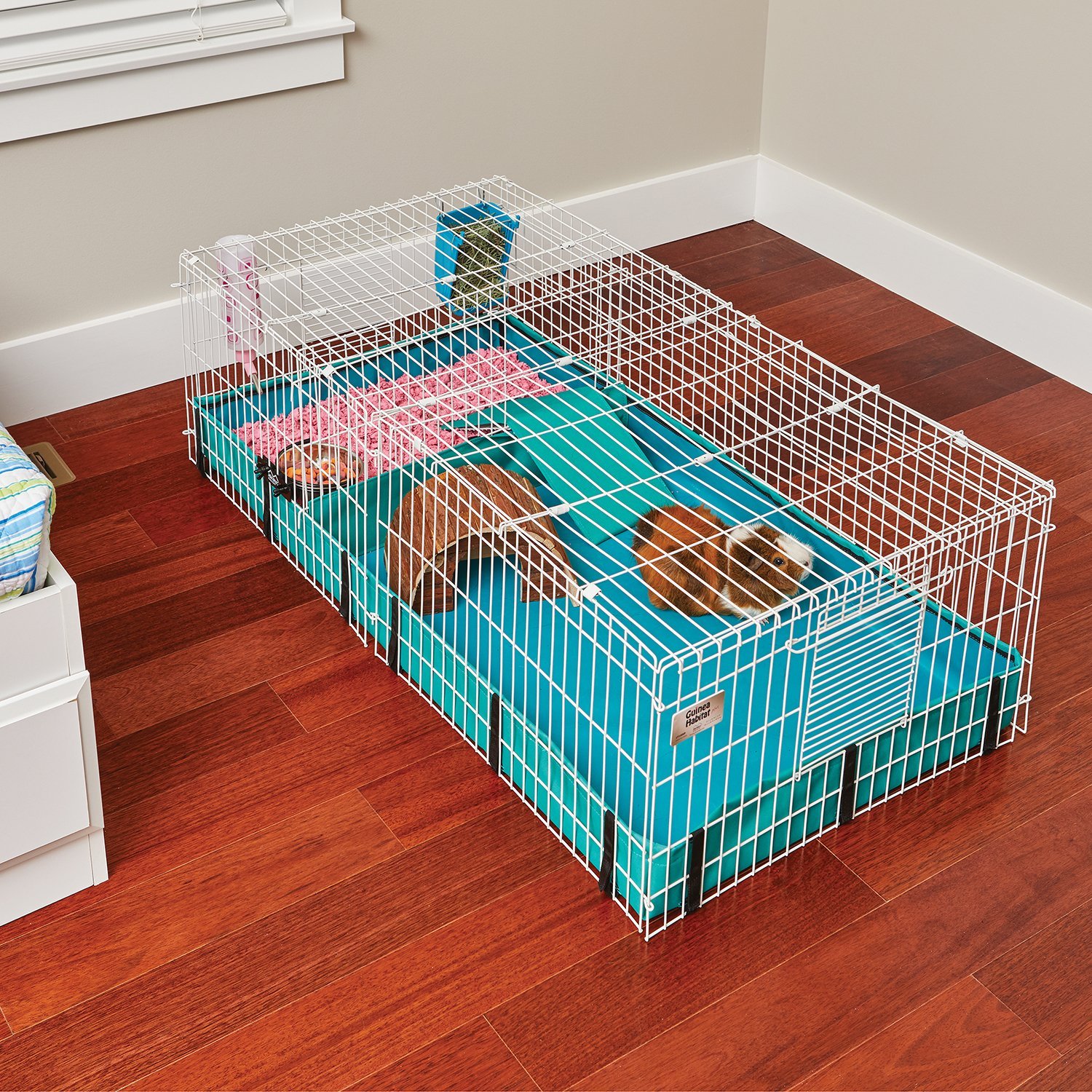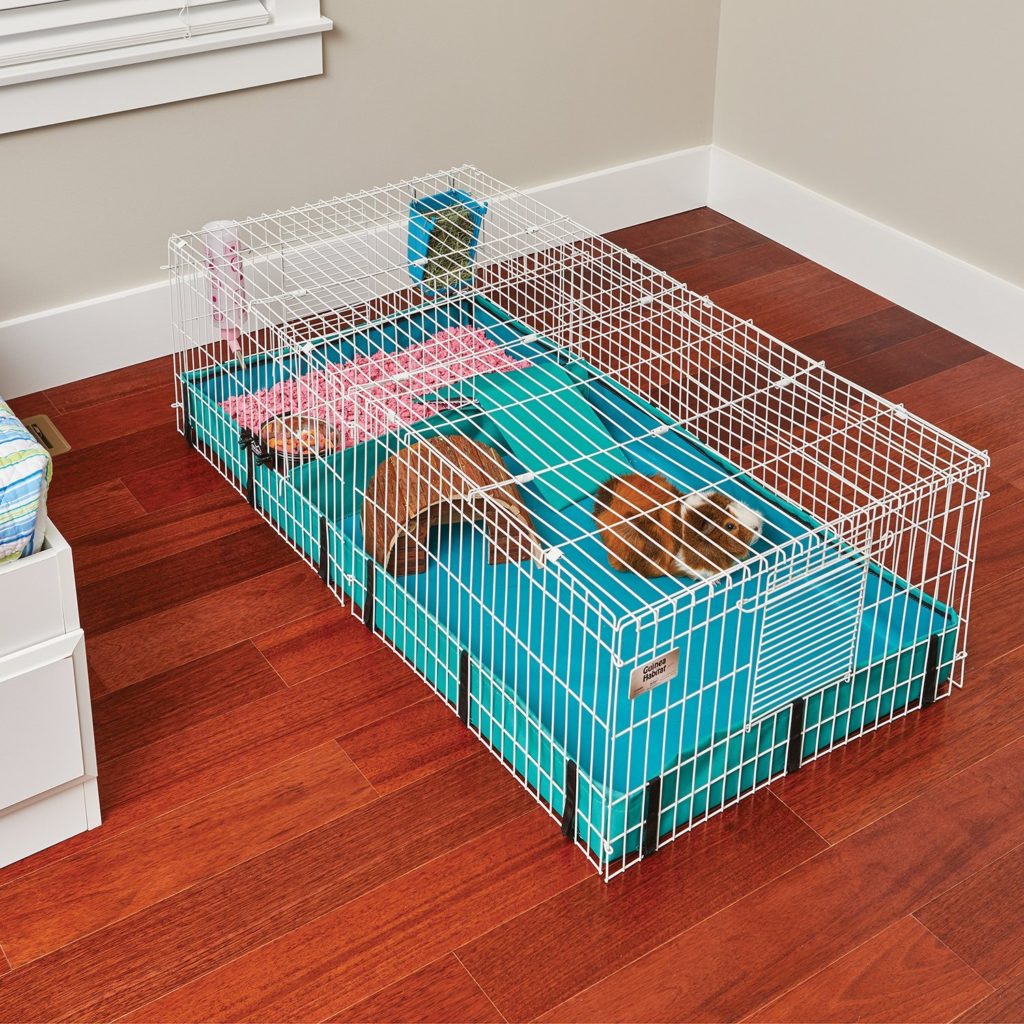 Not to mention a removable wire top, ideal for guinea pigs who share their homes with an inquisitive kitty!
Guinea pig outdoor playpens
Looking for a safe way for your guinea pig to enjoy the great outdoors while getting in some exercise and play time?
Guinea pig outdoor runs offer your pet a chance to catch some fresh air while enjoying nature safely.
Outdoor playpens are fully enclosed, protecting your guinea pig from predators and escape. Etna makes one called the Pet Puppy Playpen Exercise Run.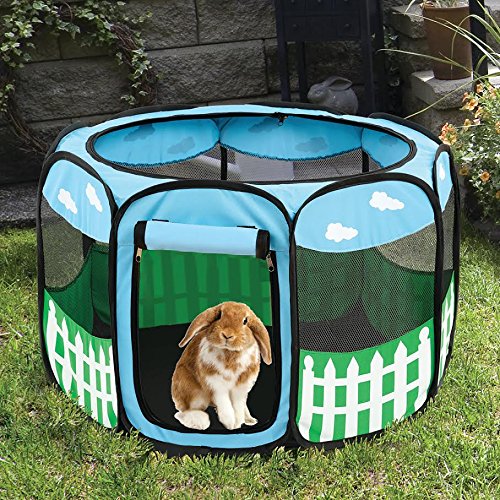 Don't worry. It isn't just for puppies. Cavies can play in them, too!
It is portable and lightweight which makes it great for traveling with.
It is easy to set up and fold away in seconds. There are top zippers for easy access, and a zippered front door so you can let your guinea pig in or out.
MidWest Homes for Pets makes an exercise pen that is highly rated.
To make sure your guinea pig is not able to jump the fence, you can even select the height of the playpen!
This exercise pen provides 16 square feet of enclosed area. The black coating on the playpen has a long lasting finish and protects against rust and outdoor elements.
This is easy to assemble and does not require any tools.
A word of caution though – this is only suitable for adult guinea pigs. Young piggies might be small enough to slip through the bars.
Large guinea pig runs
TRIXIE'S outdoor Run with Mesh Cover is large and ideal for both an inside guinea pig playpen for a large home or outdoor guinea pig run.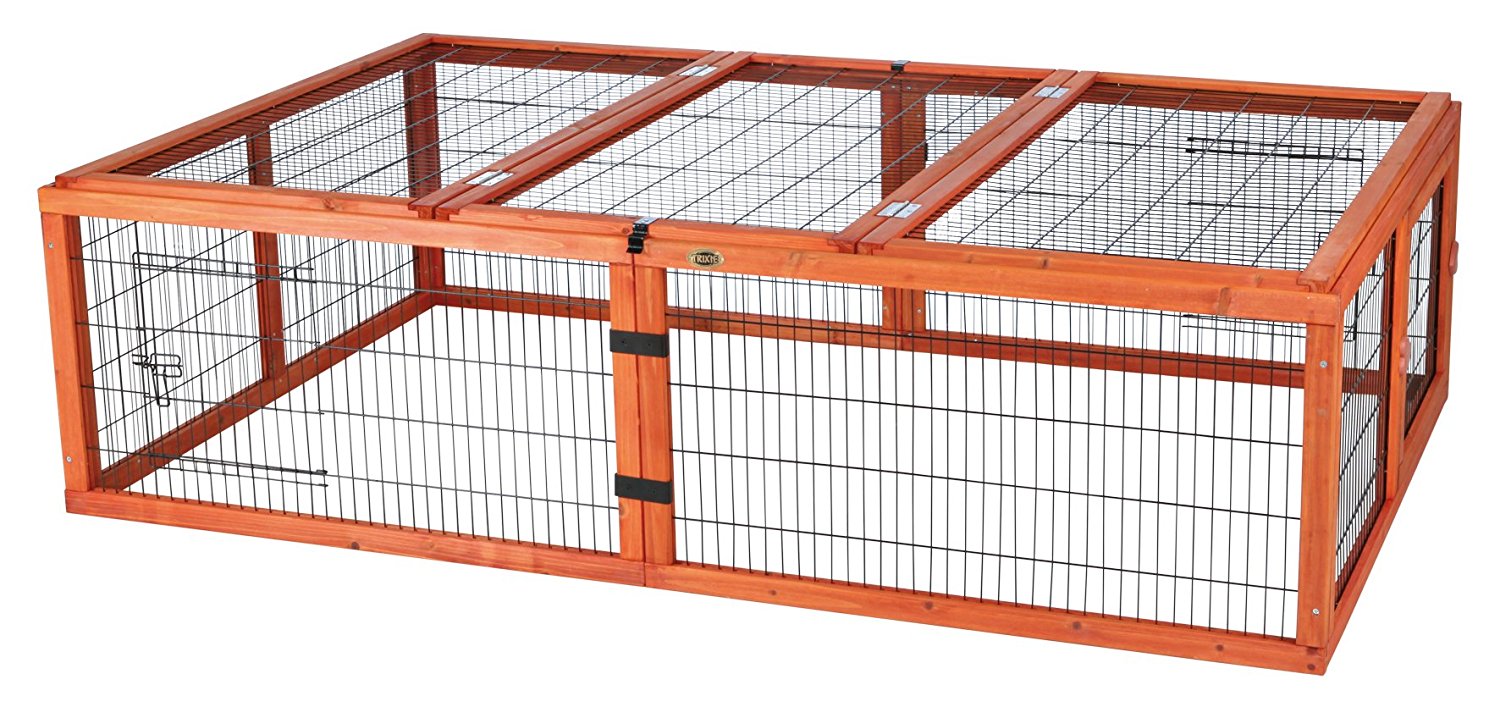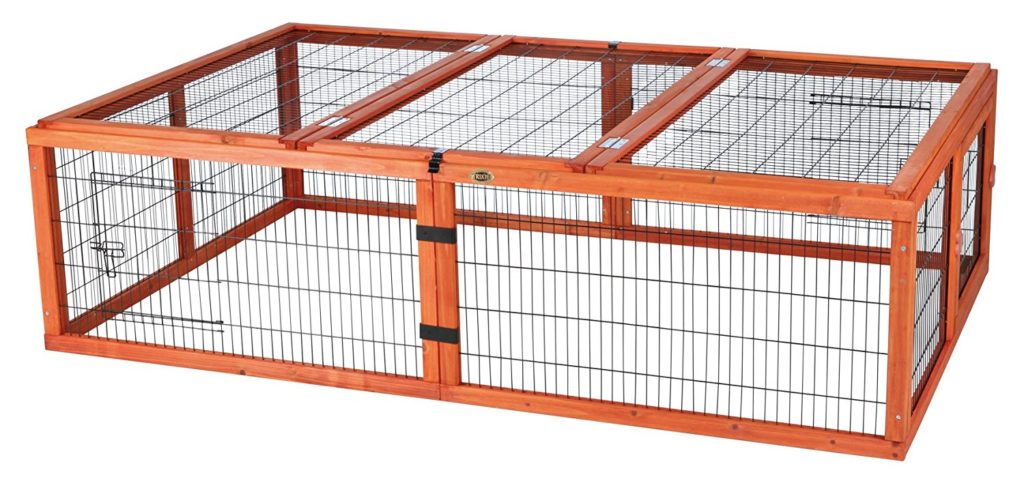 It is made of durable, solid wood construction and is an attractive outdoor run that will last for years with little maintenance.
This enclosure prevents your guinea pigs from getting loose and protects them from exposure to wild animals.
When you use a run like this you need to put your guinea pigs to bed at night to keep them warm and safe from predation.
But you can buy a guinea pig run that comes with a hutch bedroom attached.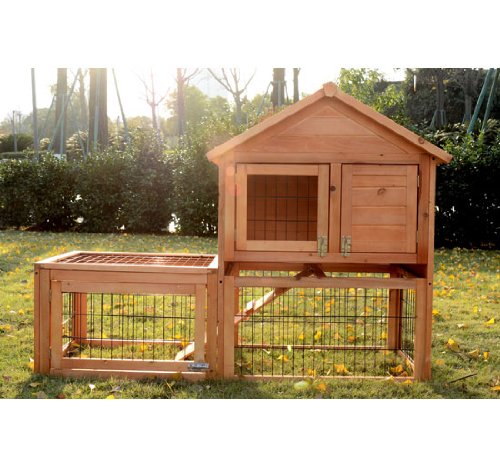 These are great for cooler but not freezing climates, where guinea pigs can enjoy a few months of outdoor living safely.
Pop up guinea pig run
Do you want to get an easy to set up pop up guinea pig run?
Then OxGord makes a cool looking 8-panel popup guinea pig playpen that is both durable and breathable.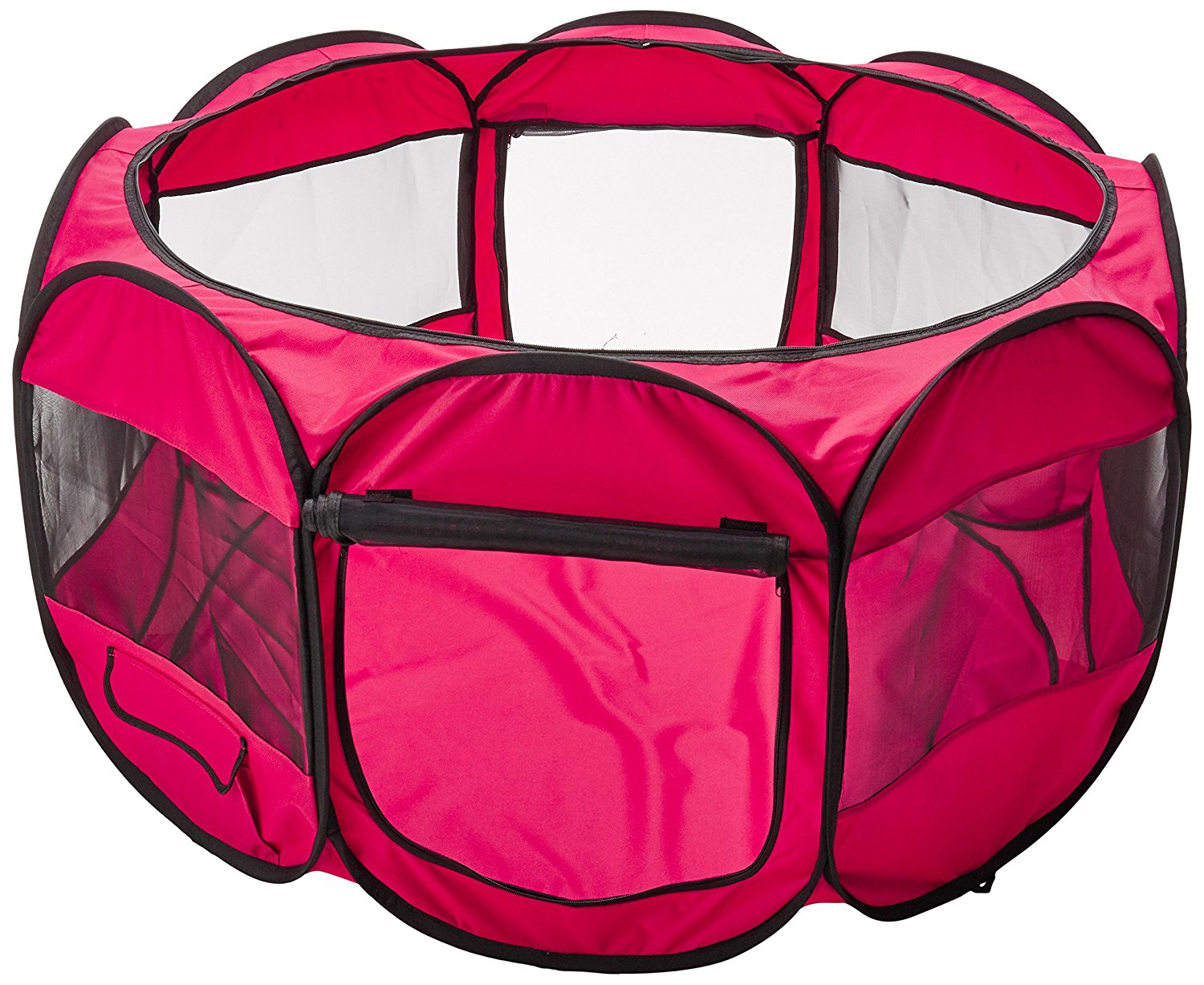 The mesh material offers maximum airflow and is easy to clean.
Portable runs are great for giving your piggies a change of scene, and giving your lawn a break too!
Cheap guinea pig runs
If you want a guinea pig run but don't want to spend a lot of cash, check out the Outdoor Run with Mesh Cover for Chicken Coop by TRIXIE Pet Products.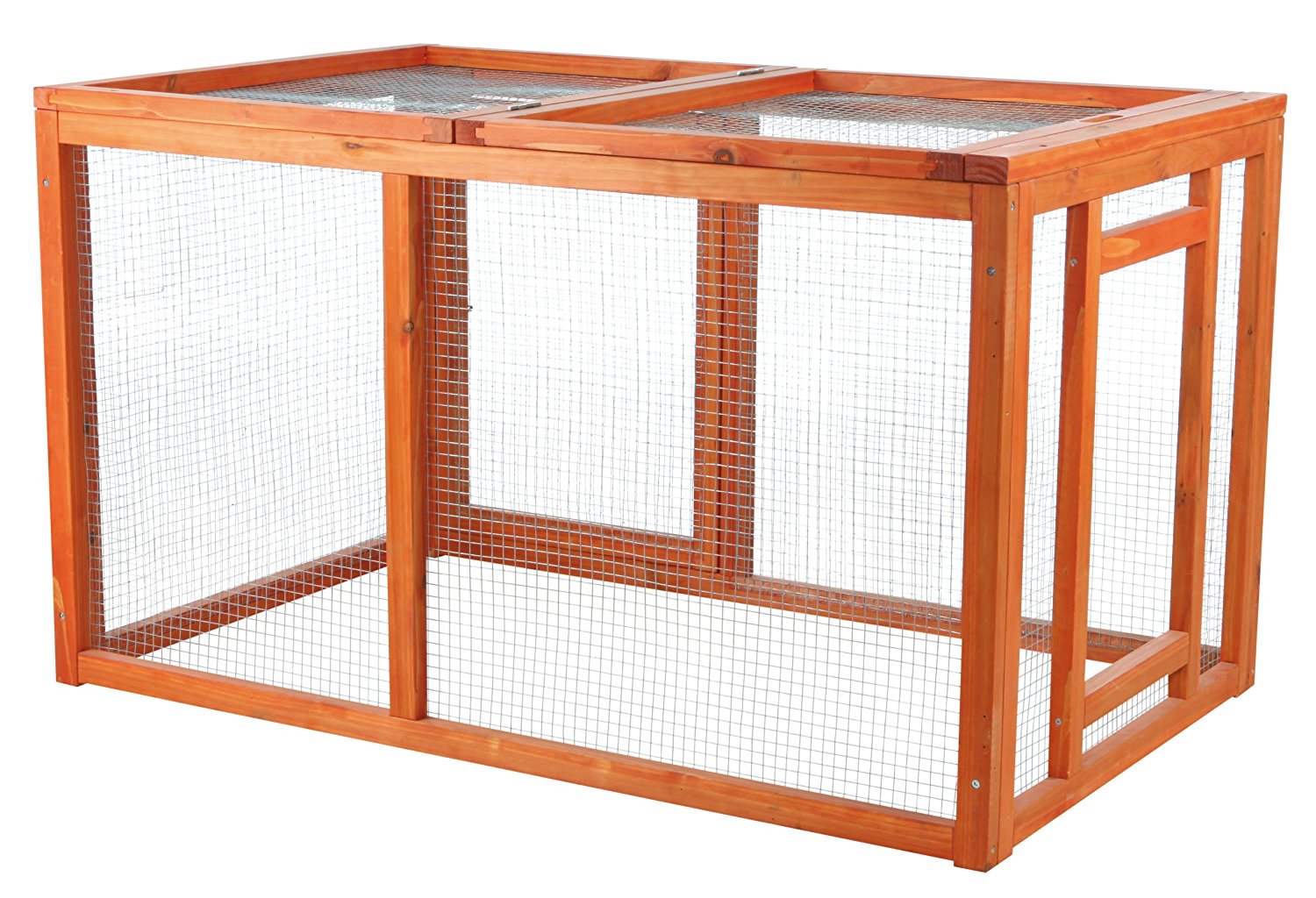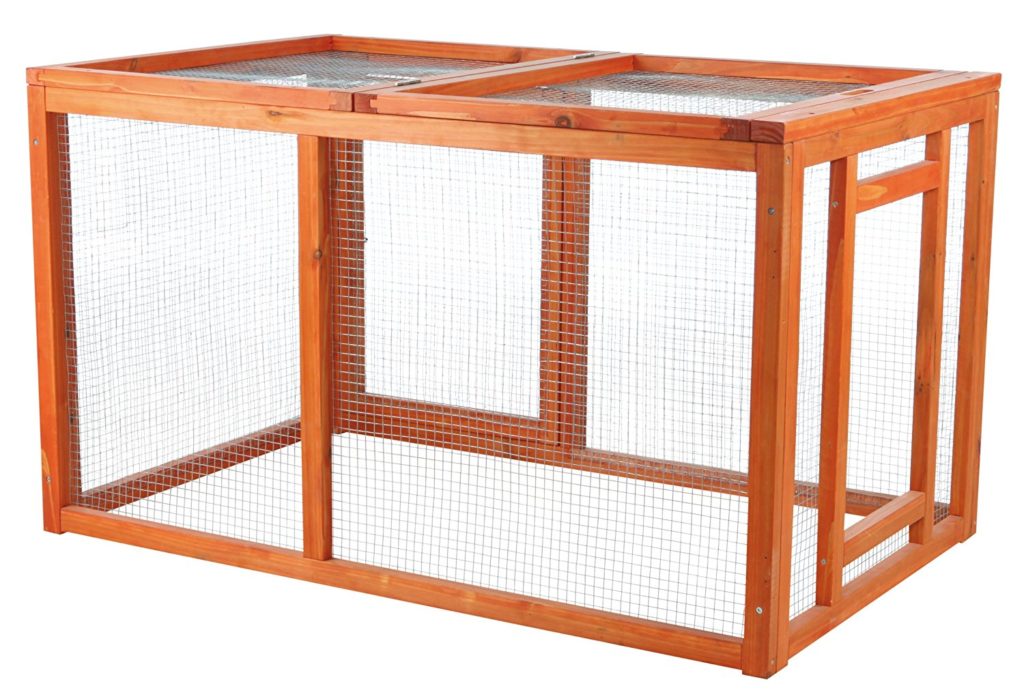 Although it says it's for a chicken coop, you can certainly use it for your guinea pigs.
You can save money on guinea pig playpens by purchasing one second hand, but be sure to check it carefully for sharp edges and gaps where your little friend could escape.
Best guinea pig playpen
Looking for the best guinea pig playpen? Then you will have to consider a few factors.
Space – how much room do your piggies have to run around in? The more the better!
Safety – how secure is the run? If you have other pets or outdoor piggies then you will need to make sure there is an enclosed roof too.
Cost – make sure the pen is in your budget and meets the other factors and you are probably on to a winner.
Let us know which guinea pig playpen or guinea pig outdoor run you choose by sharing in the comments box below. We would love to hear from you!