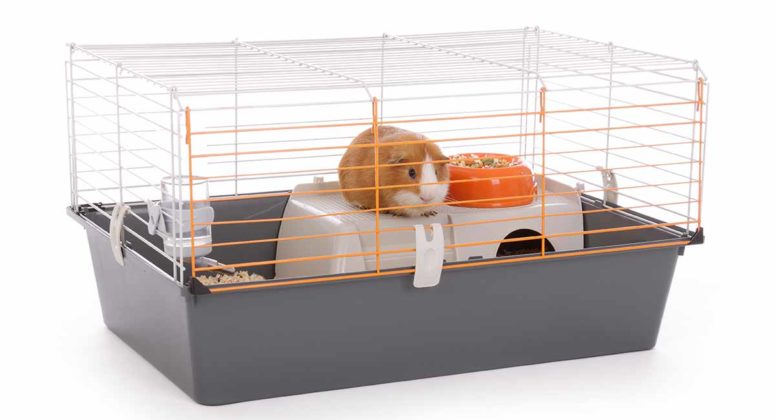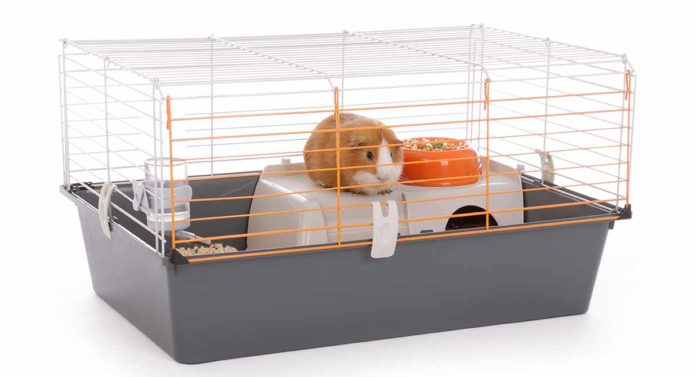 Indoor guinea pig cages are a great idea for your new cavy. Not only are guinea pigs adorable, they're also fascinating to watch. So it makes sense to keep them inside and close to you, where you can keep an eye on them and make sure they are safe.
The best indoor cages for guinea pigs should include adequate living space, as well as being the right type of cage for a guinea. You should also take into consideration whether or not you have multiple guineas living together, and make sure there is plenty of room for all.
Our Top Three Indoor Guinea Pig Cages
The type of indoor guinea pig cage you choose to become your little piggie's new home can have a huge impact on her health and well-being.
There are plenty of options out there to choose from, but here are the ones that make our top three!
Guinea Habitat By Midwest
This guinea pig cage is highly rated, with a good reputation for customer (and cavy) satisfaction. It comes with several different variations, including different sizes. The standard provides eight feet of living space.
Living World Deluxe Habitat
This cage is a little spendier than some, but it includes features like a balcony to keep your cavy active and entertained. It also comes in standard and large sizes, but the extra large size is great for multiple guineas.
Yaheetech Six Level Hutch
This option provides a fun and entertaining home to your cavy, with a convenient foldable design for easy installation. It includes six levels for running around and playing.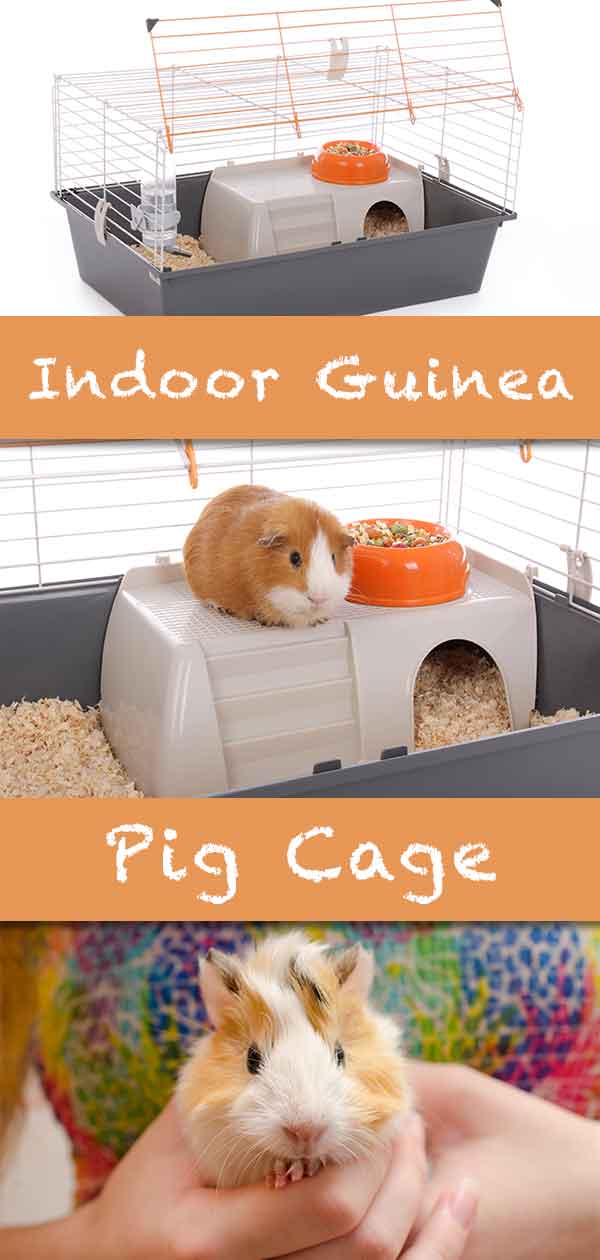 Why Choose An Indoor Guinea Pig Cage?
Many first-time guinea pig owners automatically assume that domestic pet guinea pigs should be housed outdoors like their wild cavy cousins. But unlike wild cavies, pet guinea pigs have neither the instincts nor the early life skills and training to live outdoors full-time without significant modifications.
Spending some daily supervised time outdoors in the warm season can be both healthy and fun for your pet guinea pig. He may really enjoy running around and nibbling the fresh (fertilizer and pesticide-free) grass and exploring his surroundings under your watchful eye.
But at night and in colder or wet weather, it is often far safer and healthier to provide your sweet piggie with a secure indoor guinea pig house to live in.
With an indoor house, you have the kind of total control over his environment that ensures he lives healthy and happy for a long time.
Important Features for Indoor Guinea Pig Cages
One of the main concerns for the best indoor guinea pig cages is sizing.
Caring veterinarians have already done the heavy lifting for us by outlining exactly what the dimensions should be for the ideal pet guinea pig indoor cage.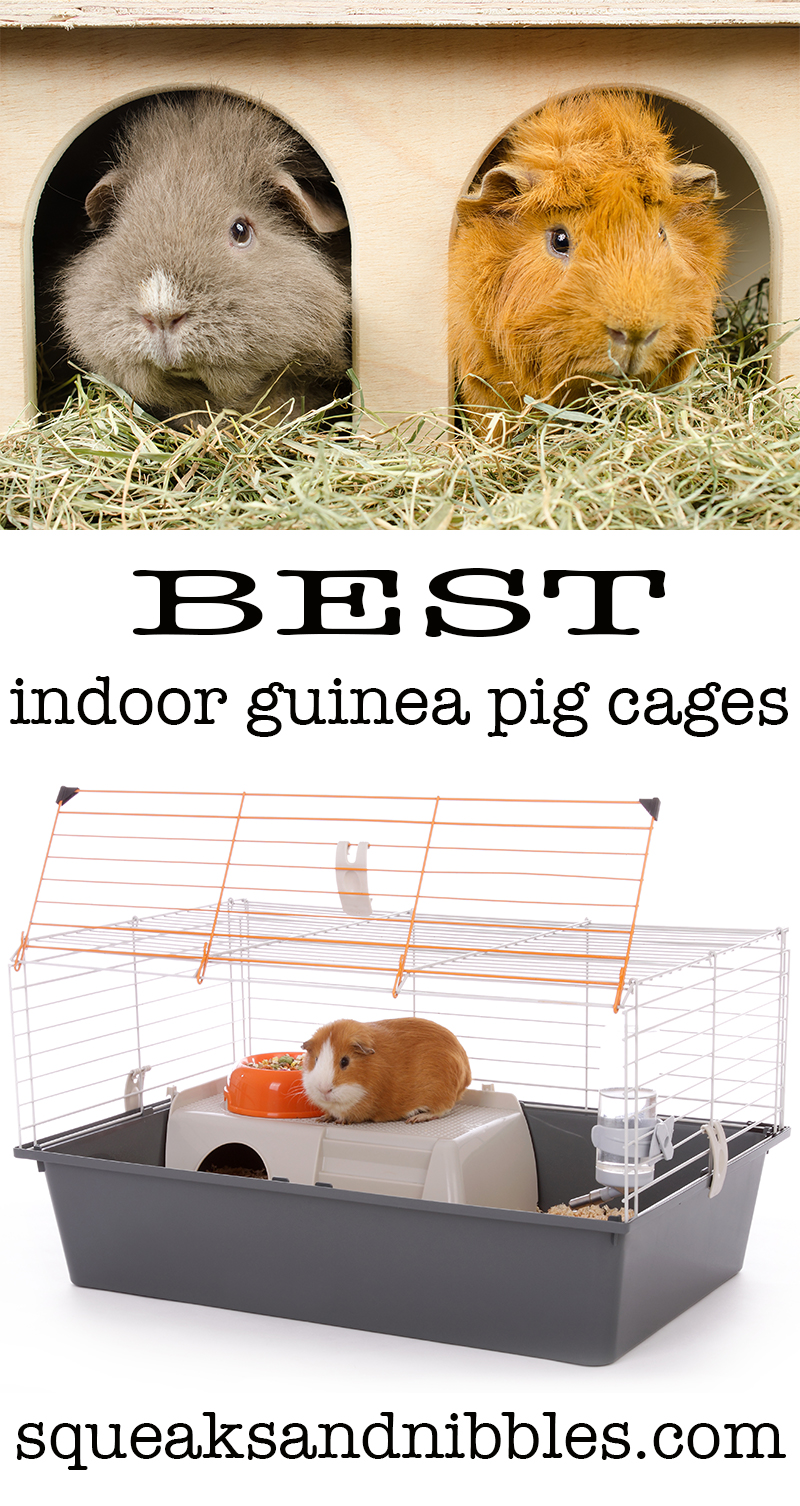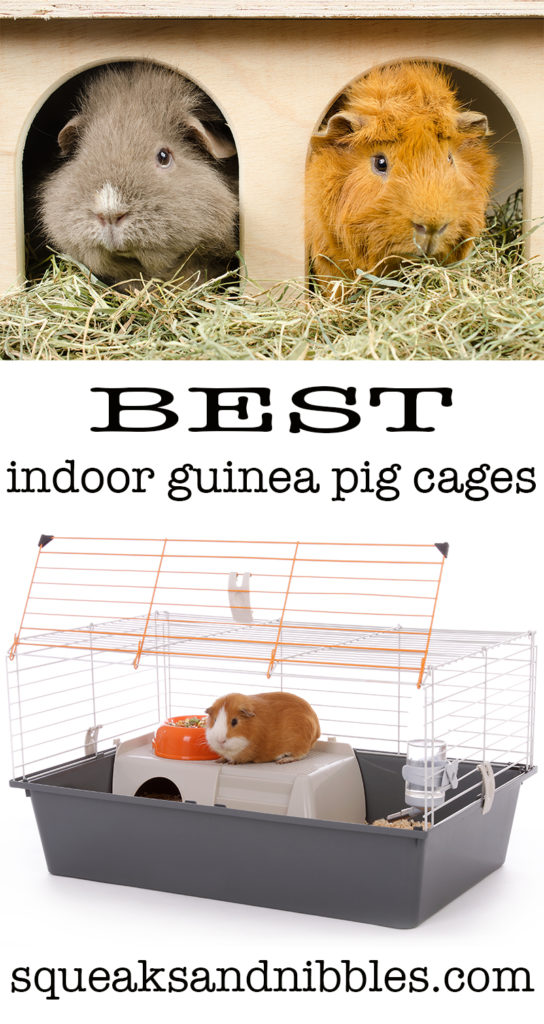 For a full and detailed look at this topic, we recommend this great article on the topic: "Guinea Pig Cage Size Guide And Where To Find The Best Indoor Guinea Pig Cages."
But here's a brief run-down of the figures.
A single guinea pig's indoor guinea pig cage
Aim to provide a minimum of seven square feet of floor space.
The cage height should be 12 inches minimum and 18 inches maximum.
Examples of suitable cage dimensions: 36 inches by 36 inches (91 cm by 91 cm), 42 inches by 24 inches (106 cm by 61 cm).
Two guinea pigs living together in an indoor guinea pig cage
Aim to provide a minimum of 9 square feet of floor space (11 square feet would be even better).
The cage height should still be 12 inches minimum and 18 inches maximum.
Example of suitable cage dimensions: 30 inches by 50 inches (76 cm by 127 cm)
More than two guinea pigs living together in an indoor guinea pig cage
Aim to provide a minimum of 11 square feet of floor space (15 square feet would be even better).
The cage height should still be 12 inches minimum and 18 inches maximum.
Example of suitable cage dimensions: 30 inches by 76 inches (76 cm by 193 cm).
Four or more guinea pigs housed together
Whenever you add a new pig, veterinarians advise adding an additional 2 square feet of space at minimum for each new pig (4 square feet for each additional pig would be ideal).
But here, you might legitimately be wondering: why add just 2 to 4 square feet when a single piggie housed alone needs a total of 7 square feet of space?
The reason is that a single guinea pig won't use all 7 square feet to run and play in. About 3 square feet will be divided into specific areas for eating and drinking, going to the bathroom, and hiding/sleeping. That leaves about 4 square feet for exercise and play.
With this factored in, for each additional pig you add to a shared living space, you will need to provide an additional 2 to 4 square feet for that new guinea pig to run, exercise and just have some personal retreat space.
But your piggies, being quite social by nature, will happily share the spaces inside the cage that are reserved for eating, eliminating, foraging, and sleeping.
Indoor Guinea Pig Cage Health And Safety
Guinea pigs are not the greatest climbers in the world, and they don't really like to climb.
For this reason, you don't technically even have to put a top on any indoor guinea pig cage that is 12 inches or higher. Typically, your pig won't try to climb out (although you should watch any new pig for a bit just to be sure!).
However, there are some other health and safety criteria that can be absolutely critical for the well-being of your pet furballs. In particular, these four criteria should be met in any indoor guinea pig cage you select:
The cage bottom should be smooth so it won't irritate your guinea pig's soft, sensitive feet. However, steer clear of wood in favor of plastic or another chew-resistant smooth material!
Cage bars should be spaced sufficiently so as to provide plenty of ventilation but yet not so far apart that your piggy might get a paw or – worse – a head caught between the bars.
The cage should be easy to clean and sanitize, including in the corners and seams!
Your cage should offer plenty of floor space for running, foraging, and playing for each guinea pig who will live within it.
Selecting An Indoor Guinea Pig Cage
Selecting a guinea pig indoor hutch that meets each of these criteria in full is essential for your guinea pig's long-term health and safety.
If the cage offers too little ventilation, mold and bacteria will grow. If there is too little space for exercise, your piggie can grow fat and bored.
Most critically, if the cage is too hard to clean you may miss essential areas where toxins lie in wait for your fur baby. Veterinarians recommend cleaning the cage in the "bathroom areas" every two days at most, so this is super important!
But with the selection of great large indoor guinea pig cage options we are about to show you, none of these concerns should be a worry for you and your pet piggies!
Best Large Indoor Guinea Pig Cages
Guinea pigs can be fairly active little critters, and they do best if they have room to rustle around and play.
It's also important, as we mentioned above, that there be enough added room if you have more than one guinea.
It's common to have larger cages outside, but if you want to bring your extra large guinea pig cages indoors, these are the options to choose from!
These roomy indoor guinea pig cages will suit one pet guinea pig perfectly well. Two of these cages also offer the option of adding an extra extension so you can house two guinea pigs inside comfortably.
Midwest Homes Wabbitat Deluxe
This habitat from Midwest Homes for Pets is a well-reviewed option. However, at 39.5 x 23.8 x 19.8 inches for the basic home, this is just 5 square feet of space.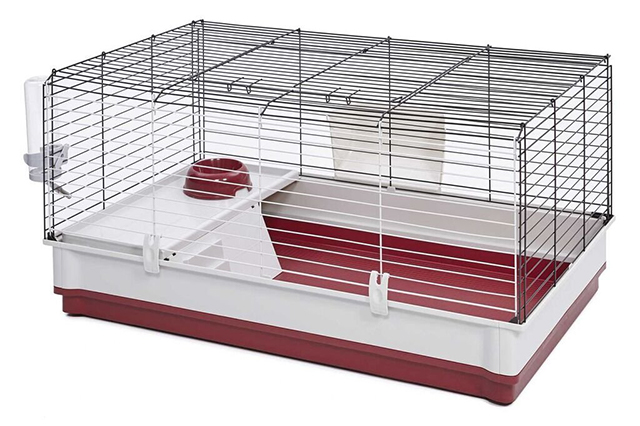 But this "deluxe" kit comes with an extra extension (sold separately) that adds on another nearly 3 square feet to give your piggie more running room. Or you can contain him inside the smaller area while you clean the remainder of the habitat.
So the total square footage with the extension is 8 square feet – perfect for a solo guinea pig.
Kaytee My First Home Two Level Pet Habitat
This option from Kaytee has several features that we really like. At 43.2 X 18.5 X 8.8 inches, this roomy giant habitat provides 8 square feet of floor space plus an extra raised sleeping platform.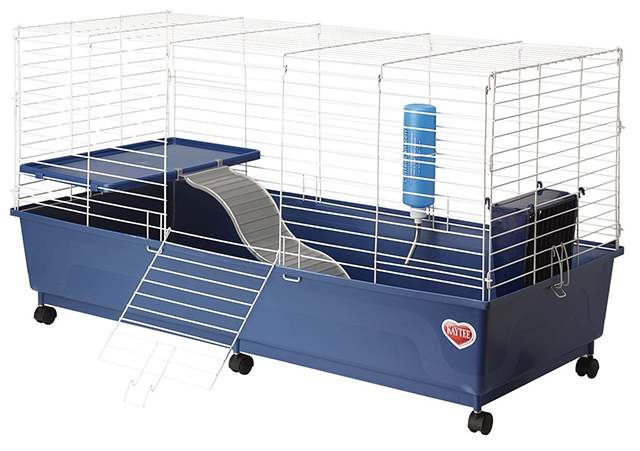 It has an accessible ramp and a hidden under-platform hiding area for extra room. The latches are chew-proof according to the manufacturer and it comes with wheels plus a lovely suite of new accessories (water bottle, hay feeder, food dish).
The floor is smooth as well.
Prevue Hendryx Small Animal Tubby, Extra Large
This choice from Prevue Hendryx is a good starter for a guinea. At 47.25 x 24.25 x 21.5 inches, this roomy indoor guinea pig cage comes in at 7.8 square feet.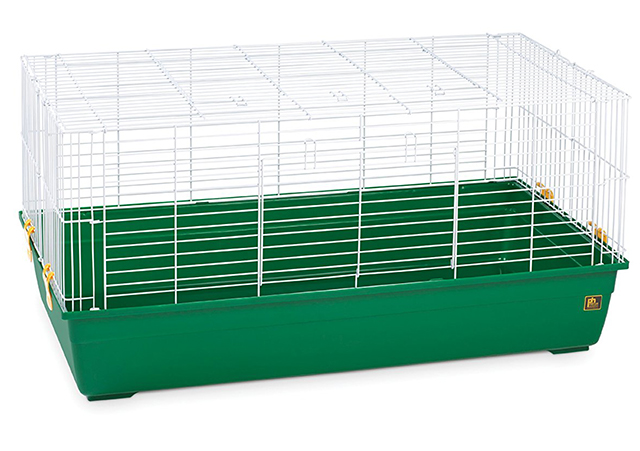 It even has a bit extra, thanks to a design that features a ramp-accessible platform. It isn't fancy, but it is roomy, which many starter guinea pig cages are not these days.
Krolik XXL Rabbit Cage With Wire Extension
Krolik's extra-extra-large cage is another considerable option. At 63.78 X 23.62 inches, or 10 square feet, this gigantic rabbit cage is perfect for two or more guinea pigs to live together.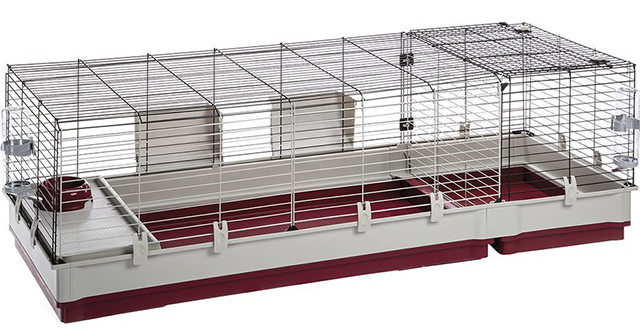 There is also a raised platform for eating or snoozing that offers a bit more room as well.
This cage system also comes with accessories including a hay feeder, water bottle and bowl. The wide front door makes cleaning easy.
Best Modular Indoor Guinea Pig Cages
Most animal cages fit under the category "modular," as they are built in a uniform fashion. Some of them have the added benefit of being adaptable, or of being designed to connect with other cages.
If you are keeping two or more guinea pigs, you will need an indoor guinea pig cage that provides at least 11 square feet of floor space.
This can be a tall order to find in a single cage, so many manufacturers make single cages that come with the option of joining two singles together to make a double-wide cage.
We think these modular extra large indoor guinea pig cages have a lot to offer and we hope you will agree!
Guinea Habitat Plus
This MidWest Homes for Pets Guinea Habitat Plus is a great way to start our list off. At 47 x 24 x 14 inches, a single habitat already provides 8 square feet of floor space. But this habitat is designed to be hinged to a second habitat (hence the "plus") to make a full 16 square feet of space.
This is more than enough space for two or even three piggies to be housed together comfortably.
Living World Deluxe Habitat
The Living World Deluxe Habitat (X-Large) is 46.9 x 22.8 x 24 inches. So this cage on its own is more than roomy enough for a single pig.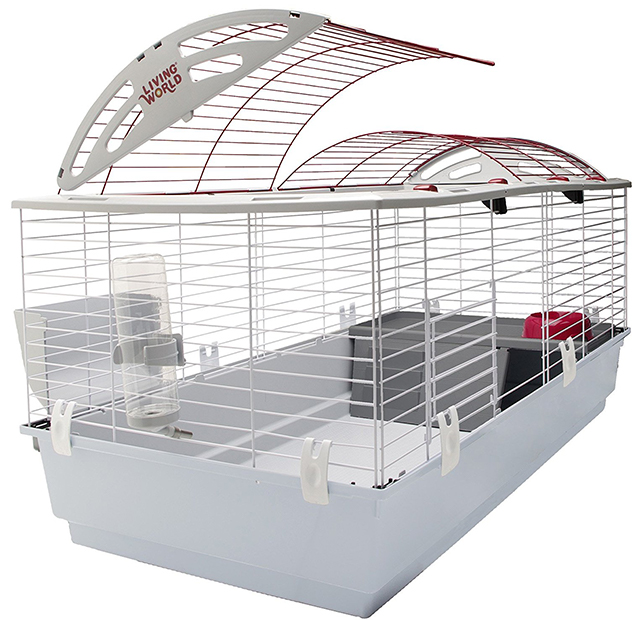 It has a lovely little balcony accessible by a short, wide ramp, a smooth bottom and an attractive, easy-access arched top.
Best of all, you can connect a second cage to this one to accommodate many more guinea pigs.
Homey Pet Stackable Heavy Duty Cage
This Homey Pet 43″ Stackable or Non-Stackable Heavy Duty Cage includes a feeding door, tray, and casters for easy movement.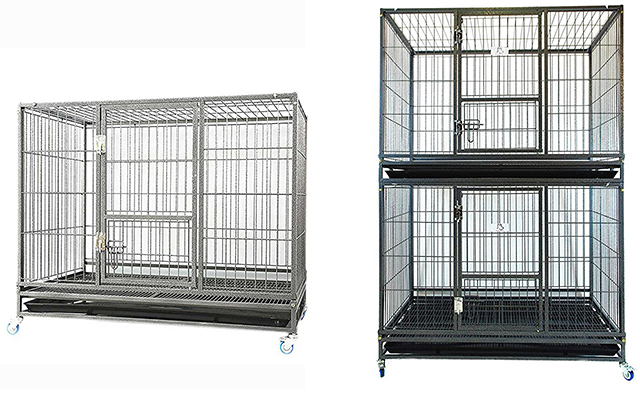 At 43 X 28.5 X 35.5 inches, this stackable cage could give a single guinea pig 8 ample square feet of space.
If you turn it into a two-tier system, it could give a second single piggie the same amount of space for running and playing.
There are also casters which you can lock when you don't need to move it, and the tray(s) pull out for easy cleaning. Only one cage is sold in an order – the second cage must be purchased separately.
Best Two-Tier Guinea Pig Cages
We love the idea of giving a cavy extra room to run around. Even though they aren't particularly given to climbing, they still can enjoy different levels of playspace!
A two-tier guinea pig cage can also be a great choice if you have two pigs that don't really get along. Or you simply don't have sufficient floor space to house your two pigs and yourself too!
Here are a few options for multi-level best indoor guinea pig cages.
Kaytee Extra Large Habitat
This Kaytee Habitat Defined Rabbit Hutch may not look like a lot at first glance. At 41.25″L x 18″W x 18.75″H, this two-tier cage comes in at 5 square feet, but again offers a roomy second tier ramp accessible with a short ramp.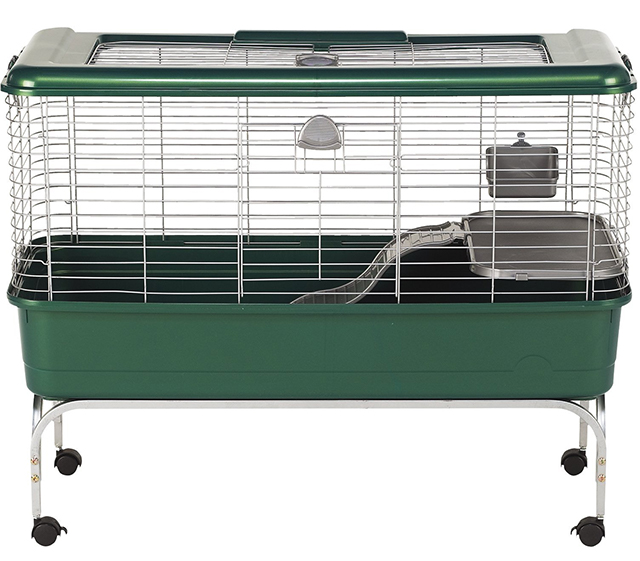 While Kaytee makes another two-tier cage designed for guinea pigs, this rabbit cage is actually bigger, which is why we prefer it.
Plus, it features the smooth bottom and wheels that make it such a convenient indoor guinea pig cage choice.
Yaheetech Multi-Level Habitat
This option goes even further, with six levels.
As it is taller than many of the cages listed here, it is also designed to be conveniently foldable, and would work well along with a secondary, smaller cage for occasional use or while this one is being cleaned.
Best Indoor Guinea Pig Hutch
Typically, a hutch-type cage is designed to be used in an outdoor setting. But with the right hutch, you can also use it very easily in an indoor setting.
These hutches are innovative, highly rated and attractive, and meet the basic criteria for your guinea pig's health and wellness.
Aivituvin Rabbit Hutch Indoor Outdoor
We love this indoor guinea pig hutch for how cute it is, for one thing.
Other features that we like include the smallness of the wire mesh, to make sure no heads or paws get trapped. It also comes with a pull out tray for easy cleaning, and the manufacturer includes a bonus chew toy for guineas!
Ferplast Krolik Rabbit Hutch
The Ferplast Krolik 140 Plus Rabbit Cage features a small hutch along with it. At 55.91 x 23.62 (nearly 9 square feet not including ramp and underneath sleeping area), this roomy half-hutch, half-cage offers everything a cavy could ever want in indoor cages for guinea pigs.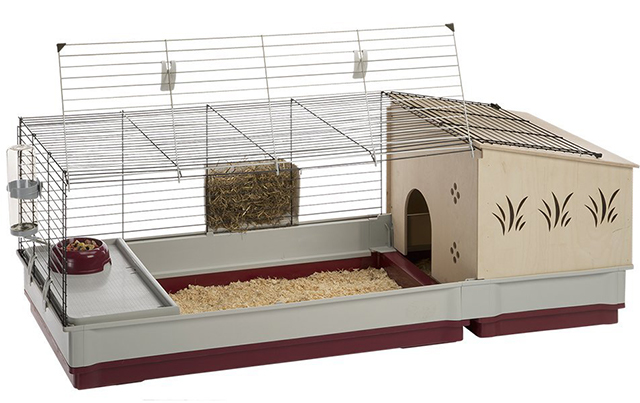 It could comfortably house two small guinea pigs, with a design that makes it easy to keep sleeping, playing, eating and eliminating separated.
The "Plus" is a small enclosed hutch that attaches to one end – really cute! However, it is made of wood, so it will probably see some gnawing.
Best Large Indoor Guinea Pig Run
Guinea pigs do need a lot of exercise and play time, especially in the winter when it isn't possible to take them outside to run around.
Plus, guinea pigs are smart and curious and tend to be awake during the day just like you are, which makes home-time a perfect time for indoor play-time!
A guinea pig indoor run is a perfect choice for indoor play. You know where your piggies are and they can't escape. But they also have lots of room to jump and run and play freely. And they won't be in any danger if you can't supervise them nonstop during playtime.
KOUSI Portable Indoor Fence
To start with, check out this KOUSI Portable Large Metal Wire Pet Indoor Yard Fence. With over 15 square feet of floor space, this guinea pig indoor run was originally designed with puppies in mind. Which means plenty of space for your cavy!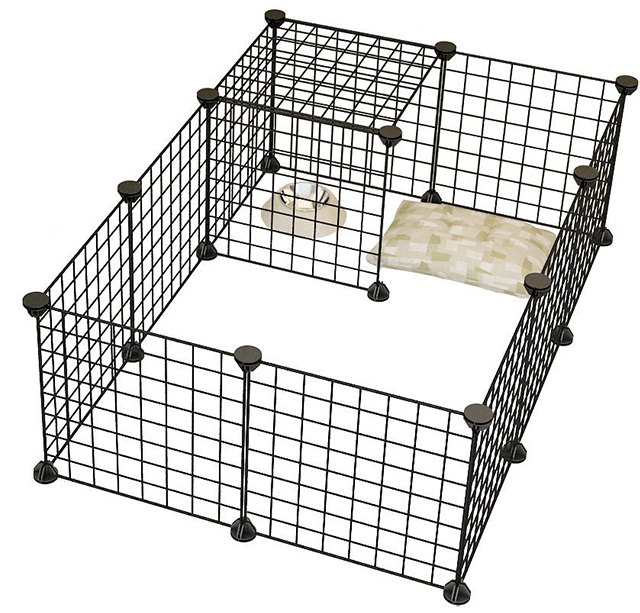 It is simply perfect for keeping tabs on your guinea pigs while they enjoy stretching their legs. On nice days, you could also take this wire fence outside to let your pigs enjoy a little sunshine and a tasty grassy treat.
Outback Jack Happy Habitat
This Outback Jack Happy Habitat is a tent-style run.
While this manufacturer states that this product is designed for cats, with more than 30 square feet of play space, it is quite suitable for multiple guinea pigs to enjoy the great indoors during playtime as well.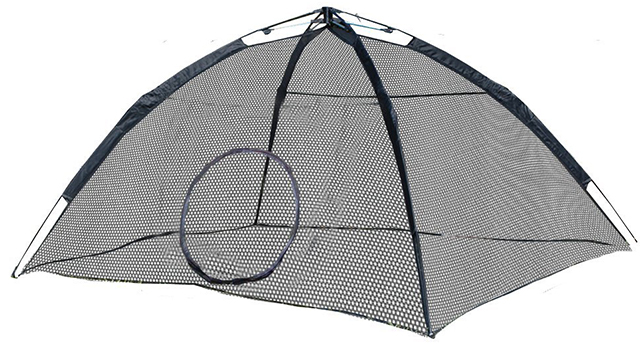 At just four pounds, it is also much more lightweight than most runs and habitats, which can give your back a much-needed rest during setup and take-down.
Midwest Small Animal Play Pen
This is another product from MidWest Homes for Pets. This 6-panel colorful indoor playpen is 15 inches high with an open top and bottom.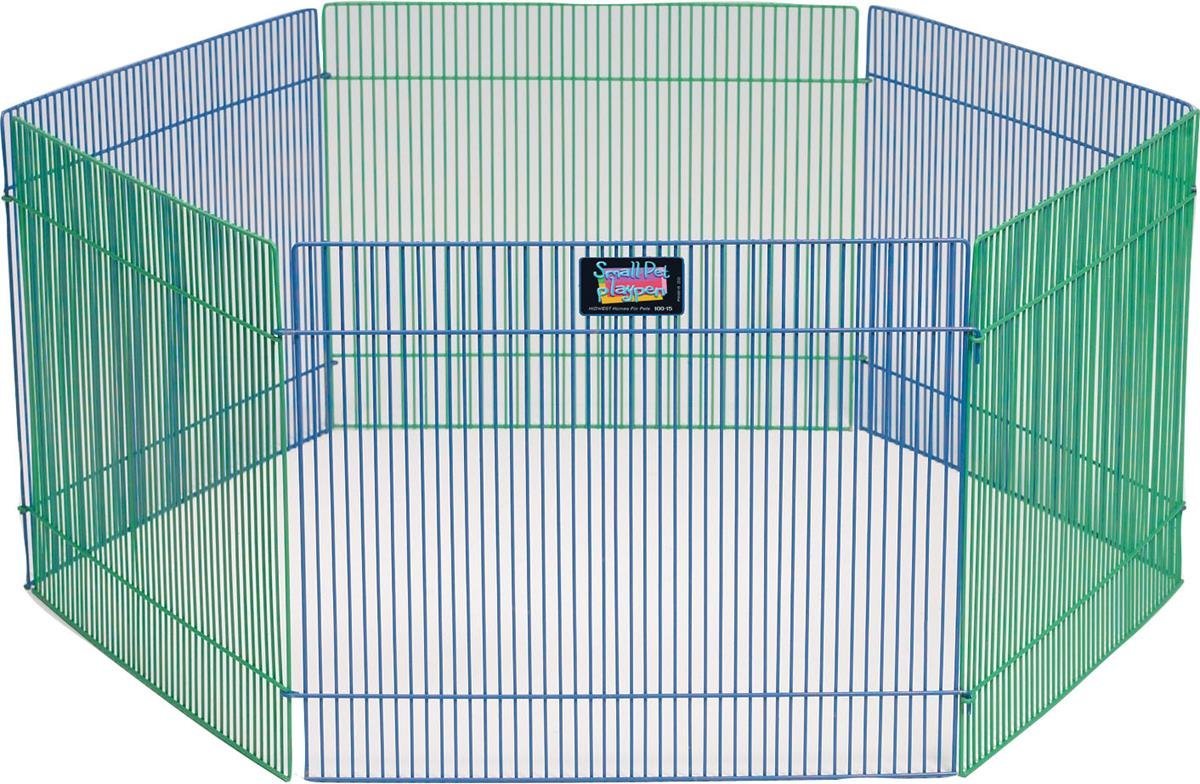 It gives your piggies 9 square feet of space and can be joined together with another playpen for 18 full square feet of play space. The wire is very narrow so your guinea pigs can't get caught. But best of all, it can fold down flat for storage once playtime is over.
Best Indoor Guinea Pig Cages
Truly, there is no single "best" guinea pig cage for your situation. We all have our favorites, based on different pet needs, such as our top three listed first in this article.
You may be choosing an indoor guinea pig cage based on in-home space limitations, budget, number of pet piggies, two pigs who do/do not get along together and many other important variables as well.
What can be really helpful is to sit down and write down your priorities before you start searching for an indoor guinea pig cage. This can also make it so much easier to wade through all the options in cage features and select the ones that are most important to you.
We hope you find the perfect cage that you and your piggies absolutely love after reading through this list!
If you do, please let us know which cage you chose in the comments section here! And if you found a lovely cage that isn't listed here, we would love to hear about that as well!
References And Resources
Quesenberry, K. E. DVM, MPH, DABVP (Avian) et al. "Providing a Home for a Guinea Pig." Merck Veterinary Manual, 2016.
Eddy, B., "Guinea Pigs as Pets," Straven Road Veterinary Centre, 2013.
Wagner, J., "The Biology of the Guinea Pig," Academic Press, 1976.
Lee, G., et al, "Vet on Set: Guinea pigs as pets," Hawaii News Now, 2016.
Lin, A., "Housing and Feeding Your Guinea Pig," College of Veterinary Medicine, 2016.