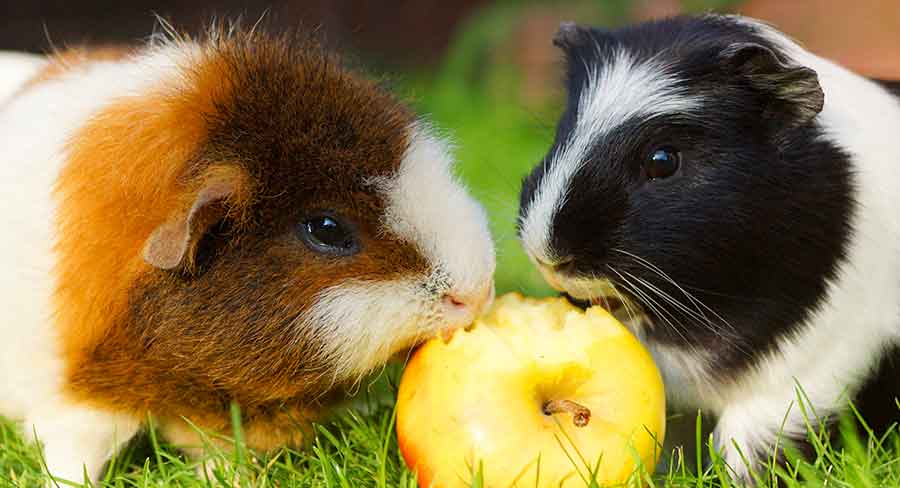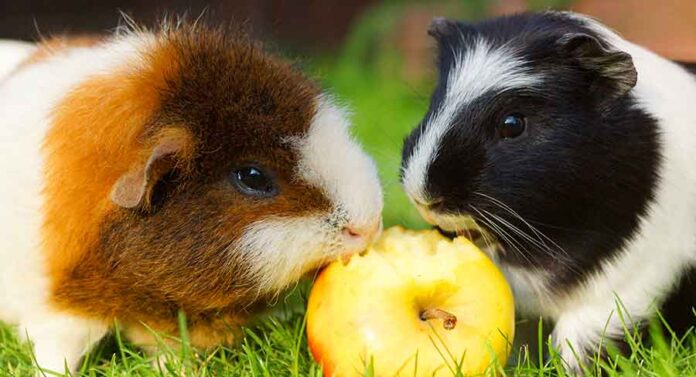 What fruits can guinea pigs eat regularly or as treats, and which should we be avoiding all together? Today we'll look at what kind of fruits guinea pigs can eat. We'll help you to select a range of healthy fruits for your guinea pig, and let you know how often to feed them.
We all know that Vitamin C is really important for guinea pigs, but is there too much of a good thing? Many cavy owners find themselves asking what fruit can guinea pigs eat, and can guinea pigs eat fruit at all? Guinea pigs are herbivores that get all of their nutrition from plants. The majority of a guinea pig's diet should be fresh hay or grass. But, fresh fruits and veggies are important too.
Fruit contains vitamins (including vitamin C) and fiber, both of which are essential for guinea pig health. But, it also contains lots of sugar, which is bad for our cavies in large amounts. So, fruit should only ever be given to guinea pigs in moderation.
What do Guinea Pigs Eat?
Guinea pigs are herbivorous animals, and their diet in captivity should closely model their eating habits in the wild. Your guinea pig's diet should consist primarily of timothy hay or oat hay, along with natural pellet food. So can guinea pigs eat fruit? To supplement nutritional requirements and add variety, you should also feed your guinea pig leafy green vegetables and occasionally some fruits.
A recent study in the Journal of Animal Health and Behavioural Science acknowledges the conflicting opinions on whether or not fruit should be fed to guinea pigs at all. Since the sugar content is so high in fruit, feeding your guinea pig too much of it could put your pet at risk for diabetes. But, if fed in moderation, fruit can be beneficial to your guinea pig. Trying out different fruit treats and getting to know their tastes is a fun way to bond with your guinea pig. What fruits can guinea pigs eat?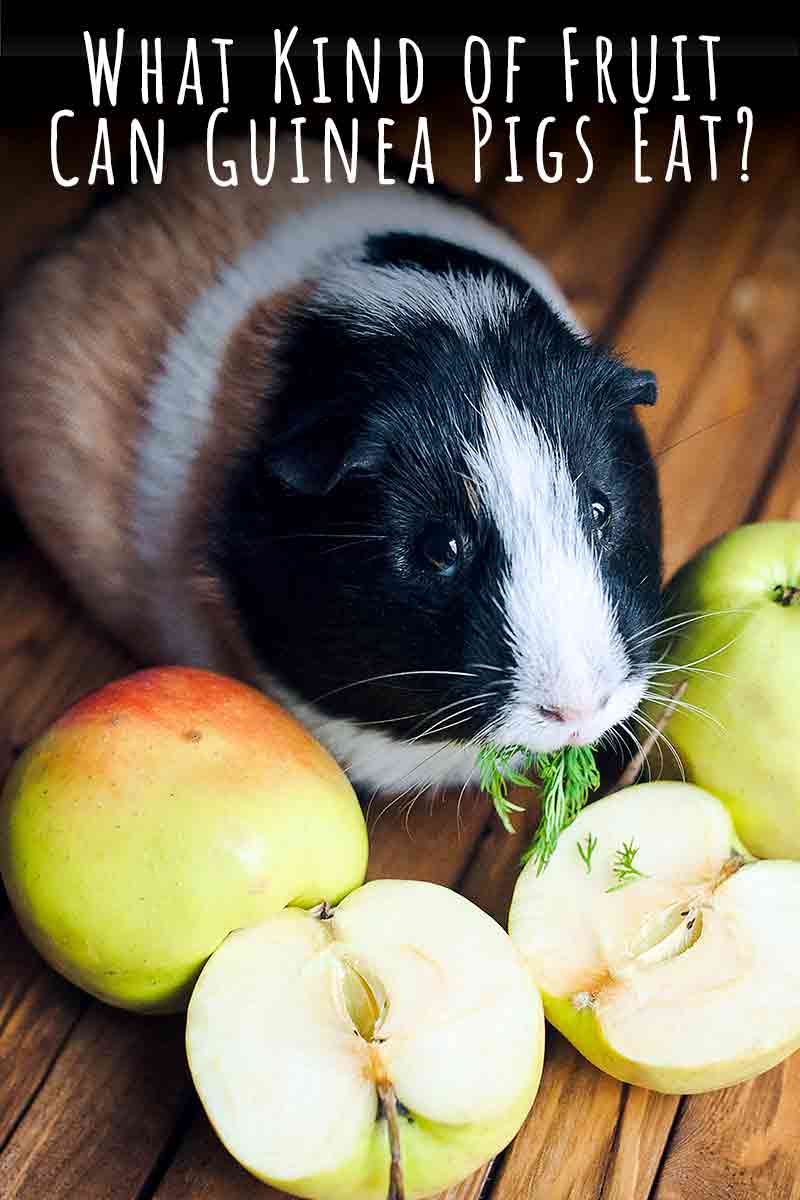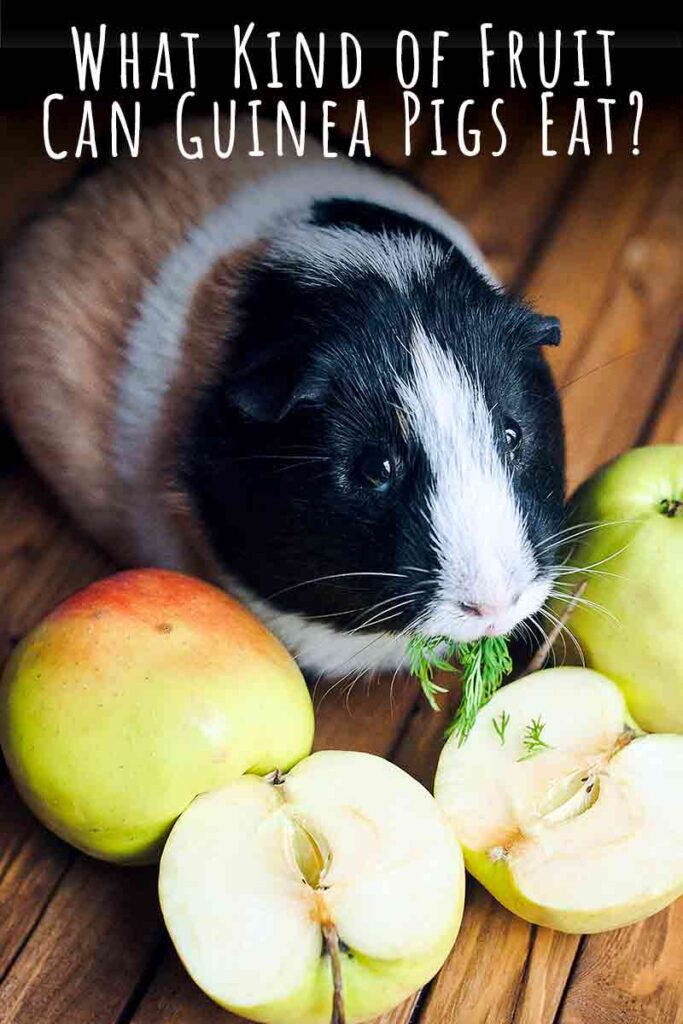 What Fruits Can Guinea Pigs Eat?
The appeal of fruit for guinea pigs is largely centered around the sugar content. Fresh fruit can be a tasty treat for your pet, but only in the right quantities. The following fruits for guinea pigs are safe to eat in small amounts alongside a balanced diet of fresh hay and leafy greens.
Apples
Plums
Apricots
Bananas
Melon (all types!)
Blueberries
Cranberries
Strawberries (including the leafy green tops)
Raspberries
Cucumber
Oranges
Pears
Cherries
Red tomatoes
Kiwi
Mango
Papaya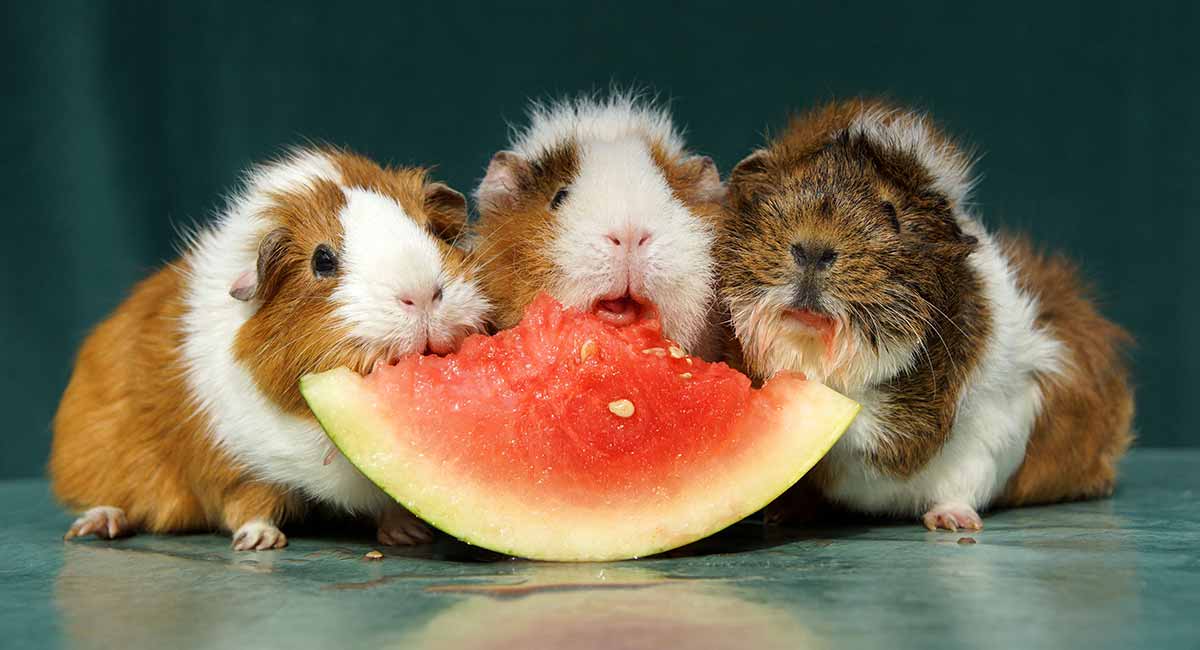 What Fruits Are Not Safe for Guinea Pigs?
We've taken a general look at what fruits guinea pigs can eat. Few fruits are actually poisonous to guinea pigs, but there are a couple to avoid.
Tomato stems and leaves
Rhubarb
The seeds and pips of fruits
Avocados
Raisins
Dried fruits
Dried fruits are very high in calories and sugar. In fact, they are far denser in both than fresh fruit is. And sugar is the main concern with fruits for guinea pigs. Teeny tiny quantities of dried fruit won't hurt your guinea pigs, but they are still best avoided. But most of all, bear in mind that compared to their diet in the wild, fresh fruit is already an epic treat for guinea pigs. There's really no need to offer dried fruit too!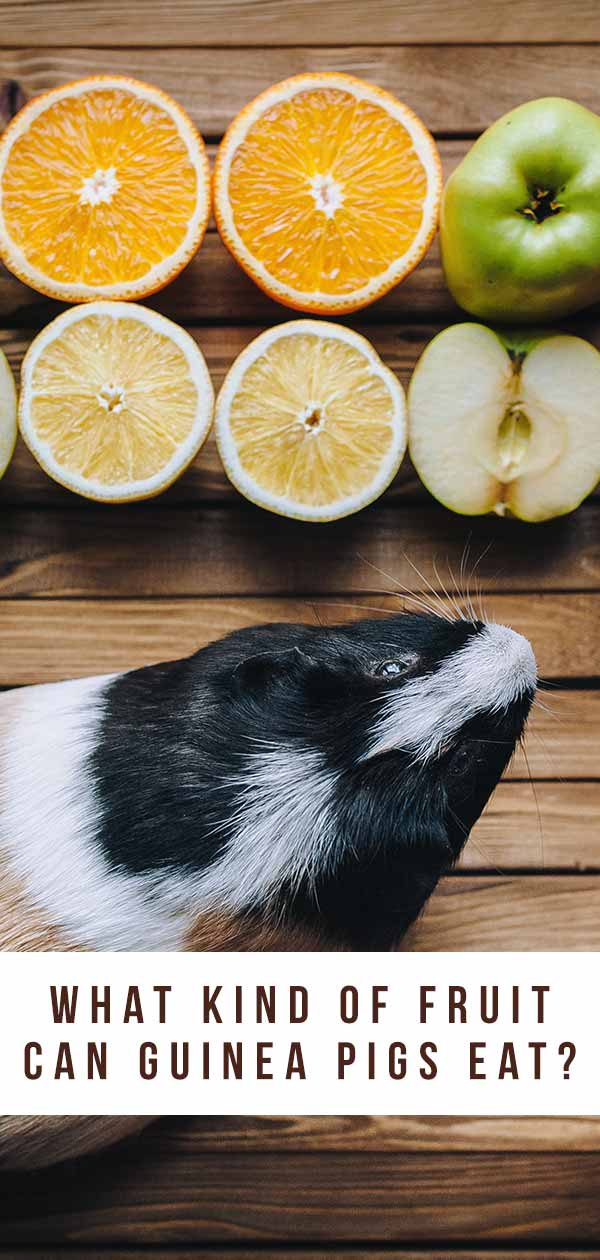 Feeding Guinea Pigs Fresh Fruits
Can guinea pigs eat fruit? Yes, but you must make sure you are preparing them in a safe way.
Finding fruits guinea pigs can eat is a fun way to add some variety to your cavy's diet. But, be especially mindful of the sugar content and err on the side of caution when feeding fruit. A few bites are more than enough! Also, be sure to wash all fruit thoroughly before feeding any to your guinea pig.
And, remove any harmful parts of the fruits guinea pigs can eat, such as apple seeds, cherry pips, or tomato leaves. As with any other dietary changes, be sure to monitor your pet closely for any adverse reactions. If you notice that your guinea pig develops any strange symptoms or behavior, consult a veterinarian immediately.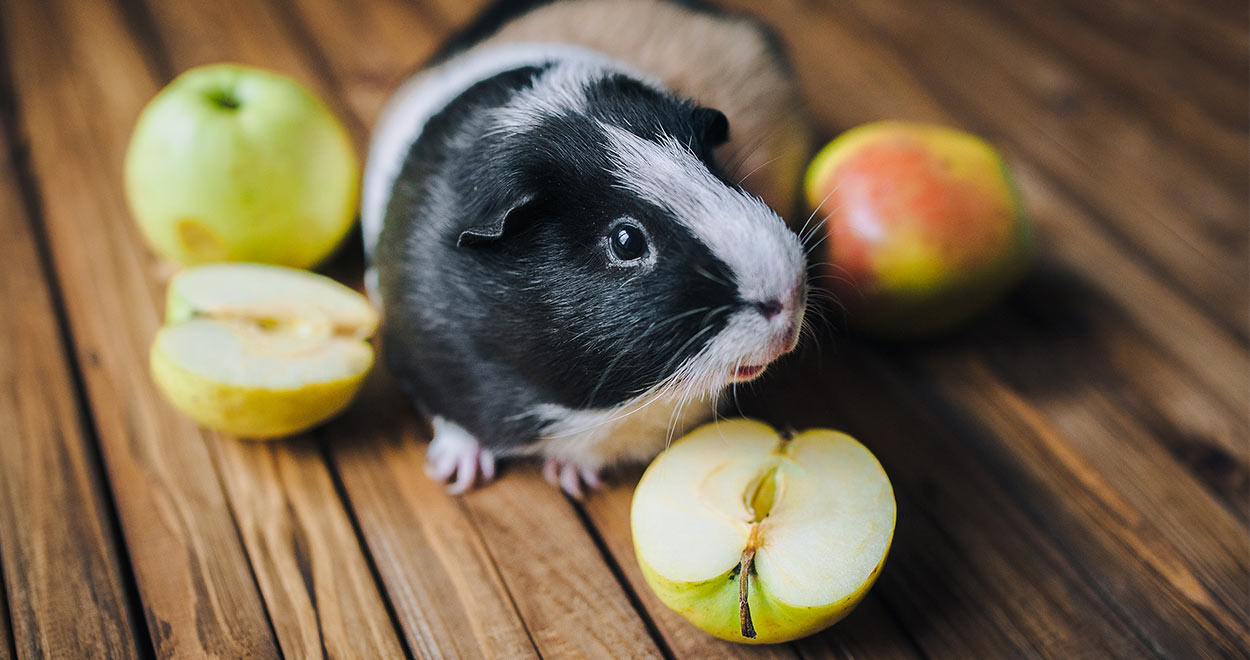 How Often Should I Give My Guinea Pig Fruit?
Can guinea pigs eat fruit every day? Some fruits are very good for guineas, as long as they are given sparingly. The exact amount of fruit and the frequency they can have it varies depending on the fruit. This, in turn, depends on the amount of sugar in the fruit.
That being said, it isn't recommended that guinea pigs eat fruit every day of the week. It is best to leave fruit for guinea pigs as a special treat, perhaps once or twice a week.
You can offer fruit for guinea pigs from a young age. Baby guinea pigs can have small amounts of cavy-safe fruit, but since young guinea pigs are even smaller than grown ones, they should have even smaller amounts.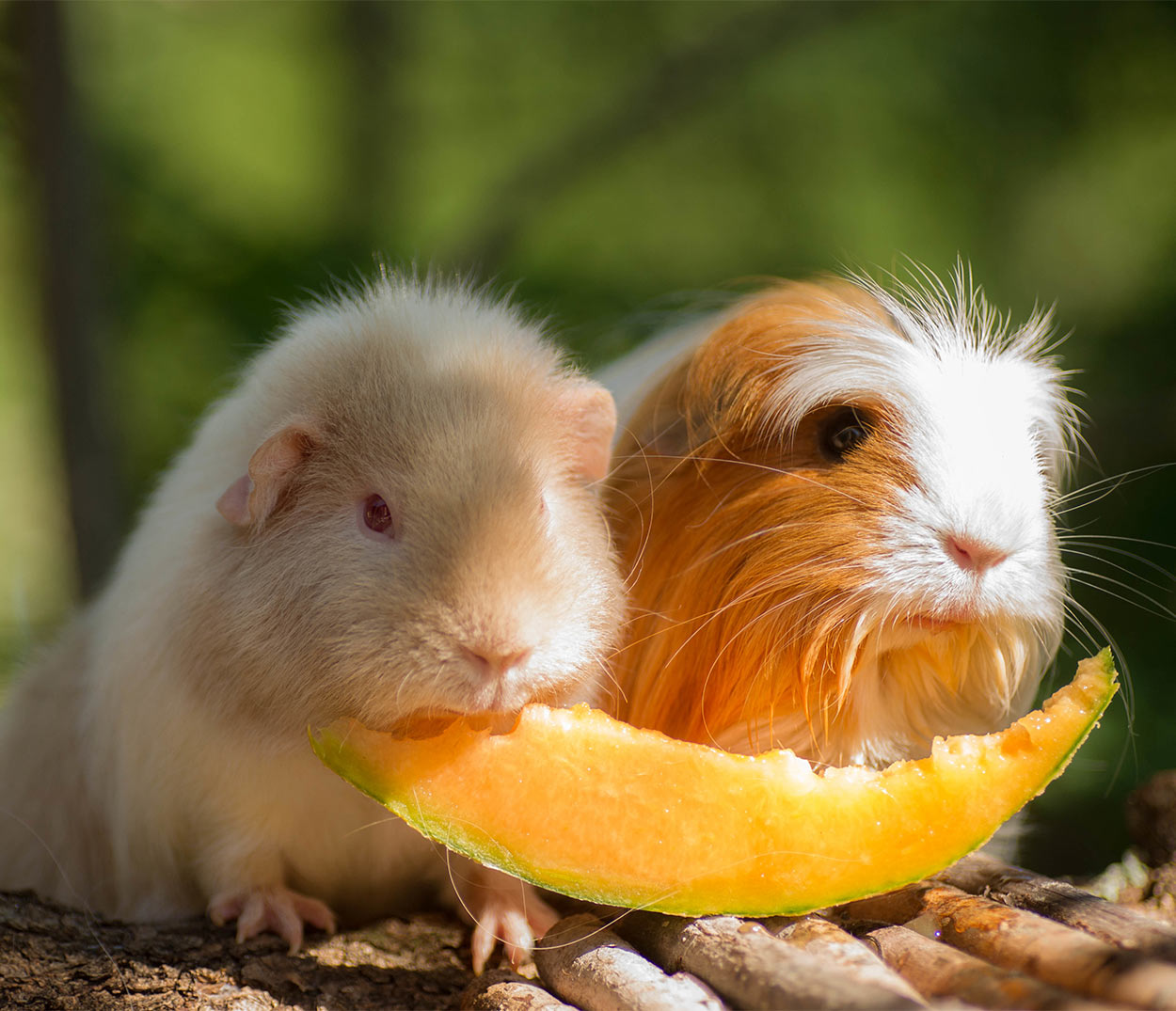 Vitamin C and Scurvy in Guinea Pigs
Like humans, guinea pigs lack the ability to produce vitamin C and must obtain it from their diet. If they do not get enough vitamin C, they may develop health issues like scurvy.
You can make sure your guinea pig obtains daily doses of vitamin C by choosing a pellet food fortified with the vitamin and feeding select fruits sparingly.
But, despite this benefit, fruit for guinea pigs is still often high in sugar. So, here are some alternatives that are lower in sugar, but still provide your guinea pig with that vital vitamin C.
Kale
Broccoli
Celery
Fresh grass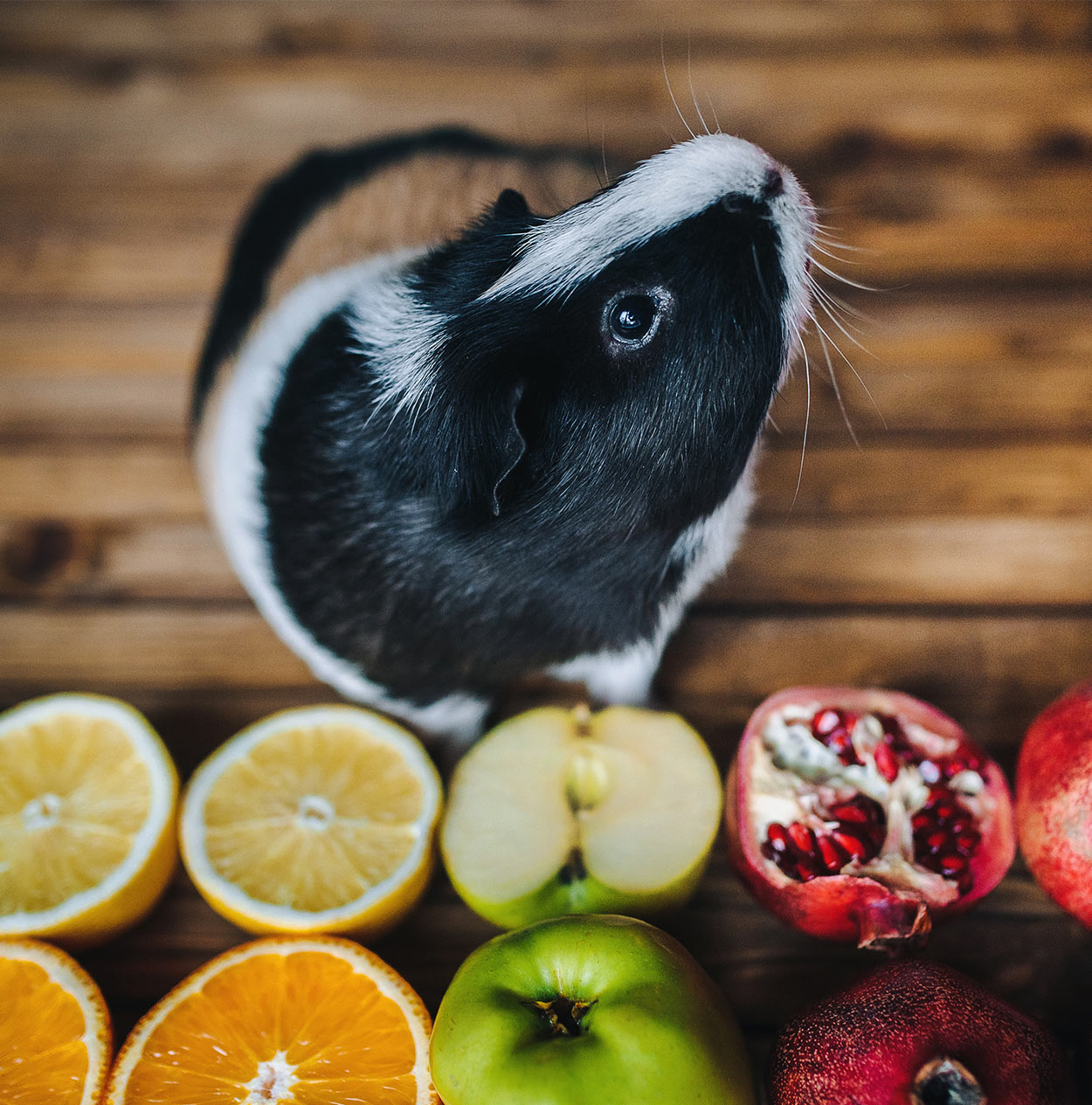 What Fruits Can Guinea Pigs Eat?
So can guinea pigs eat fruit? Yes! The best fruit for your guinea pig is one that he loves, and which he only eats in small amounts. By feeding fruit to your guinea pig in moderation, you can provide a healthy diet full of fresh variety.
Keep in mind that your guinea pig may take a liking to these fruit snacks, and he might try to persuade you to feed him more! No matter how cute and persuasive your guinea pig may be, it's important to limit his portions of fruit to keep him healthy.
Have you given fruit to your guinea pig? You can let us know about your experiences with fruits for guinea pigs in the comments below.
Find Out More!
Check out how to feed lots of different fruits and vegetables to your guinea pigs here:
Apples
Bananas
Melon
Raspberries
Red tomatoes
Tomato stems and leaves
And find out why guinea pigs eat their own poop, right here!
References and Resources
Rhubarb — Vegetable or Fruit? Gardena
Schertel, E. (et al), 'Guinea Pig History and Care Recommendations', MedVet (2016)
Sawnee Animal Clinic, 'Scurvy in Guinea Pigs'
National Research Council 'Nutrient Requirements of Laboratory Animals', Washington, DC: The National Academies Press (1995)
Quesenberry, K. (et al), 'Introduction to Guinea Pigs. Merck Veterinary Manual (2018)
Donnelly, T. & Brown, C. 'Guinea Pig and Chinchilla Care and Husbandry', Veterinary Clinics Exotic Animal Practice (2004)