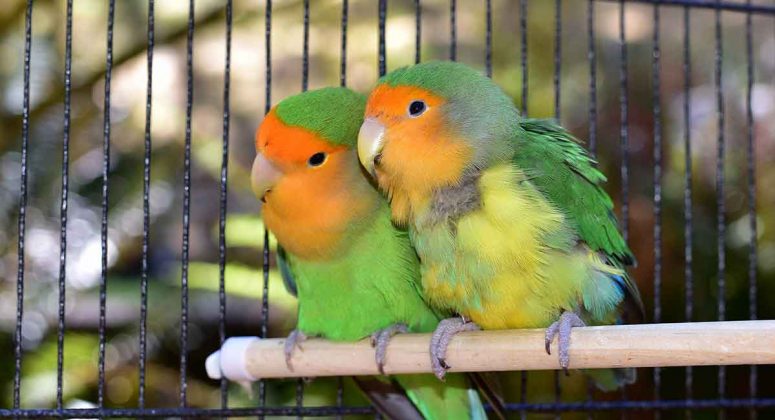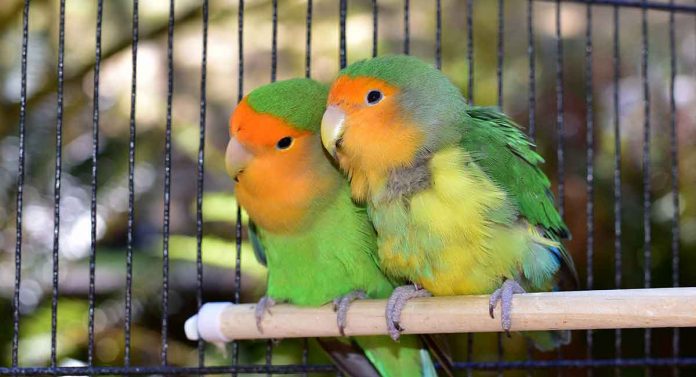 If you're thinking of welcoming lovebirds into your home as pets, you'll first need to buy the best lovebird cage for them.
In this article we'll look at some of the very best and most suitable bird cages for lovebirds that are on the market.
But first, let's find out more about what would make the best birdcage for lovebirds!
All of these products were carefully and independently selected by the Squeaks and Nibbles team. If you decide to make a purchase from one of the links marked by an asterisk, we may earn a small commission on that sale. This is at no extra cost to you.
Introducing the lovebird!
Lovebirds are small members of the parrot family. They are intelligent, lively little birds that come in a variety of pretty colors.
Lovebirds, especially males, can become very attached to their owners, but if kept in a pair, they will bond with their cagemate for life.
And lovebirds can live to be 15 years old, so that's quite some commitment!
Lovebirds are very territorial and will defend their home and their mate. For this reason, you can't keep lovebirds with other birds of a different species, including other parrots.
Also, it's not a good idea to keep more than two birds in the same cage, as they may fight.
Lovebird cage size
When choosing a lovebird cage, you must take into account that these birds love to play! They'll need lots of space in which to fly, and they will enjoy having plenty of toys to play with too.
The larger the lovebird cage, the more comfortable it will be for the bird. So try to get one of the large bird cages for lovebirds!
The smallest lovebird cage size that you can get away with for just one lovebird is 18"L X 18"W X 18"H.
If you intend keeping a pair of birds, the cage should measure 24"L X 18"W X 24"H or larger.
A rectangular cage is a good idea as it allows more flying space for your lovebirds.
The spacing of the cage bars is extremely important. If the bars are too wide apart, your curious, clever lovebirds will escape or become trapped in a break-out attempt!
Bar spacing should be not more than ¾ inch, and the cage should ideally have some horizontal bars on at least two sides.
Lovebirds are "hookbills" who love to climb, and horizontal cage bars allow for this.
Siting your lovebird cage
When choosing a place to put your lovebird cage, be sure to keep the cage off the floor and in a spot that's free from drafts.
Be careful not to put the cage where it will be directly in the sun or close to a radiator or other heat source so that your lovebirds do not overheat.
Lovebirds need 10 to 12 hours of undisturbed sleep each day to stay healthy. If your lovebird cage is placed in a quiet room, it's a good idea to get a lovebird cage cover for it*.
A cage cover* shuts out any outside distractions and allows the bird to sleep peacefully.
Bear in mind that even low volume sounds can prevent your lovebirds from resting properly.
If it's not possible to keep their room completely quiet at night, you may want to invest in a smaller cage that can be placed in a quieter room.
A dedicated sleep cage will allow your lovebird to have a quiet, safe place in which to get a good night's sleep.
Perches for your lovebird cage
Lovebird cages need at least two or three perches of different textures, sizes, and shapes.
The perches must be thick enough for the lovebirds to stand comfortably without struggling to balance.
Perches made from natural wood branches*, wooden dowels*, rope*, and concrete or bonded sand are ideal.
The concrete perch will help to keep the lovebird's nails and beak trimmed.

Toys for your lovebird cage
Lovebirds are very creative and active birds. To keep them busy and prevent boredom, be sure to provide lots of toys* for their cage.
In particular, chew toys are a good idea*; lovebirds are serial chewers!
Lovebirds love to swing! In particular, if you have a pair of lovebirds, they may spend a lot of time sitting snuggled up together on a swing*.
Best lovebird cage – features to consider
Like all parrots, lovebirds are extremely creative and will attempt to escape from the confines of their cage.
When choosing a lovebird cage, check to see that all cage entry doors and feeder doors have secure locking mechanisms to prevent your lovebirds from going A.W.O.L.!
Lovebirds can be messy feeders. Look for a cage for lovebirds that has a slide-out tray or a base grid for easy cleaning, rather than a solid floor.
A seed guard around the base of the lovebird cage can help to keep any mess inside the cage and prevent spilled food from ending up all over your floor!
If you're intending to allow your lovebirds to play outside their cage, a large love bird cage with a play top is a great idea.
A play top will be equipped with a place for the birds to perch. Some play top cages have toys included too.
Best cages for lovebirds
So, now you know what to look for in the best cage for a lovebird!
Here's our selection of the very best large cages for lovebirds that we could find online.
Just click on the links to read the full spec on each product and check out what other buyers think. When you've found the lovebird cage you like the best, go ahead and order it!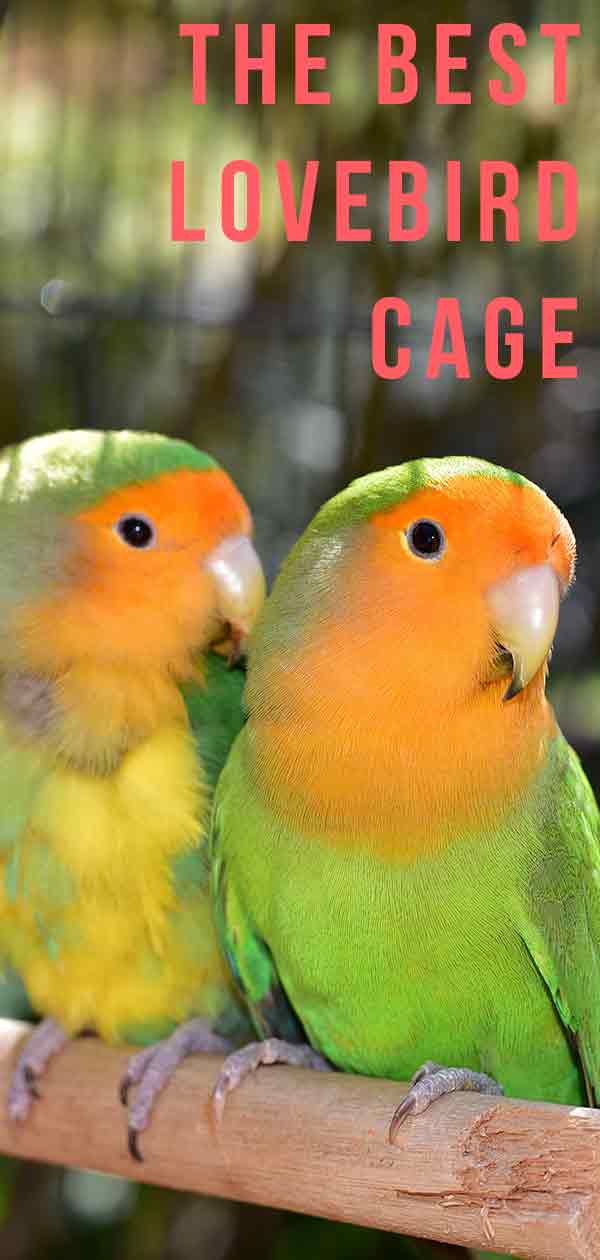 Vision Bird Cage Model L01
The Vision Bird Cage Model L01 – Large* is an ideal cage for lovebirds. The cage detaches from the base for easy, quick cleaning, and there's a debris guard to keep waste safely inside the cage.
This lovebird cage comes complete with textured terracotta perches of varying diameters. The gripping variations promote blood circulation and prevent foot problems.
The Vision cage has a deep base and comes with feed and water dishes.
As your lovebirds fly around their cage, the flapping of their wings creates a downdraft that pushes seed and feces all over the place! The design of this cage means that any mess ends up in the base of the cage and not on your carpets!
The cage has extra-large double front doors that open inwards, creating a handy landing area for your lovebirds when they return from playing outside their cage.
The doors also open independently so you only need to open one when you want to reach inside, minimizing the chances of a bird escaping.
Zeny Lovebird Cage
We also like the Zeny lovebird cage*. This super-large cage is made from sturdy wrought iron that should last your lovebirds a lifetime.
The cage has a removable slide-out grate for waste collection and easy cleaning. There are two wooden perches provided, as well as four bowls for food and water.
The cage feature strong swivel casters for stability and ease of relocation when required.
This is a well-made, roomy lovebird cage that will provide your lovebirds with a safe environment that has plenty of space for flying and playing.
Yaheetech Pet Bird Cage
The Yaheetech Pet Bird Cage Play Top* is a large lovebird cage that comes complete with a stand. The door is lockable to stop the cleverest of birds from escaping.
The product includes five stainless steel bowls for food and water, and you'll also get two wooden perches.
The cage has a play top that's fitted with a ladder to make your lovebirds' playtime more exciting!.
Four industrial grade casters make moving the cage around easy and quiet.
Giantex Bird Cage
The Giantex Bird Cage Large Play Top Cage* is made from heavy-duty wrought iron and has an open play top area too.
The cage has a front door with a snapping door lock for security. There are also three feeder doors with locks.
You'll also get five stainless steel bowls, along with two wooden perches and a latter. The cage has a sliding metal tray in the bottom to prevent mess and make cleaning easy.
The cage is fixed on four lockable swivel casters for easy mobility and stability once in position.
Poipu Palace Convertible Top Cage
Our final choice of the best lovebird cage is the Poipu Palace Convertible Top Bird Cage*. This cage is perfect if you like antique-style accessories to complement your interior décor scheme and you want the very best bird cage for lovebirds.
The Poipu Palace Victorian-style bird cage is beautifully designed. It has a cathedral-style open play top that provides additional perching room during playtime.
The cage has a flared skirt to help prevent food spillage. This well-equipped cage offers five swing-out feeder doors, five locking food bowls, five seed/water cups, and two natural wood perches.
The cage stand is mounted on rolling casters for easy relocation. Choose from white, silver, green, or black to match your home décor.
Best cages for lovebirds – summary
Lovebirds can be kept alone or as a bonded pair. Whether you have a single bird or two, you will need to provide these active little parrots with a roomy cage that has plenty of space for flying and playing.
The best lovebird cage should be equipped with perches, toys, and feeding dishes.
Look for a cage with bars spaced no further apart than ¾-inch to prevent your birds from escaping. Ideally, the lovebird cage should have a sliding tray in the bottom to catch spilled seed and feces.
Do you have lovebirds as pets?
What lovebird cage did you choose? We'd love to know, especially if it was one of our recommended lovebird cages.
Tell us all about the best bird cage for a lovebird in the comments section below!
Affiliate link disclosure: Links in this article marked with an * are affiliate links, and we may receive a small commission if you purchase these products. However, we selected them for inclusion independently, and all of the views expressed in this article are our own.
References and Further Reading: