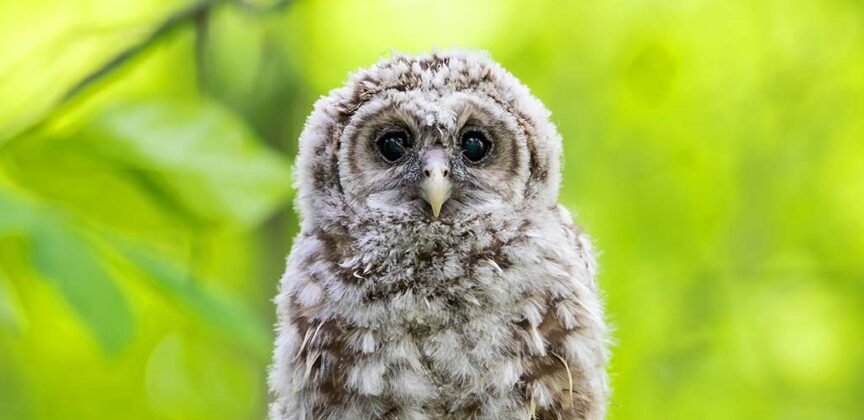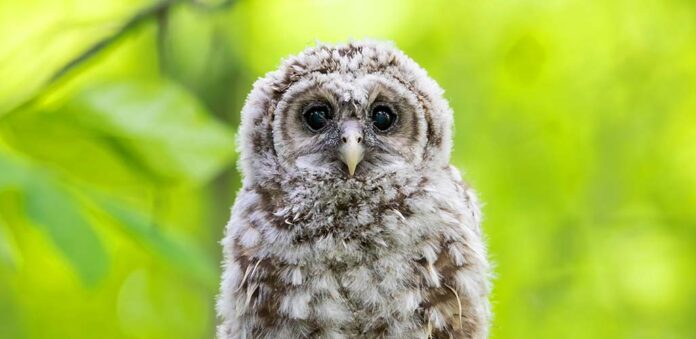 Owl names are great fun to find. Owls have so many distinguishing physical traits and characteristics to inspire unique names. Their nocturnal habits, big beautiful eyes, ability to rotate their neck to a 270-degree angle, and legendary mythology as a symbol of wisdom and mystery provide endless options for choosing the perfect owl name. Whether you want cool, funny, or cute owl names, there's a great selection listed below. And if you're a Harry Potter or Guardians of Ga'Hoole fan, we've included them too.
There are about 250 species of owls in the world. With their huge heads, solemn demeanor, stocky bodies, oversized immobile eyeballs, and a reversible toe that can point in either direction, it's impossible to confuse this bird of prey with any other creature. Whether you've made friends with a real owl or have a plush toy to name, we've got you covered with over 200 owl name ideas.
Female Owl Names
While the male in most species is larger than the female in the case of owls, girls are the ones that are bigger, heavier, and more aggressive. Here's a selection of both popular and traditional female names, along with some that have mythological origins.
Luna
Celeste
Twila
Odette
Cyra
Athena
Eve
Elvira
Ophelia
Helena
Dixie
Isis
Tabitha
Sidra
Artemis
Selena
Ella
Faith
Alice
Stella
Duchess
Jewel
Alexis
Angelica
Coco
Lucille
Male Owl Names
You may see owls as solemn or comical, so this list of boy owl names has something for every owl in your life.
Zeus
Barney
Vincent
Oliver
Ozzy
Otis
Dexter
Powell
Irwin
Evan
Clifford
Baxter
Edmund
Marshall
Orion
Orson
Omega
Duke
Chandler
Marshall
Percy
Templeton
Sammy
Thurston
Ozwald
Robert
Otto
Famous Owl Names
Owl fossils have been found that are millions of years old. With so much history, it's not surprising that many books, movies, and other art and entertainment forms have taken owls under their wing. Here's a selection of names bestowed upon some of the most famous owls ever.
Archimedes (The Sword in the Stone)
Big Mama (The Fox and the Hound)
Brodwin (Harry Potter)
Clockwerk (Sly Cooper)
Doyle (mascot of Reed College)
Errol (Harry Potter)
Glimfeather (Chronicles of Narnia)
Grand Duke (Rock-a-Doodle)
Gylfie (Guardians of Ga'Hoole)
Hedwig (Harry Potter)
Hermes (Harry Potter)
Hoots (The Muppets)
Jareth (Labyrinth)
Kludd (Guardians of Ga'Hoole)
Longclaw (Sonic the Hedgehog)
Mr. Owl (Franklin and Friends)
Nightwing (DC Comics superhero)
NoctusLatin (Guardians of Ga'Hoole)
Nyra (Guardians of Ga'Hoole)
Oliver (Looney Toons)
Owlbear (Dungeons & Dragons)
Owlboy (video game)
Owl (Winnie the Pooh)
Owlowiscious (My Little Pony)
Owly
Owl Brown (The Tale of Squirrel Nutkin)
Pigwidgeon (Harry Potter)
Plop (The Owl Who Was Afraid Of The Dark)
Sammy (Mascot for Rice University Owls)
Scowl (Happily Ever After)
Screech (The Incredibles 2)
Soren (Guardians of Ga'Hoole)
Woodsy (US Forest Service)
Funny Owl Names
You'll get a hoot out of the funny and punny owl names inspired by famous and historical figures past and present.
Owlbert Einstein
Owlexander the Great
Owl Pacino
Owlice Cooper
Owl Capone
Whodini
Owlin Alda
Owlivia Colson
Olive Owl
Winston Churchowl
Owlfred Hitchcock
Dr. Who
Fat Owlbert
Muhammad Owli
Owlbama
Jimmy Tallon
Owl Gadot
Abigowl Breslin
Simon C'Owl
Cute Owl Names
Despite having curved bills and sharp talons to hunt and eat other animals, there's definitely something cute about owls. These names will highlight the adorable side of your favorite owl.
Blinky
Hooter
Boo
Wobbles
Sleepy
Buttons
Bubo
Paunch
Pigeon
Elf
Candy
Bugsy
Winky
Tutti
Gonzo
Horton
Lucky
Smartie
Skipper
Poof
Tootsie
Cool Owl Names
Mysterious and wise, there are plenty of cool names to consider when naming one of nature's most unflappable birds.
Screech
Merlin
Wisdom
Wizer
Foxy
Catcher
Gizmo
Tawny
Woody
Whoolio
Fresco
Ace
Nocturne
Apollo
Deacon
Batman
Nightwing
Finnegan
Chamer
Oracle
Hallowe'en
Tiger
Swish
Wizard
Magic
Spooky
Snowy Owl Names
White feathers give these beautiful birds the perfect camouflage for a snowy habitat. Snowy owl males can be pure white, while females always have some brown feathers. Even the snowy owl's feet are covered in feathers for a fluffy slipper appearance that helps insulate them in Arctic climates. With their piercing, cat-like yellow eyes, this large owl deserves a moniker that depicts their uniqueness.
Snowflake
Arctic
Cloud
Sugar
Snowdrop
Blizzard
Alaska
Chill
Angel
Snowball
Vanilla
Marshmallow
Iceberg
Everest
Igloo
Glacier
Coconut
Champagne
Bianca
Blanco
Alba
Cotton
Ivory
Frosty
Whisper
Lace
Pearl
Whitey
Barn Owl Names
The barn owl is the most popular and widespread owl species and lives on all continents except Antarctica. They can adapt to a wide range of habitats, from deserts to forests and grasslands to urban areas. With that adorable large, white, heart-shaped face, they're easy to distinguish from other owls. Over many centuries, barn owls have been known by an enormous amount of different names. Some of them are included here.
Billy Whit
Woolert
Ghost
Hobgoblin
Oolert
Billy Wix
Hoolet
Moggy
Scritch
Straw
Demon
Dobby
Strix
Bubo
Nyra
Steeple
Owls by Color
Of course, owls also come in all shades of grey, brown, and black; here are some names inspired by feather color.
Grey Owl Names
Smoke
Slate
Metallica
Cinder
Stormy
Earl Grey
Cosmo
Umbra
Tinsel
Brown Owl Names
Cola
Whiskey
Coffee
Bear
Espresso
Fudge
Topaz
Umber
Mocha
Black Owl Names
Midnight
Shadow
Dusk
Tux
Raven
Sabbath
Ink
Ebony
Velvet
Finding the Best Names for Baby Owls
There are no rules for naming an owl or any other animal for that matter. It often comes down to the personality or appearance of the creature christened or the personal preferences of the person bestowing the name.
Did you find the perfect owl name from our lists? Let us know in the comments below.
More Wild Animal and Bird Names
Resources