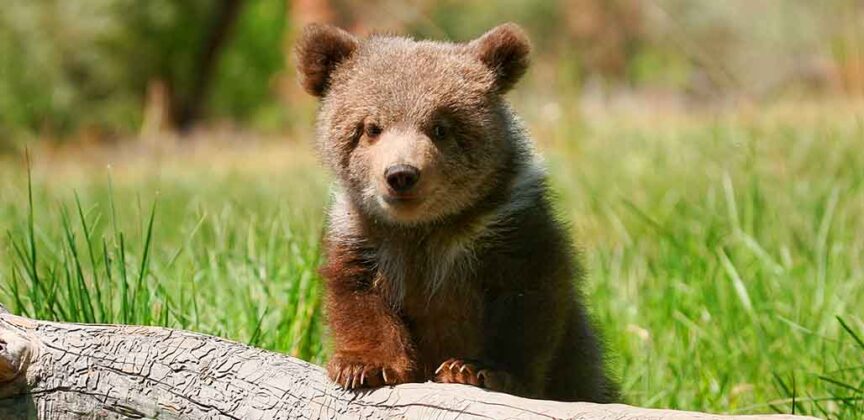 Bear names can be as tough, strong, powerful, cute or cuddly as your favorite bear! Whether you are naming a toy bear, bear plushie or pokemon, or you are in the amazing position of naming a real zoo or pet bear, we've got some seriously cool bear names for you. We'll share hundreds of ideas for names inspired by brilliant baby bears, bear personalities and their adorable characteristics. Whether you want color, pattern, natural habitat or even celebrity bear ideas, we've got you covered.
As adorable as bear cubs are, most of us will never have a real live pet bear cub to cuddle, which is a good thing because they grow into full size bears with full size teeth and claws! But it's likely that most homes with kids have at least one stuffed teddy bear as a cuddly buddy…probably a good number of grownups have their own teddy bears too.
Top Bear Names
Teddy bears come in all shapes and sizes. You can even create your own custom-made bear, complete with clothes and accessories. All these fuzzy friends need names, don't they? Here are some ideas for bear names for a little inspiration when you bring home your 1st (or 50th!) teddy bear.
Let's start with some alliteration, because of course names that start with a B just sound good before the word "bear" and maybe even better in front of "the bear"…try it with some of these and you'll see exactly what we mean!
Male Bear Names Starting with B
Benedict
Brian
Blake
Beau
Bruce
Braxton
Benjamin
Benito
Bentley
Bernard
Billy
Bjorn
Bruno
Brock
Boris
Brody
Bob
Benny
Brantley
Buckley
Bryson
Boyd
Brendan
Barry
Beckett
Benson
Byron
Bradley
Balthazar
Buddy
Female Bear Names Starting with B
Brenda
Brittany
Bessie
Bernadette
Beatrice
Brianna
Bonnie
Belen
Bella
Bobbi
Belle
Bianca
Becky
Basia
Beverly
Brooke
Bridget
Barbara
Bettina
Buffy
Bailey
Betty
Betsy
Bethany
Brooklyn
Beryl
Blythe
Bristol
Bibi
Becca
Blair
Wild Bear Names
When you think of bears, chances are you think of their natural habitat and conjure up images of mountains, trees, rivers, and lakes–or in the case of polar bears–ice and snow. Here are some bear names inspired by nature and the great outdoors.
Male Bear Names Inspired by Nature
Forrest
North
Thorne
Woody
Snowball
Bramble
Glen
Winter
Leaf
Dale
Alder
Cliff
Huckleberry
Aspen
Storm
Sorrel
Linden
Moss
West
Cedar
Ridge
Ash
Heath
Clay
Klondike
Reed
River
Female Bear Names Inspired by Nature
Blossom
Wren
Dawn
Heather
Autumn
Iris
Breezy
Violet
Azealia
Savannah
Fawn
Sunny
Daisy
Snowdrop
Laurel
Tempest
Aurora
Willow
Flower
Meadow
Poppy
Misty
Lake
Rain
Skye
Luna
Crystal
Famous Bear Names
Did you know that the original "Teddy" bears were named in honor of President Theodore Roosevelt, who refused to shoot a bear that was tied up for him while he was out on a hunting trip? A toymaker made a stuffed bear named Teddy after hearing the story. Teddy bears soon became one of the most popular stuffed animals, a distinction they still hold today.
We're not suggesting that you name your teddy bear Teddy Roosevelt (although you could!), but you can name it in honor of some other famous bears from literature, the movies, and TV shows. Here are some suggestions!
Yogi
Boo Boo
Fozzie
Winnie the Pooh
Hei Bai
Paddington
Bart
Bungle
Lotso
Bobo
Ted
Baloo
Humphrey
Koda
Kenai
Little John
Smokey
Queen Elinor
Teddy Ruxpin
Rupert
Corduroy
Bozo
Aloysius
Gentle Ben
Iorek Byrnison
Cute Bear Names
Since teddy bears are so soft and fuzzy, what would a list of bear names be without a few that invite hugs and snuggles? Here are some cute and cuddly names for bears…or any animal or human that's near and dear to your heart!
Buttons
Pixie
Baby
Marshmallow
Pickles
Angel
Thumper
Sparky
Fluffy
Booger
Honey
Munchkin
Lulu
Sweetie Pie
Sprout
Yoda
Biscuit
Precious
Mr. Bear
Sugar Plum
Bugsy
Stumpy
Bonbon
Bubbles
Peanut
Cotton
Huggles
Dash
Fuzzles
Buttercup
Giggles
Jellybean
Scooter
Cupid
Pip
Nacho
Tinkerbell
Peaches
Floppy
Cookie
Pinky
Gizmo
Shaggy
Sweet Pea
Tippy
Roo
Nibbles
Snuggles
Chewbacca
Furby
Cookie
Panda Bear Names
There are 8 bear species in the world, and some are more well-known than others. Most people are familiar with the brown (grizzly) bear, polar bear, and American black bear. There are other bears too, like the sloth, sun, spectacled, and Asiatic black bears.
What's the 8th bear species? It's the most distinctive bear of all—the giant panda. Scientists have debated about whether to place the panda in the bear or raccoon family, but thanks to advances in genetics, the results are in, and the giant panda is officially a bear!
In honor of China's famous black and white panda bear, here are some panda bear names that take inspiration from the panda's Chinese homeland as well as those adorable black and white markings.
Bandit
Jia
Kai
Checkers
Patches
Bao Bao
Oreo
Ling Ling
Ink Blot
Ping
Li Ming
Chen
Bamboo
Gu Gu
Snoopy
Po
Checkers
Ink Spot
Andy Panda
Domino
Blotches
Lian
Spot
Kung Fu Panda
Yin Yang
Chess
Bei Bei
Dumpling
Ben Ben
Bear Names By Color
Not all bears are as dapper as the black and white giant panda. Many bear species have mostly brown or black fur. And of course, polar bears look like they have white fur. (Fun fact: polar bears have black skin and translucent fur that looks white when the sun reflects off it!)
Brown, black, and white are popular colors for teddy bears too, so here are some names for your very own brown, black, or white bear friend.
Brown Bear Names
Grizz
Caramel
Cocoa
Mocha
Sable
Goldie
Whiskey
Java
Copper
Kodiak
Cinnamon
Amber
Brownie
Toffee
Meatball
Umber
Mahogany
Godiva
Ginger
Khaki
Black Bear Names
Midnight
Shadow
Jet
Inky
Twilight
Magic
Ebony
Onyx
Crow
Velvet
Darth Vader
Smoke
Licorice
Zorro
Raven
Charcoal
Mystique
Noir
Dusty
Blackberry
White Bear Names
Pearl
Ghost
Blizzard
Eskimo
Diamond
Milkshake
Snowy
Alabaster
Powder Puff
Frosty
Alaska
Coconut
Opal
Sugar
Q-Tip
Glacier
Cream Puff
Jack Frost
Whitey
Yeti
These are just some of the possibilities for naming your bear! We hope we've provided you with a little bit of inspiration as you choose the perfect name for your new cuddly friend.
Find More Wild Animal Names
Zebra names
Elephant names
Lion names
Leopard names
References
The Story of the Teddy Bear. US National Park Service, Theodore Roosevelt Birthplace.
Bears of the World. American Bear Association, Vince Shute Wildlife Sanctuary.
Giant Panda: Ailuropoda Melanoleuca. San Diego Zoo Wildlife Alliance.
Why Do Polar Bears Have White Fur? Trick Question! They Don't. Ocean Conservancy.