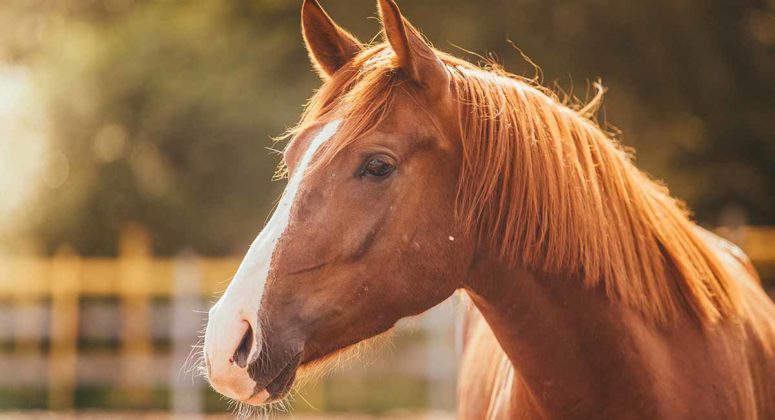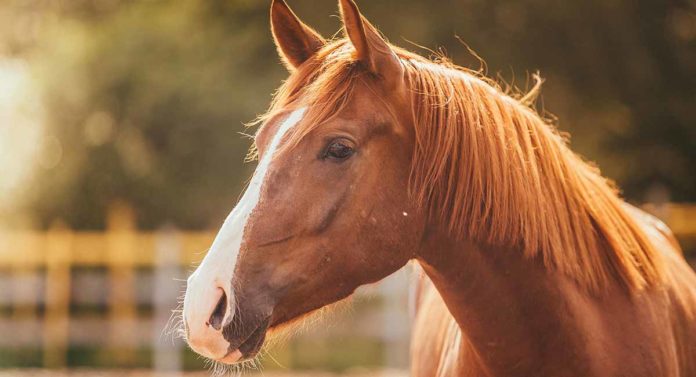 The best horse names are cute, and fit both you and your new companion well. Today we share dozens of ideas that are simple to pronounce, easy for your horse to learn and recognize, and that make a statement about their personality or characteristics. Your horse might well have a formal name when they arrive, after all most of us aren't lucky enough to name a newborn foal. But it's totally fine to make a nickname for your new friend that defines their fresh start in your family. Whether you are eagerly awaiting the arrival of a gelding, mare or even stallion, these themed equine names lists will have you covered. Classic horse names work well, but there is no reason not to go a bit more modern, following your favorite trend or something from pop culture. Whether you are a jokey naming your badass racehorse, or you are a bringing home an affectionate family riding pet pony, these horse names will get you both off on the right track.
Contents
Names are important, and we're well past the days every horse is called Beauty, Star, Barney or Murphy. Horses aren't just pets, they are true companions and friends. A horse's name can be inspired by their traits, like their color or personality. But they can also reflect something special to you, your kids, family or lifestyle. Today we'll share some great horse names that will suit your pet horse perfectly. Horses are known for being fascinating and flamboyant, which can make choosing a new one from scratch intimidating. But luckily, we've got plenty of inspiration for you!
Best Horse Names
Here are the top horse names of the year!
Col. Hogan
Secretariat
Code of Honor
Unbridled
Tucker
American Eagle
Backstreet Boy
Faraway Kingdom
California
Badger
Thirty-Six Red
Kentucky
Ryder
Santana
Die Hard
Irish Wristwatch
Macbeth
Haikal
Sir Barton
Joe Cotton
Above and Beyond
Black Beauty
Saint
Artax
Falcon
Battlecry
William
Burgoo King
Keno
Gallant Fox
Warrior
Kelly Cann
Seabiscuit
Orb
Alysheba
Baby Doll
Fearless
Magician
Danzig
Flicka
Valentine
American Pharoah
Preakness
Affirmed
Johnstown
Fame & Fortune
Kodak
Kirby
Fancy Pants
Tacitus
Choosing Horse Names
Did you know that naming a pet plays a massive role in the bonding process? It helps us connect with our new animal and renders a sense of responsibility and pride. But naming your steed does more than help you to fall in love with them. It also opens a gateway of communication and may even be the first word your horse begins to understand and associate with something positive.
Girl Horse Names
Is your horse a lovely lady? Prim and proper and oh-so-feminine horses should have a pretty lady name, right? But what if you don't care if he is a he or she is a she? What if you just like the horse names below? There are no rules when it comes to naming your horse, so if you like one of these sassy female horse names below, it's yours!
Dreamer
Molly
Annabell
Bella
Paige
Millie
Bonnie
Mildred
Henna
Liza
Lucy
Addison
Bindy
Lucille
Kat
Piper
Georgie
Rosanna
Monroe
Mable
Rose
Alice
Sienna
Shiloh
Mitzi
Lady
Grace
Daisy
Madison
Sidney
Annie
Ruby
Minty
Henrietta
Cowgirl
Bailey
Lyla
Mary
Sage
Apple
Lily
Ginny
Phillis
Olivia
Jenny
Harper
Poppy
Angie
Tory
Trixy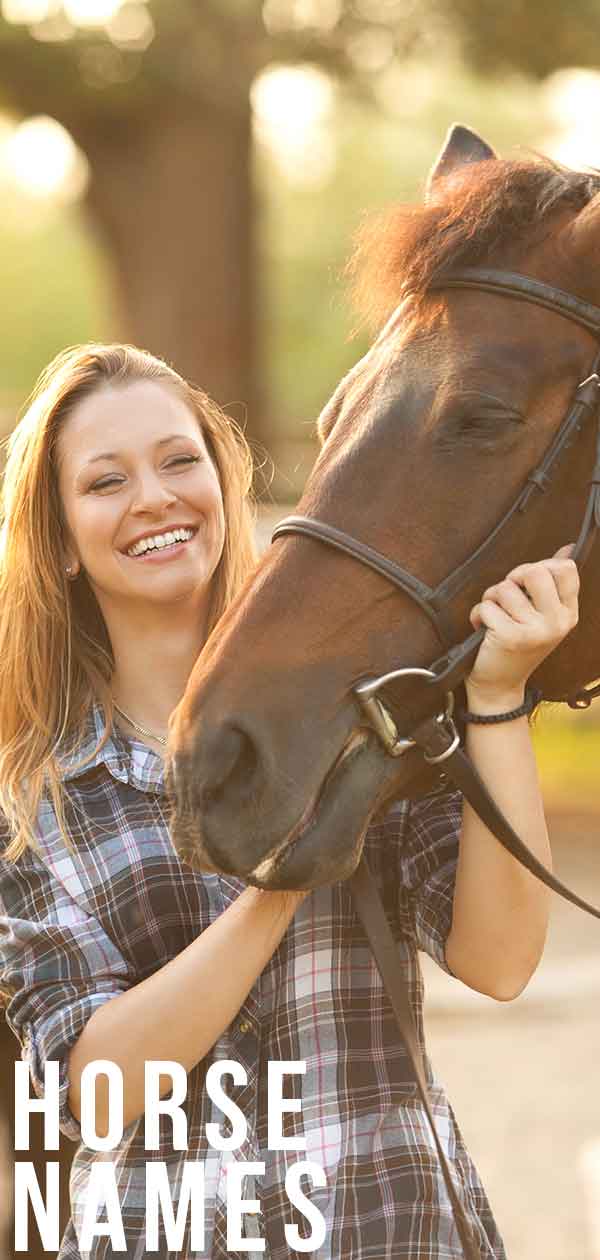 Boy Horse Names
This list is for those of you who have a male horse joining the family. Of course, it is also for those who have a female horse and don't care about their name. If you want a manly man horse name or a masculine sounding name for your female horse, this is the list for you!
Hampton
Jasper
Rocco
Black Jack
Cowboy
Geronimo
Leon
Boomer
Phillip
Buddy
Harvey
Prince
Jackson
Hedwig
Rich
Cyrus
Walker
Niall
Dustin
Hudson
Sprinter
Buzz
Fizz
Samson
Big Boy
Dexter
Chester
Buster
Rufus
Freddy
Linus
Carlton
Conrad
Buster
Stanley
Miles
Earnest
Jepson
Lexus
Milo
Henry
Thomas
Monte
Carter
Rex
Rio
Amelio
Vincent
Bruno
Tigger
Cool Horse Names
What is it about horses that make them so awesome? We think we know. Horses gush confidence, magic, and heroism. They are wild and domestic all at once and coexist with us seamlessly. From the Wild West to the English countryside, horses have found a home in the hearts of millions. So, don't these badass animals deserve some great horse names to choose from? We think they do!
Ryder
Lights
Ghost
Chance
Harley
Nexus
Rain
Bentley
Lex
Maximus
Cherokee
Rocket
Kingston
Romeo
Lux
Wilder
Elvis
Marley
Echo
Whiskey
Luna
Feather
Angler
River
Rerun
Navajo
Crush
Apollo
Hendrix
Juliet
Presley
Silver
Vincenzo
Spirit
Cruz
Diesel
Piper
Jagger
Axl
Lennox
Cute Names for Horses
Yes, horses are totally cool, but they are also insanely cute. Are you into braiding your horse's mane and tail? Do you buy the cutest saddles, brushes and other accessories to ensure your horse is the cutest in the land? If so, then you are going to adore this adorable list! Read on for forty of the cutest options in existence.
Clover
Pebbles
Remi
Pokey
Piper
Lucky
Dragonfly
Brownie
Butterscotch
Abby
Blue
Remmi
Skydancer
Fox
Waffles
Butterfly
Dove
Dream
Rover
Snicker Doodle
Aspen
Filly
Puppy
Marshmallow
Blossom
Queenie
Wildflower
Horsey
Cub
Baby
Hiccup
Cutie Pie
Max
Cupcake
Skittles
Teacup
Button
Unicorn
Ladybug
Lovey
Funny Horse Names
It's no secret that horses are full of personality! As any horse parent will tell you, no two horses are exactly alike. Some horses are serious, others are stubborn, some are sweet and others are silly. These 40 hilarious choicess had us laughing and hopefully will put a big grin on your face too.
Twenty Grand
Bandito
Sir Topham Hatt
Outtatime
Mr. Ed
Gomer
Bucktooth
Slow Poke
Overbite
Meatloaf
Foalovit
Wotsit
Donkey
Horsepower
Horsetooth
Nipper
Lostma Cowboy
Rusty Saddle
Clodhopper
Smarty Pants
Lostma Cowgirl
First Rodeo
Rainbow Unicorn
Hoarse
What The Buck
General Tso
Pony Ride
Horsey McHorseFace
Hoofer
Longface
Ze Brah
Broomstick
Carrots
Moose
Mare N' Go
Frankiensteed
Klip Klop
Hall n' Oats
Lollygagger
Peggy Sue's
Unique Horse Names
As we mentioned above, it's pretty obvious once you've been around a horse or two that they are unique and intelligent beings. These majestic creatures stand in a league all their own. So, if you want to make sure your unique horse has a unique name to match, keep reading for 40 the most unique choices available.
Emerald
Sun Dance
Colorado
Morning Glory
Bronco
Wishful
Duchess
Winter
Wild West
Mystery
Snow
Texas Rose
Saragon
Lyric
Patch
Gypsy
Skyfire
Smokey
Moonlight
Torpedo
Moonie
Destiny
Pepper
Dakota
Spitfire
Half Pence
Denver
Serene
Whisper
Squittles
Secret
Willow
Storm
Midnight
Alaska
Starlight
Wildfire
Rocky
Twobitz
Dusty Dawn
Tough Names for Your Horse
If your horse is a tough cookie, he or she probably deserves a tough name. We bet your tough horse would love one of these names below. Do any of these choices seem like the right fit for your tough guy or gal?
Ransom
Gunpowder
Nightmare
Avalanche
Trigger
Fuego
Kryptonite
Viking
Hunter
Dynamite
Gandalf
Thor
Arrow
Lancelot
Houdini
Xena
Bullet
Conquest
Assault
Queen
Gunner
Ninja
Merlin
Rambo
Quicksand
Champion
Blizzard
Hercules
Tornado
Excalibur
Tank
Zorro
Diablo
Phoenix
Volcano
Phantom
Dragon
Flame
Lightning
Highlander
Fun Facts About Horses
Horses are incredibly intelligent and work best with owners who use positive reinforcement methods during training. Knowing this can play a large role in how you go about teaching your horse his name.
Many experts recommend a calm, repetitive approach. Using incentives and goodies like carrots or apples can help your horse recognize that the sound of his name means something great is coming. With that in mind and with a better idea of how intelligent your horse is, let's talk about some of the best horse names out there!
Know Your Horse!
Humans and horses have coexisted for quite some time now, but we humans are still learning more and more about our beautiful horsey companions each and every day. Furthermore, recent studies have found that horses are impressively observant. They have excellent facial recognition skills. Horses are able to remember someone for months, even if they have only met them once or twice.
Similarly, horses have great hearing and memory. They log familiar voices and will look towards the sound of their owners voice actively while ignoring the voices of strangers. And, perhaps most amazing of all, scientists were able to prove that horses can use symbols to communicate with humans. Wow!
Did you have any idea your horse was so brainy? We have a whole new respect for these incredible creatures. What do you think? Share your thoughts with us below!
More Pet Names
If you're still not happy with any of the names that we've listed here, we've got even more great ideas in our guide to Pony names! And you can take inspiration from your horse's color with some grey horse name ideas! And perhaps you have some other pets in need of great names? Take a look at some of our other best naming articles here:
References