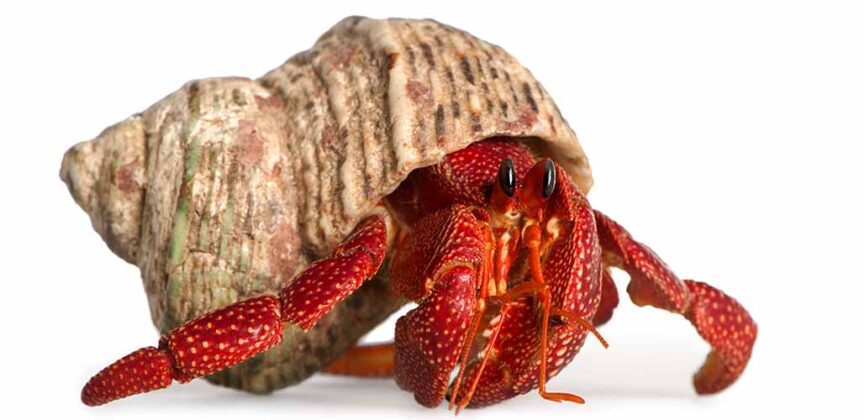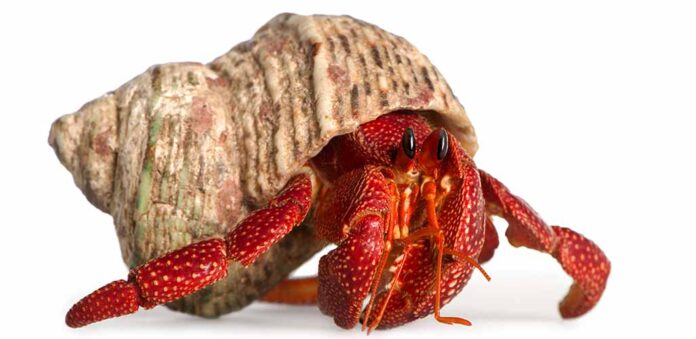 Crab names can be as diverse as the many varieties of this unique marine creature. Inspiration for naming a pet crab can come from their crustacean characteristics or your pet's particular personality. We've chosen names suitable for some of the most popular pet crab species, plus a range of cool, funny, and type or breed specific crab names too. From the horseshoe to the rainbow crab, we've got you covered!
Contents
There are over 6,000 species of crabs found around the world in a wide range of colors and sizes. Many crab varieties can survive on land and in the water because they have gills and lungs. Although not your average pet, crabs do make terrific low-maintenance companions. They never need walking or grooming, don't take up much space, and won't eat a lot either.
Boy Crab Names
Male crabs are called jimmies; females are sooks. You can tell the gender of your pet crab by looking where the rear legs meet the body. If there are two black dots, it's a female, and no dots means it's a boy. Choosing a traditional human name is always a good option when naming a pet. Here are some suggestions for boy and girl crab monikers.
Sheldon
Claude
Shelby
Craig
Christopher
Herman
Gilligan
Sebastian
Jacques
Gilbert
Bubba
Carlos
Rudy
Bruce
Buster Crab
Jimmie
Girl Crab Names
Claudine
Shelly
Carmen
Christine
Coral
Caroline
Connie
Marina
Jade
Coco
Penny
Penelope
Connie
Ariel
Roxie
Sookie
Betty
Ava
Lana
Funny Names For Crabs
Crabs are active and curious creatures with distinct personalities. It's fun to watch them burrow, scuttle, scavenge, and walk sideways. Here are some names that highlight their entertaining antics.
Santa Claws
Cracked
Crusty
Crabby
Digger
Pinchy
Sushi
Snapper
Crabcake
Grumpy
Squeezer
Sideways
Speedy
Scuttle
Rover
Iguana
Groucho
Blinky
Wink
Coconut
Tongs
Cool Names for Crabs
Cool names can be inspired by just about anything sea-themed, as well as famous ocean creatures from film and literature. Having a crab for a pet is pretty cool, and these names are just as groovy.
Claws
Orca
Captain Ahab
Matey
Mr. Krabs
Tamatoa
Bubbles
Cake
Dory
Nemo
Poseidon
Sponge Bob
Trout
Puddle
Turtle
Hammerhead
Porpoise
Skipper
Doberman Pincer
Surf
Scrab
Grit
Tide
Sprinter
Fiddler Crab Names
There are about 100 different species of fiddler crabs. They spend a lot of their time in salt water and don't like being alone—so you should keep at least two. Fiddler crabs use their claws to communicate with each other. The male has one oversized, distinctive claw, used to attract females and fight with other males. These uncommon names are inspired by their name and unique characteristics.
Stradivarius
Viola
Freddie
Finn
Fad
Franklin
Farrah
Edward Scissorhands
Fiddy
Freddy Krueger
Clawber
Bluegrass
Beachy
Snapper
Wavy
Bow
Amati
Soprano
Percussion
Dr. Hook
Horseshoe Crab Names
Horseshoe crabs date back more than 300 million years, making them older than dinosaurs. Despite their name, horseshoe crabs are not really crabs at all. They're more closely related to spiders. The female horseshoe crab is usually larger than the male and can be up to 12 inches in diameter. Since this is not your average crab, horseshoe crabs deserve a name that's anything but ordinary.
Black Beauty
Seabiscuit
Man-o-war
Clover
Fortune
Seattle Slew
Man o' War
Hortense
Sandy
Hermione
Homer
Howie
Spidey
Legs
Lucky
Black Widow
Prancer
Zippy
Rainbow Land Crab Names
Eye-catching rainbow land crabs come in bright colors, like purple, orange, and blue. As the name suggests, they need water and land areas in their tank and like to be in pairs. Choose from this list of kaleidoscope names for your rainbow land crab.
Lavender
Grapes
Amethyst
Topaz
Leprechaun
Eire
Plum
Iris
Agate
Patriot
Moon
Soapdish
Eggplant
Tulip
Fig
Violet
Turquoise
Parrot
Peacock
Hallowe'en Moon Crab Names
Laying claim to one of the coolest species' names in the aquatic world, Halloween moon crabs get their name because they look like they're ready to go out trick or treating. They feature the scary holiday colors of purple, black, and orange. Here are some spooky names, perfect for your Halloween moon crab.
October
Scary
Witchy
Ghost
Candy
Haunted
Pumpkin
Hobgoblin
Spirit
Macabre
Cobweb
Owl
Full moon
Cauldron
Trick or treat
Spell
Toad
Warlock
Shadow
Sorcerer
Poe
Michael Myers
Red Clawed Crab Names
Named for their bright red claws, red clawed crabs make entertaining pets for their antics and high activity level. However, they need a secure tank because their ability to climb makes them excellent escape artists. Our list of names reflects their appearance and penchant for making a getaway.
Houdini
Dynamo
Siegfried
Criss Angel
Ruby
Wizard
Fugitive
Runaway
Everest
Spiderman
Sparks
Maple
Poppy
Jelly
Blaze
Vulcan
Elmo
Scarlet
Ginger
Blue Crab Names
Blue Crab are named for their beautiful bright blue claws. The female has a red tip on the end of hers. These blue names are an homage to their distinctive cobalt claws.
Indigo
Navy
Sky
Blueberry
Ocean
Periwinkle
Steely
Ice
Beryl
Lapis
Teal
Levi
Denim
Bird
Neptune
Bluejay
Panther Crab Names
Since they can live in freshwater, Panther crabs make a great addition to any aquarium. They're lively creatures with a striking yellow or orange body covered in black spots. Check out our list of names fit for a panther crab.
Blot
Spot
Asher
Jet
Inky
Midnight
Soot
Leopard
Blotch
Dot
Speckles
Harlequin
Sheba
Banshee
Taboo
Dusk
Dusty
Baron
Duke
Coal
Pirate
Choosing the Best Names
A pet crab can make an interesting alternative to fish in your tank environment. If you're in the process of welcoming a new crab into your life, you want to find the perfect moniker.
Did you find a favorite crab name on one of our lists? Please let us know what name you chose in the comments.
More Sea Creature Names
Or for something a little more out there, why not check out our Mermaid Names and Unicorn Names lists!