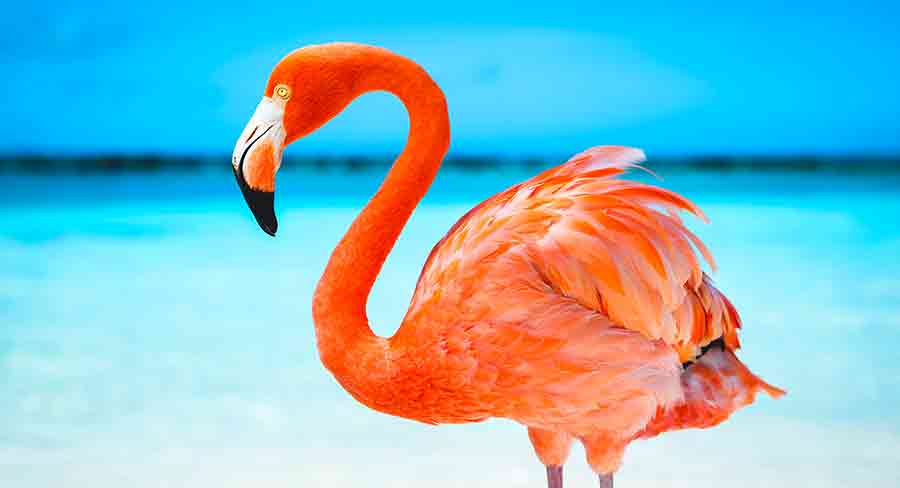 Unless you're a zookeeper, you probably won't be looking for pet flamingo names anytime soon, but wouldn't it be nice to have your own flock of flamingos on a lake in your backyard?
Even if a pet flamingo is not in the cards for you, maybe there's a stuffed toy flamingo or even a real-life pet in your home that could use a cute name. We've compiled the best names for flamingos, or any critter that deserves a name worthy of a flamingo, so let's dive in!
Descriptive Flamingo Names
What are the first things that come to your mind when you think of a flamingo? You're most likely picturing a tall bird with long legs, a hooked beak, and of course that distinctive pink, red, or orange coloring. With that in mind, here are some names sure to capture the essence of any pet flamingo.
Stilts
Legs
Hot Legs
Giraffe
Stretch
Bean Pole
Bean Stalk
Big Bird
Daddy Long Legs
Rosie
Cameo
Rusty
Cerise
Amaranth
Pinkie
Flame
Carnation
Mister Pink
Fuchsia
Cotton Candy
Barbie
Baby Powder
Ruby
Fandango
Flamingo Names Beginning with F
Who doesn't love a bit of alliteration? When the name of your pet starts with the same letter as the name of their breed or species, it can make your choice even more fun! Here are some of our favorites, for both girls and boys.
F Names for Girl Flamingos
Names that begin with the letter F are always a good choice for your pet flamingo. You can't go wrong with an F name, followed by "the Flamingo" to make it official of course (extra bonus points if it's an F followed by an L)!
Florence
Fiona
Fulvia
Fanny
Fleur
Frieda
Faith
Frederica
Flora
Fifi
Freya
Fallon
Faye
Felicity
Fern
Frances
Francesca
Fran
Fatima
Felicia
Finley
F Names for Boy Flamingos
Frederick
Freddie
Fred
Finnick
Flynn
Fergus
Floyd
Finley
Frank
Franklin
Frankie
Finnigan
Fenton
Francis
Fletcher
Fisher
Ferdinand
Felix
Fritz
Forest
Fabian
Fagen
Silly Names for Flamingos
Let's face it, flamingos are charming, but they can be a bit goofy. Just picture a flamingo standing on one leg or wagging its head back and forth, or a flock of flamingos engaging in "marching" behavior—when they pack tightly together and move around in unison. Here are some silly names tailor-made for any funny pet flamingo.
Pickles
Flossie
Doodles
Frodo
Fluffy
Beaker
Mister Beaks
Jailbird
Gadget
Frisbee
Ruffles
Falafel
Plucky
Whistler
Birdbrain
Chickpea
Pipsqueak
Flapper
Kiwi
Spike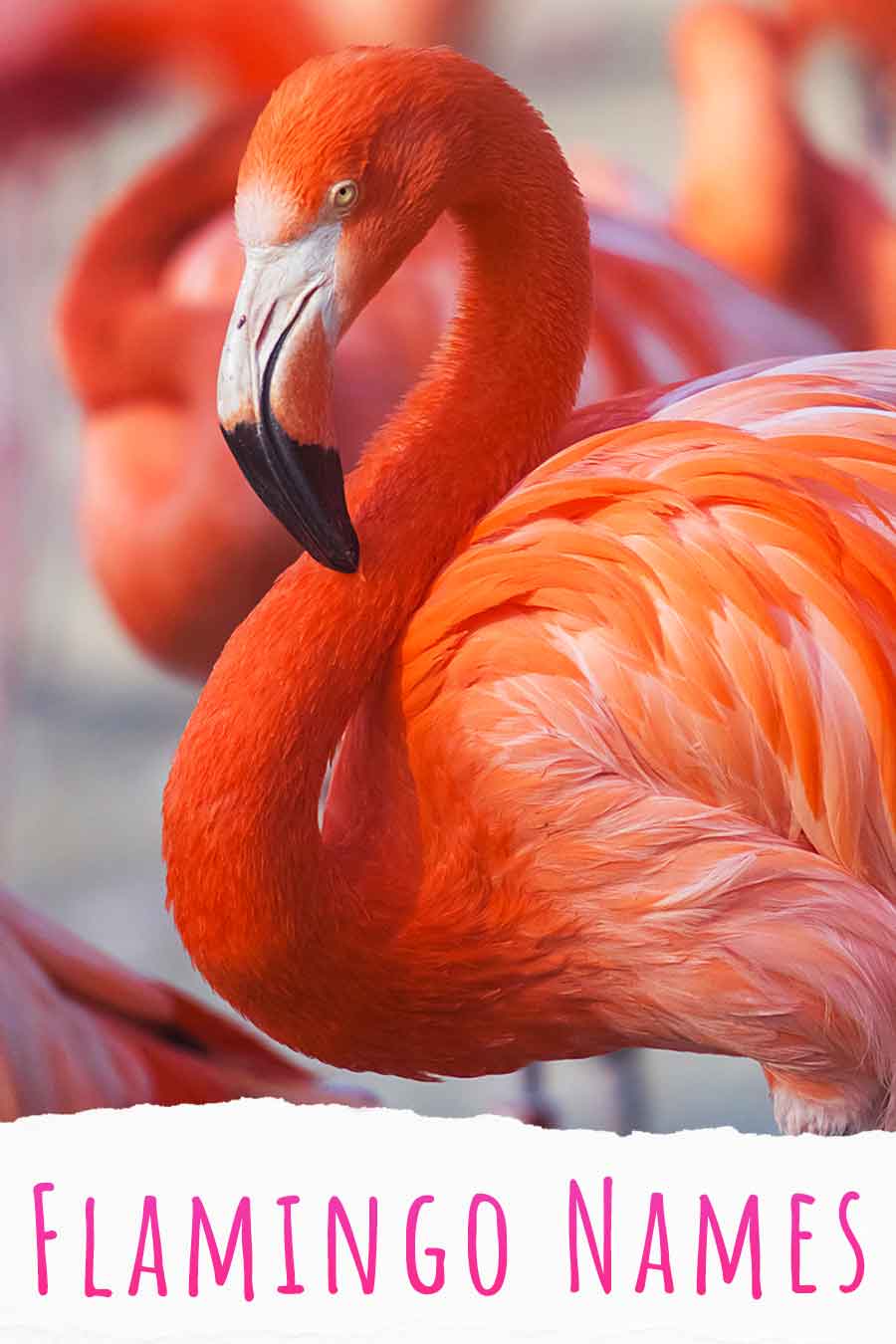 Tropical Names for Flamingos
Did you know that flamingos live in tropical and subtropical regions all over the world? There are flamingos in Africa, India, the Caribbean, and South and Central America. Some even live as far north as the Mediterranean and the state of Florida in the US.
You probably guessed where we're going with this! What would a tropical paradise be without flamingos? It's no accident that images of flamingos are found on things like beach towels, swimsuits, and pool toys. If flamingos make you think of a relaxing tropical vacation, break out the sunscreen and check out these tropical names for your flamingo.
Mango
Starfish
Margarita
Pina Colada
Isla
Pineapple
Calypso
Scuba
Hibiscus
Sandy
Cayman
Bikini
Coconut
Monsoon
Tiki
Pirate
Coral
Orchid
Windward
Pearl
African Names for Girl Flamingos
Many people think of Africa when they imagine flamingos in the wild. Large flocks of them live in African lagoons and shallow lakes. Here are some exotic flamingo names inspired by their African home.
Imani
Nala
Oni
Makena
Folami
Ebele
Kenya
Nomusa
Amari
Zuri
Shani
Abiba
Ayodele
Nia
Subira
Alala
Kalisha
Udo
Tendai
Adaeze
African Names for Boy Flamingos
Badru
Kwame
Sokoro
Abeo
Tayo
Omari
Sekou
Adjo
Kofi
Azi
Malike
Iggi
Rafiki
Daudi
Addo
Enofe
Zuri
Sadiki
Akello
Jabari
Spanish Names for Female Flamingos
Let's not forget about all the flamingos that live in Latin America! How about some Spanish names in honor of our flamingo friends in the Americas?
Rosita
Lupe
Isabela
Paloma
Esmeralda
Carlotta
Valencia
Fernanda
Bonita
Lucinda
Jacinta
Mariposa
Sierra
Yolanda
Gabriela
Carmen
Esperanza
Raquel
Estrella
Marta
Spanish Names for Male Flamingos
Jorge
Manuel
Alonzo
Felipe
Rodrigo
Chico
Ruben
Pablo
Joaquin
Tomas
Santiago
Miguel
Hugo
Guillermo
Emilio
Sancho
Alfonso
Carlos
Raul
Xavier
Names for Flamingo Stuffed Animals
Is it an adorable flamingo plushie that you are looking for a name for? Then check out these squashy, squeezy, lovable ideas!
Pookie
Cuddles
Snuggles
Huggles
Squashy
Fluffy
Fuzzy
Fleecy
Flossy
Stitch
Tufty
Squeezy
Waffles
Fudgey
Lucky
Boo
Cozy
Cheery
Sunny
Cookie
Candy
Darling
Buddy
Fluffles
Cute Flamingo Names
Birds are pretty cool creatures, but when it comes to adorable you can't beat a flamingo. Whether it's that perfect pink plumage or their precious personalities. Here are some cute names for your graceful bird.
Baby
Sweetie
Cutie
Boo Boo
Tiny
Pickle
Pocket
Lil
Smush
Kisses
Bobble
Weeble
Dancer
Ballet
Cherish
Sassy
Links
Tipple
Waves
Crest
Bubbles
Ripples
Opal
Trinket
Pink Names for Pets
These cute pink names for adorable pets would suit a flamboyant flamingo perfectly!
Rose
Blush
Coral
Salmon
Tuna
Shrimpy
Bubblegum
Strawberry
Raspberry
Peaches
Taffy
Barbie
Lollipop
Hershey
Candy
Frootie
Starburst
Jellybean
Grapefruit
Dragon Fruit
Pomegranate
Camelia
Azalea
Carnation
Pansy
Names for Rare Blue Flamingos
There is a myth going around that flamingos can be blue. Unfortunately, in reality this just isn't true. Although if you've seen one you might make a buck or thousand selling the pictures! However, they've inspired some cute blue flamingo toys, who might suit one of these names:
Baby
Tiffany
Azure
Cyan
Marine
Royal
Navy
Yale
Cobalt
Sapphire
Admiral
Indigo
Denim
Lapis
Arctic
Iceberg
Teal
Maya
Oxford
Steal
Frost
Slate
Ocean
Sky
The naming possibilities for your pet flamingo are pretty much endless! We hope we've given you some good ideas to get started as you choose a name for your new feathered friend.