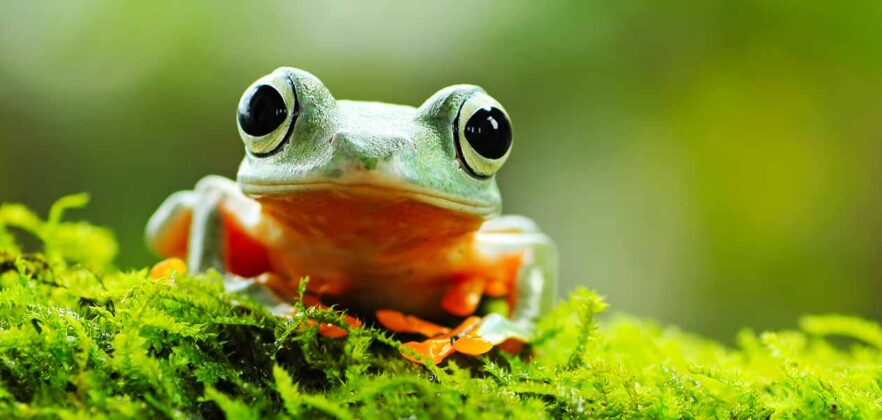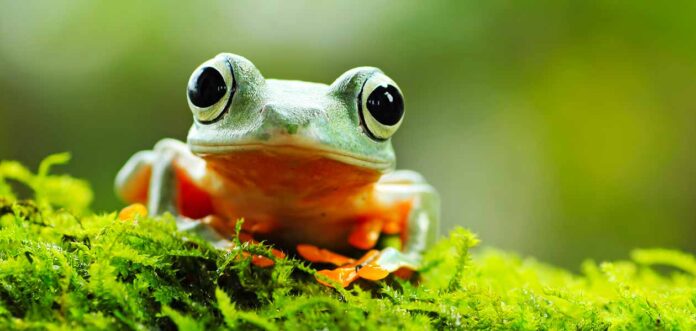 Finding the best frog names is just as important as naming any other pet! There are funny, cute, and cool ideas – something to suit every amphibian from the colorful dart frog to the cheeky White's Tree frog. Perhaps you'd like to use your frog's color as inspiration. Or, take a name from your favorite characters and shows. Here are over 300 of the best pet frog names to help you make your selection!
Best Pet Frog Names
Bamby
Bubbles
Bullet
Croak
Dapper
Dumpling
Emerald
Fran
Frankie
Freddo
Hopper
Jade
Jam
Kermit
Lemon
Lily
Mustard
Ollie
Prince
Queenie
Ribbit
Snapper
Speckle
Tadpole
Toad
Venus
Warts
Web
Yoda
Zippy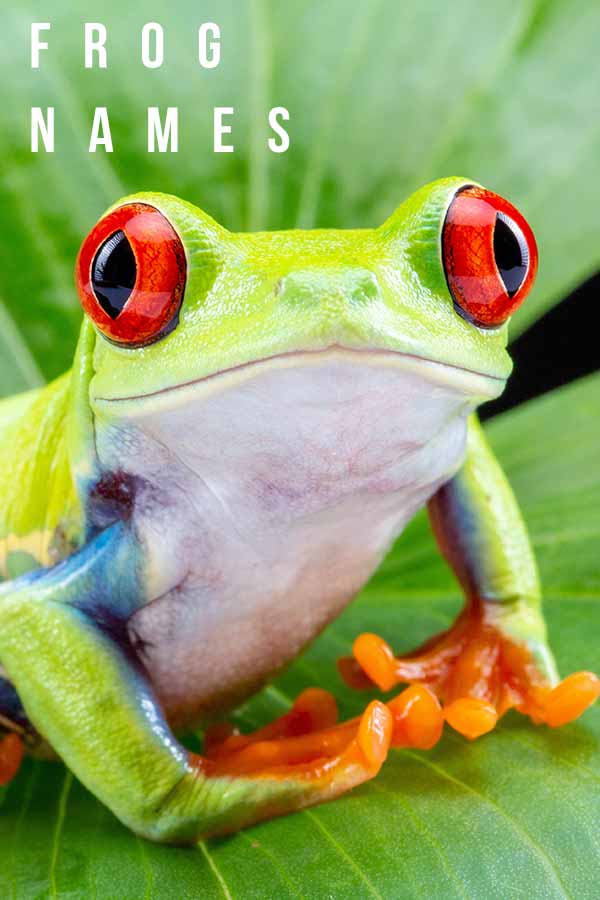 Female Frog Names
There are plenty of great female human names that we can use on our pet frogs. Here are some of our favorites.
Addison
Becky
Bridget
Catherine
Cindy
Dahlia
Daphne
Esther
Evie
Freida
Georgia
Hattie
Holly
Imogen
Jade
Jessie
Katya
Lucy
Maddie
Molly
Nina
Opal
Patricia
Raya
Suzie
Ursula
Violet
Wendy
Winnie
Zoe
Male Frog Names
But we can't leave out the boys! If you're looking for something more masculine, here are some ideas for boy frogs.
Arthur
Ben
Bradley
Callum
Chris
David
Drake
Ethan
Frank
Gary
George
Harvey
Hugh
Ian
Ivor
Jermaine
Jeremiah
Liam
Max
Nigel
Noel
Oscar
Ovie
Patrick
Pete
Rhys
Roy
Sam
Steve
Tyler
Cute Frog Names
Frogs aren't the most popular pets. But, frog owners know just how cute these little amphibians are.
Here are some adorable ideas you'll love.
Angel
Bubbles
Chick
Cloud
Cutie
Diamond
Duke
Faith
Fender
Fringe
Gem
Glitter
Happy
Hoppy
Indie
Jewel
Love
Maisy
Noelle
Petal
Poppy
Ray
Rose
Shine
Sparks
Speckle
Strawberry
Stripes
Sunny
Tulip
Cool Frog Names
Cute ideas aren't for everyone! The following choices are a great way to show off just how cool your pet frog is instead.
Archer
Axel
Bruce
Denim
Diesel
Ender
Engine
Fang
Fanta
Gunner
Iggy
Jam
Jupiter
Leo
Maiden
Menace
Ozzy
Popper
Pump
Quid
Racer
Runner
Spike
Super
Tiger
Trip
Vinny
Whisper
Xander
Zeke
Funny Frog Names
There's nothing better than a great frog pun name. Here are our 30 favorites.
Alfred Hitchcroak
Anthony Hopkins
Audrey Hopburn
David Hasselhop
Dua Leapa
Elvis Frogstello
Frog Marley
Froggy Mercury
Giovanni Ribbitsi
Gwen Stefroggy
Harry Frogger
Humphrey Frogart
Iggy Hop
Jessica Ribbit
Jeremy Croakson
John Frogerty
Joseph Gordon-Ribbit
Julia Frogerts
Kelly Hoppen
Macauley Croakin
Nick Frog
Ozzy Frogspawn
Peter Ribbit
Ribbit De Niro
Ribbit Downey Jr.
Russell Croak
Spawn French
The Da Vinci Toad
Victor Frogkenstein
Zack Effrog
Green Frog Names
If you have a green frog, there are plenty of ideas out there that can be inspired by their gorgeous color.
Alien
Apple
Asparagus
Avocado
Celery
Clover
Emerald
Fern
Forest
Grape
Kale
Kiwi
Leaf
Leek
Lime
Mint
Moss
Olive
Pea
Pear
Pepper
Pickle
Pine
Pistachio
Sage
Seaweed
Shamrock
Shrek
Spinach
Yoshi
Badass Frog Names
Here are some great ideas if you're looking for a tough or badass name.
Bandit
Bane
Barbossa
Beast
Blade
Cobra
Gandalf
Godfather
Gruber
Hannibal
Hulk
Jabba
Joker
King
Kreuger
Magneto
Outlaw
Palpatine
Pirate
Sauron
Scar
Sheriff
Snake
Sniper
Storm
Terminator
Thanos
Vader
Venom
Voldemort
Famous Frog Names
There are plenty of famous frogs out there to get your inspiration from. Here are our favorites – do you know where they're from?
Aogaeru
Amphibius
Baron Silas Greenback
Bev Bighead
CJ Frog
Crazy Frog
Cyberfrog
Dig'em
Flip
Freddy
Freddo
Froakie
Frogger
Gabi
Grundel Toad
Hypnotoad
Jeremiah
Jean-Bob
Kermit
Keroppi
King Harold
Michigan J. Frog
Mr. Toad
Naveen
Pepe
Robin
Slippy
Tiiana
Throg
Trevor
Tree Frog Names
Tree frogs are cute and popular among pet frogs. Why not use a type of tree as their name?
Alder
Ash
Aspen
Beech
Birch
Buckthorn
Buddleia
Cherry
Chestnut
Dogwood
Elm
Fir
Hawthorn
Hazel
Holly
Honeysuckle
Ivy
Juniper
Laurel
Lilac
Maple
Oak
Pine
Rowan
Spindle
Spruce
Sycamore
Walnut
Willow
Yew
Unique Frog Names
If you've still not found the right one for you and your new frog, here are some ideas that will help your little amphibian stand out from the crowd.
Bonkers
Chub
Coconut
Cosmos
Crock
Cuckoo
Cushion
Gru
Lips
Maui
Melon
Ox
Plum
Pluto
Pop
Quill
Ribena
Roost
Romper
Silas
Socrates
Stiletto
Taz
Trumpet
Ursula
Vendor
Vimto
Wanda
Wario
Zen
What Did You Choose?
If you have any great ideas for good frog names that we missed off our list, make sure to leave them in the comments. We would love to hear what idea you settled on!
And, make sure to tell us your favorite things about having frogs as pets below.
Readers Also Liked