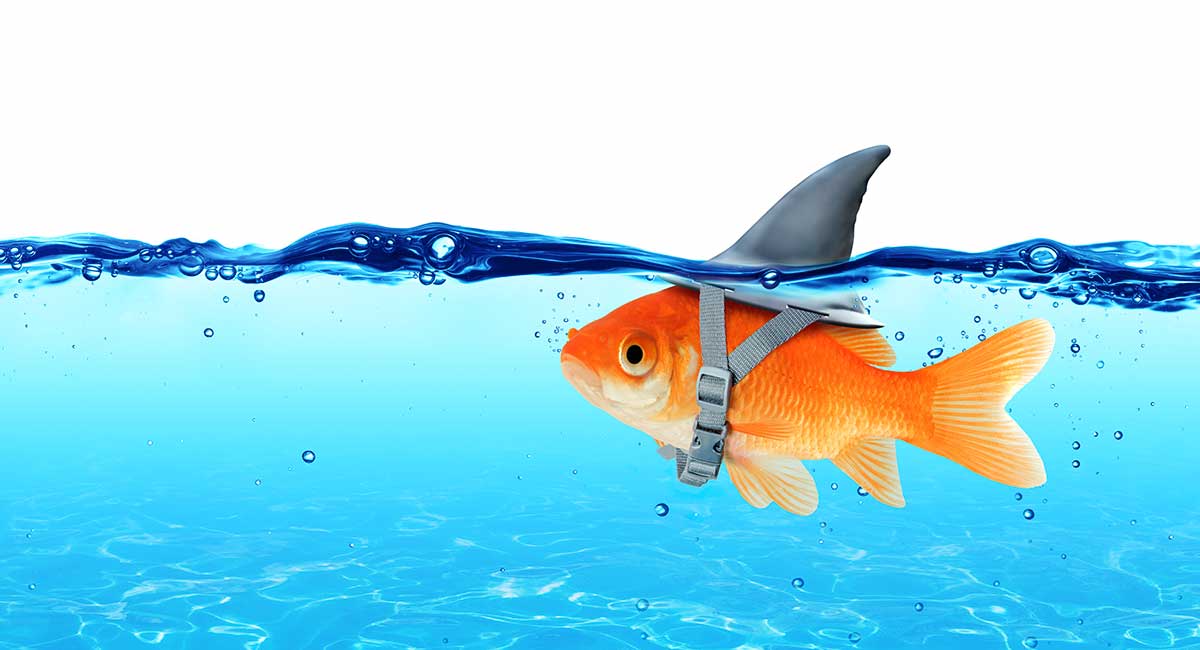 If your fish is as funny as they come or if you're a looking to add a bit of humor to your fish tank, then this funny fish name article is the one for you. We've got choices that everyone will love! So let's dive right in. Join us as we discover over 350 funny fish names.
The Best Funny Fish Names
Wondering how to go about choosing the right funny fish name for your fishy friend? Choosing a name for any pet is exciting, but it is also a part of the bonding experience. While not all pet owners take fish ownership as seriously as dog or cat ownership, more and more studies reveal just how unique our fishy companions can be when given the time and attention.
Does that mean that your fish can learn his name? Not necessarily. There are many factors that play a part in whether you can train a pet to do certain things, like learn his name for instance. And along with many other variables, your pet fish hears differently than his land-walking counterparts.
Top 100 Funny Fish Ideas
Bubbles
Splish Splash
Squidward
Tiny Fin
Lady Gills
Flow
Tuna
Reef
Pescetarian
Tuna Turner
Nemo
Sticks
Patrick
Madam Fish
Alpha Betta
Finn
Bubba
Blue
Sir Fin
Swedish
Gills
First Mate
Sebastian
Fish Fieri
Lady Blub
Sushi
Sailor
Flounder
Marlin Monroe
Salmon
Shark Bait
Tartar
Guppy
Nat Kingfish Cod
Gillfunkel
Dory
Aquarius
Floaty
Happy Gillmore
Mr. Fish
Salty
Peg Leg
Goldie Hawn
Sharkira
James Pond
Bubbly
Skittles
Ariel
Mackelerlmore
Spongebob
Genie
Angelina
Fern
Miss Puff
Star
Gilmore
Prince
Kujo
Ulysses
Bill Nye the Science Fry
Annabelle
Diva
Babs
Karen
Juliet
Fin
Boyd
Hal
Memphis
Denzel
Lazer
Aurora
Crash
Tu-Tone
Zoro
Priss
Ryder
Rox
Whisper
Gizmo
Snowball
Squirt
Freckles
Wavy
Fifi
Porkchop
Scuba
Jack Sparrow
Atlantic
Bermuda
Shrimp
Fisherman
Algae
Lebron Waves
DaKoi
Kyo
Jelly
Ducky
Sucker
Trouble
Seahorse
Wish
Undertoe
Atlantis
Snapper
Jetsam
Tidalwave
High Tide
Monster
The Loch Ness Monster
What About Short Memories?
Still, despite a common misconception, fish do have decent memories and can become used to repetition. If you feed your fish at the same time every day, for example, you may notice that he or she comes out of the little water cave to greet you in the spot you typically drop food.
Female Funny Fish Names
What a funny little guy or gal! So, what are some of the best funny fish names for your companion?
You may not know if your fish is a male or a female so you may just have to play it by instinct. Does your funny fish have a female swag to her? Or perhaps your fish is clearly male but needs a female name to jazz him up? Regardless, this is a list of some of the best female funny fish names for a female (or male) fish.
Goldie
Guppi Goldberg
Gillary Clinton
Penny
Rosy
Lady
Lesley
Gilly
Giselle
Phillis
Miss Fishy
Princess
Baby
Delila
Wanda
Mermaid
Elsa
Diamond
Bessy
Yvette
Fishgirl
Katniss
Lourdes
Savannah
Barbie
Marina
Grace
Shelly
Ginger
Polly
Barbar
Jewel
Hope
Fran
Lucy
Clementine
Arya
Gail
Deb
Xena
Male Funny Fish Names
As we said, it's not always going to be obvious whether your fish is male or female. Do you know your fish is a manly man fish in need of a manly man name? Then this is the list for you!
Of course, if you are playing the guessing game and are guessing that your fish is a male but aren't sure, you may still find this list intriguing. Or if you don't mind either way and are just looking for some good funny fish names for your fish, regardless of gender, then have at it.
Aquaman
Fredrick
Arnold
Stud
Sylvester
Phineas
Billy
Ralphie
Malone
Diego
Cruise
Ace
Dumbo
Clifford
Colby
Bubble Fett
Homer
Pepster
Thomas
Marlin
Gill Clinton
Blu
Hamlet
Duke
Tiger
Guppius
Quincy
Frank
Stryker
Max
Clown
Puff Daddy
Harpo
Tyson
Theodore
Gilbert
Quimby
Barney
Eddy
Dirk
Cool Funny Fish Names
Can your fish be cool and funny all at once? Of course! Sometimes just giving your fish a cool name is funny enough. While we know that fish are cool, smart, and funny, these cool funny fish names are ice cold while also being super fun.
Dex
MoJo
Rio
Lex
Jet
T-Bone
Luna
Roxy
Turbo
Gatsby
Rogue
Kimbra
Speedy
Casper
Harley
Kat
Finley
Orchid
Lava
River
Ninja
Nixie
Ghost
Shadow
Houdini
Arlo
Lake
Lightning
General Fin
Phantom
Rebel
Sky
Take a look at more cool fish name ideas here!
Cute Funny Fish Names
Your fish is adorable, right? Those little fins, those buggy eyes, that totally kissable kisser. We know you can't get enough and neither can we! So, with all that cuteness overload, here are a bunch of cute funny fish names to the list.
Flipper
Sunny
Nell
Whimsy
Spot
Feebs
Rainbow
Guppie
Pebbles
Pixie
Anchor
Boo
Dot
Scooter
Moxie
Hiccup
Luna
Glow
Porky
Blooper
Felix
Lavender
Cheeto
Chicken Nugget
Minnie
Skittles
Footsie
Spike
Puddles
Echo
Bug
Marigold
Funny Funny Fish Names
What is a funny funny fish name, you ask? Why it's the seriously on-purpose funny fish names. The names that are riddled with irony and pun. And what's more fun than a punny funny fish name? Nothing, really! So get ready to laugh with these hysterical funny funny fish names for your fishy.
Tuna
Johnny Depth
Mermaid
Michael Phelps
N' Chips
Puckerface
Swim Shady
Miss Puff
Sticky
Soy Sauce
Manatee
Chicken of the Tank
Chum
Bigger Boat
Kermit
Caviar
Lil' Finn
Fishman
White Meat
Minnow
H20
Jumbo
Pacific
Elvis Fishley
Fancy Fins
Aqualad
Aye Matey
Ann Chovy
Dinner
Merman
Seaweed
Fish Sauce
Unique Funny Fish Names
If your fish is one-of-a-kind then you may be on the lookout for a unique and one-of-a-kind fish name. Sound about right? Then this is the list for you. Here are 40 of the funniest and most unique names for your unique fish.
Kosher
Klepto
Kibbles
Yellow Submarine
Raindrop
Goldschmidt
Cheese
Muggle
Chong
Tango
Chompy
Dasher
Sashimi
The Wave
Krypton
Velvet
Barnacle
Mervish
Coco
Moose
Sunset
Kisser
Lingo
Waffles
High Tide
Taz
Fluffy
Suki
Tie-dye
McLovin
Cuddles
Whipper
Tough Funny Fish Names
While it may be hard to imagine a goldfish throwing punches, there are a few fish out there who rule the waves. These 40 tough fish names are perfect for any fish in your tank, whether that fish is a timid minnow or a shark in disguise. Which one is your favorite?
Pirate
Nessie
Titanic
Hammerhead
Shark
Ursula
Chum
Waterworks
Jaws
The Mountain
Athena
Fangtooth
Captain
Wasabi
Fish Fry
Great White
Shank
Megaladon
Beta
Amphitrite
Bait
The Meg
Barracuda
Bruce
Hook
Alpha
Fangs
King Triton
Shipwreck
Crush
Piranha
Flotsam
Fun Facts About Fish
Fish make up half of the nearly 62,000 types of vertebrates on planet earth. While these watery friends of ours are some of the world's most popular pets, many people still know very little about them. We know fish are pretty and are fun to watch, but new studies are also revealing a lot about the inner workings of our fish friends' brains! Some research suggests fish have long-term memory, are able to recognize one another, and even have the ability to use tools!
Do Fish Love Their Families?
There have also been studies done that show that fish are family oriented. One study found that rainbow fish prefer to hang out with relatives over other rainbow fish with no relation. And who were their favorite fishy friends? Why their full-blooded siblings of course! How is that for adorable?
So, congratulations on your new fishy addition! We hope you were able to find the perfect funny name for your funny (and apparently pretty intelligent) fish friend. Tell us which fish names stole your heart in the comments below.
If you're still looking for more inspiration, make sure to also take a look at Betta Fish Names and Goldfish Names! Or you might be looking for some really different animal names, like snake names!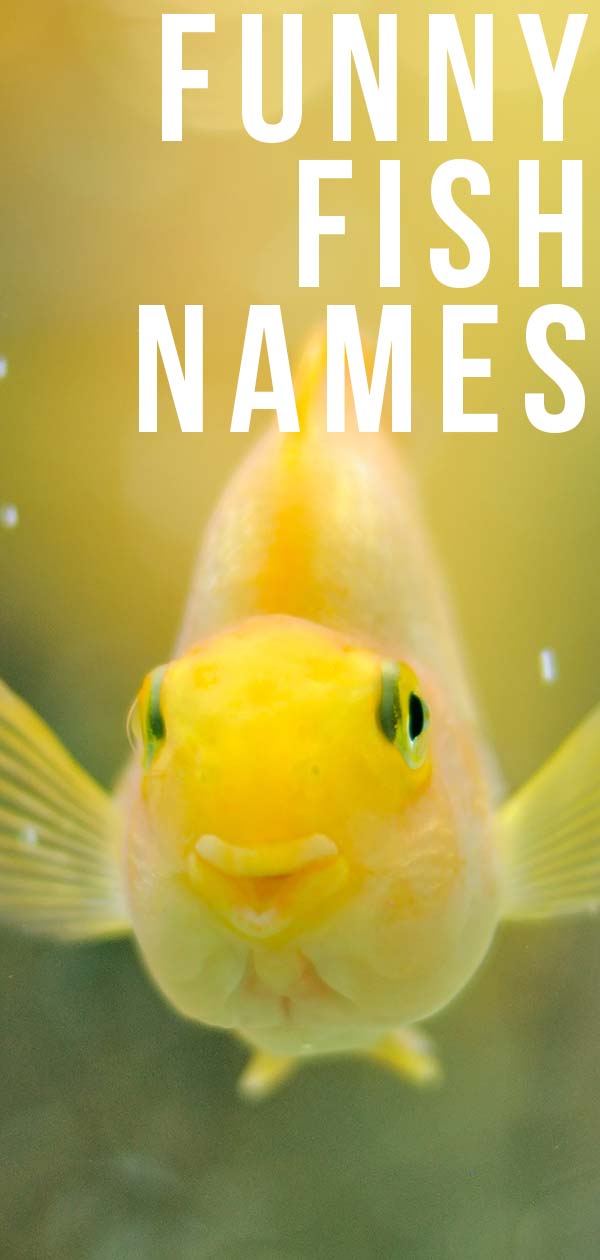 References