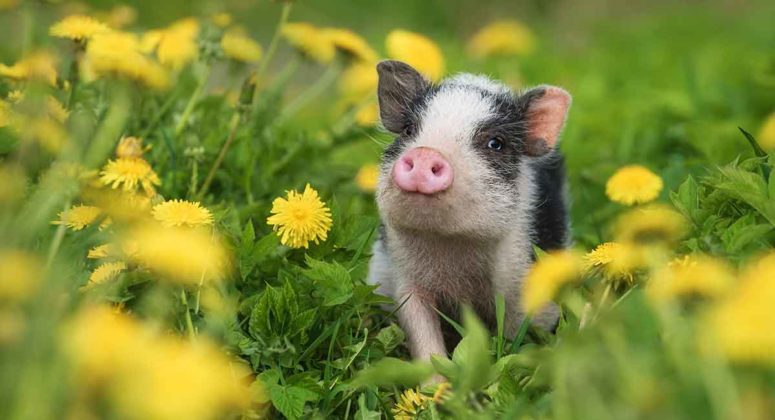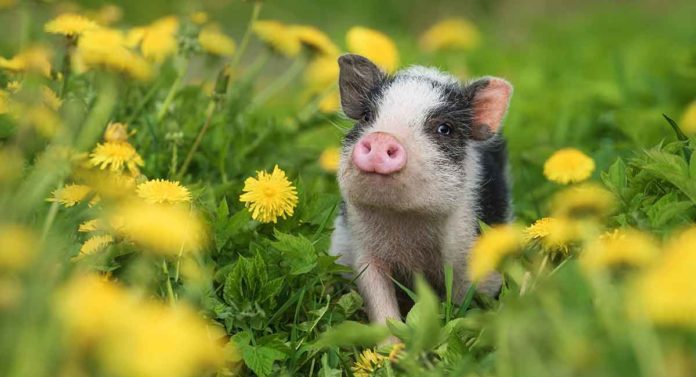 The popularity of pet pigs has been on the rise since the '80s, although many people still consider these porky pets to be somewhat unique and exotic. Pigs are incredibly intelligent, resourceful, and empathetic animals who make wonderful pets for the right human families. Choosing pig names is a perfect opportunity to celebrate these sassy pets and unleash your flamboyant side. Whether you want a tough name, a cuter choice, a funny one, or something different. We've got a bit of everything for you to choose from. Which is going to be the perfect choice for your pet pig?
Contents
Whether you are looking for super sow names or brave boar names, we've got every style and theme of piggy name you could hope for here. Along with some cool ideas for thinking up your own totally unique pig names too.
Top 100 Pig Names
We've got lots of inspiration, starting with top 100:
Ace
Aero
Alexander
Amy Swinehouse
Anastacia
Apollo
Arabella
Archie
Arlo
Atlas
Babe
Bacon
Bartholomew
Bella
Benjamina
Bloedworst
Boerewors
Bratwurst
Bristle
Buddy
Cargo
Caesar
Charlie
Chipolata
Chops
Chorizo
Clay
Cliff
Daisy
Dandelion
Donatella
Dozer
Drisheen
Esmeralda
Florencia
Gaston
George
Gouger
Grunter
Ham Solo
Hamm
Helzel
Henrietta
Henry
Hog
Hogwash
Huxley
Isadora
Jellybean
Josephine
Jupiter
Leonardo
Miss Piggy
Morcilla
Napoleon
Octavius
Old Major
Oliver
Olympia
Orion
Penelope
Peppa
Persephone
Petal
Petunia
Pigasso
Piglet
Pigsel
Pluto
Popcorn
Poppy
Porky
Prickles
Robinson
Romper
Rooter
Rosalinda
Salami
Saucisson
Sausage
Sebastian
Seraphina
Shoat
Snouter
Snowball
Socrates
Sow
Squealer
Stubble
Swine
Tank
Tattoo
Tina
Truffles
Tusker
Whiskers
Wibbly
Wilbur
Wilhelmina
Winston

Pig Names
Yes, we do have nearly 200 of the best pig names below, and we are pretty sure you will a fall in love with at least one of them! You might get some inspiration from our lists of dog names too. But before we begin looking at names, let's talk about what amazing creatures pigs actually are. Let's also go over how you can help your pig learn his name.
Studies have proven time and again that pigs are incredibly brainy! They are clean, loving, and eager to please their human counterparts, which should help during the training process. But is training a pig like training a dog? Actually, yes. Pigs learn very similar to dogs and in fact, many experts believe pigs can even learn quicker and more efficiently than their canine counterparts!
Classic Ideas
Piglet
Waddles
Mitzi
Wilbur
Chubby
Penny
Miss Piggy
Piggly Wiggly
Mabel
Pumbaa
Abraham
Buttercup
Mr. Porky
Charlotte
Piper
Babe
Dixie
Old Major
Sooey
Esther
Charlie
Truffle
Mervis
Ollie
Porkchop
Curly
Ella
Bubba
Amelia
Olivia
Sow Names
Is your little piggy a girl? Fabulous! We had way too much fun researching some of the best and most adorable female piggy names available. Of course, just because they sound female doesn't mean you can't use them for your male pig. Take a look at some of the best female options we could find!
Daisey
Layla
Lady
Bella
Princess
Duchess
Blossom
Tinkerbell
Petunia
Bonnie
Dorothy
Dolly
Sadie
Flower
Diva
Maggie
Emma
Ballerina
Pearl
Lassie
Boar Names
Looking for boy names? Whether you have a male pig and need some male names or you have a girly pig who needs a masculine sounding moniker to help offset her sassy spice, this is the list for you. We love these male names for a pig! What do you think?
Hugo
Barnaby
Mickey
Peter
Orville
Phil
Brutus
Rocky
Frankie
Bart
Otis
Dewey
Mugsy
Bandit
Rex
Waldo
Samson
Rufus
Marshall
Rex
Cool Pig Names
We think pigs are pretty cool. Their cute little snouts, their curly tails, and all that porky swag just drive us crazy! If your pig is the coolest pig you know, then this is the list for you! Take a look at these crazy choices below.
Lex
Clover
General
Ryder
Levi
Gadget
Harley
Echo
Blackjack
Ever
Legend
Storm
Lux
Jax
Ammo
Diesel
Carter
Marley
Axelle
Whisky
Bourbon
Captain
Boomer
Presley
Nixie
Tank
Jagger
Racer
Smokey
Elvis
Cute Pig Names
Minnie
Checkers
Ladybug
Tootsie
Spot
Shrimp
Pinky
Baby Cakes
Pebbles
Mickey
Snickerdoodle
Teacup
Dots
Happy
Marble
Oreo
Skittles
Pixie
Lucky
Tiny
Toodles
Popcorn
Cookie
Hobbit
Squiggle
Toots
Nano
Cocoa
Scout
Runt
Funny Ideas
It's no secret that pigs can be adorably cute, but did you know they are also pretty funny? They make hilariously funny snorting sounds and can get running so fast it's hard for them to stop!
These pink little balls of energy make everyone laugh and smile, and if you would like a name that is as funny as your funny little pig, then you've found the perfect list of pig names. Get ready to giggle at twenty of the funniest options we could come up with.
Hogwarts
Madam Porkenstien
Porkey
Mr. Bacon
Pork Porkenston
Elvis Pigsley
Bacon
Hamburger
Wart Hog
Porky
Sam the Ham
Piggins the Pigger
Sir Oinks-a-Lot
Peppa Pig
Piggy
Pigsqueak
Sir Piggins
Hamm
Porkin-Pigsworth
Hamilton
Unique Inspiration
Don't your friends think it's totally wild that you are getting a pig? We bet most people still think that being a pig parent is pretty unique. If you love standing out and if you think that you and your new piggy friend are a totally one of a kind pair, then you may be on the hunt for some super unique and stand-alone names. If that's the case, you are going to love the thirty unique choices we've picked out for you in this list.
Rosebud
Snorts
Rerun
Moana
Buns
Arrow
Thumbelina
Pumpernickel
Cali
Ludwig
Sunflower
Kickstart
Penelope
Lulu
French Fry
Armadillo
Hedwig
Benji
Archer
Manfred
Sweets
Lacey
Bubs
Calico
Puppy
Hoofs
Dolce
Maisy
Leonard
Tiger
Tough Piggies
Pigs may not be known for their incredible toughness, but that's okay. The fact that they learn so quickly and have such high IQ's makes them excellent for shows and competitions. If you need some show choices or some tough-sounding names to help give your pig some tough-sounding edge, then keep reading. We have twenty totally tough sounding options just for you below!
Tron
Judge
King Pigeon
Thor
Hammer
Bruiser
Killa
Ghost
Fleetwood
Shadow
Bandit
Soldier
Madness
Trooper
Pirate
Chief
Villain
Magnum
Meteor
Phantom