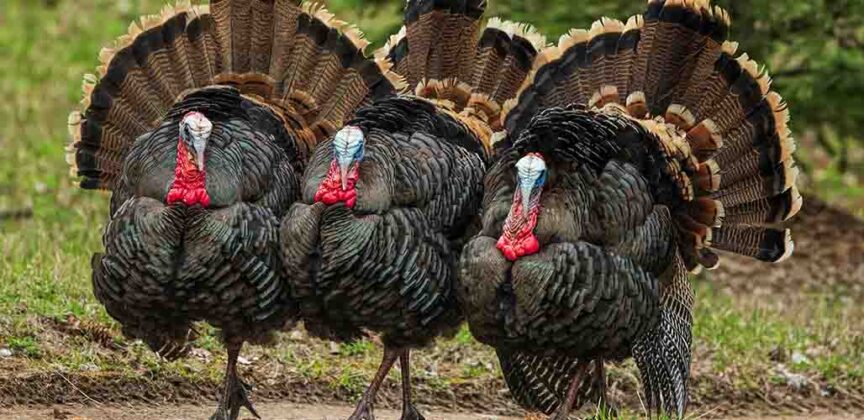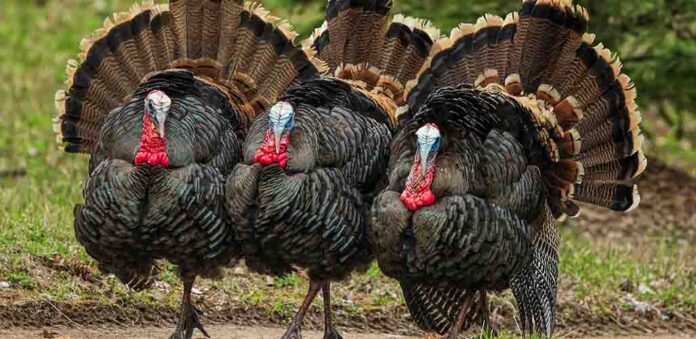 Turkey names are great fun to find. Is there a turkey in your life that needs a name? Turkeys often get overlooked, at least until Thanksgiving rolls around, but these birds make terrific outdoor pets. From their colorful plumage to elegant, fan-shaped tails, from their gentle nature to endearing personalities, there's plenty about this poultry to inspire excellent turkey names. If you're stuck for ideas, we've offered up some of the best turkey names.
Contents
Although not your typical companion, more and more people are discovering turkeys make loving pets. They're docile and social birds that are good with children and will bond well with their families, faithfully following their people around like a shadow. While large birds require a good-sized space to stretch their wings, turkeys are pretty low maintenance. They like a clean environment and often find separate areas to eat, sleep, and go to the bathroom all on their own.
Domesticated vs Wild Turkeys
Domestic and Wild Turkeys share little more than a species name. While most domestic turkeys are white, wild turkeys have brown and black feathers. Wild turkeys can survive in the wilderness and run at speeds of up to 25 miles per hour. Domestic turkeys have shorter legs, so they're much slower on their feet. Wild turkeys can fly more than a mile at a time, while the domestic variety has been bred to have an oversized breast, making them too heavy to get off the ground.
Male Turkey Names
Male turkeys are called toms or gobblers for the distinctive loud, throaty gurgling sound they make to announce themselves to females. Baby turkeys are called poults, and young males are known as Jakes. Full-grown males are considerably larger than females with bigger wattles and more prominent snoods—the long piece of flesh that grows down from their forehead. A 1997 study found that female turkeys prefer males with long snoods. Although Tom and Jake are obvious turkey name choices, we've got lots more to choose from here.
Reggie
Egbert
Ted
Terrence
Trevor
Henry
Butch
Bosco
Abe
Ace
Tucker
Tony
Tyrone
Thor
Howard
Stewart
Rex
Pete
Joey
Larry
George
Gary
Ralphie
Roy
Female Turkey Names
Adult females are called hens and if their smaller size and lack of beard and spurs are not enough to indicate gender, look at their droppings. While males make spiral poop, the female's poop is in the shape of the letter j. It's easy to remember because j is the first letter in jennie, the name for young females. Jennie makes a great name for a turkey girl, and here are some other ideas.
Suzie
Lilly
Tammy
Tahlulah
Tilly
Henrietta
Gracie
Bertha
Hannah
Beatrice
Martha
Rosemary
Minnie
Dottie
Tabitha
Tess
Maggie
Lola
Estelle
Maude
Alice
Mabel
Betty
Pardoned Turkey Names
The Thanksgiving holiday celebration usually revolves around a bountiful meal with a turkey as the centerpiece of the feast. The National Thanksgiving Turkey Presentation is an annual White House ceremony in which the President of the United States issues a turkey a ceremonial pardon before the holiday. These are the names of the turkeys (and their alternates) who have received presidential pardons:
Charlie
Woody
Harry
Jerry
Liberty
Freedom
Katie
Zack
Stars
Stripes
Biscuits
Gravy
Marshmallow
Yam
Flyer
Fryer
May
Flower
Pumpkin
Pecan
Courage
Carolina
Apple
Cider
Peace
Cobbler
Gobbler
Popcorn
Caramel
Cheese
Mac
Abe
Honest
Tater
Tot
Drumstick
Wishbone
Peas
Carrots
Butter
Bread
Corn
Cob
Peanut Butter
Jelly
Black Turkey Names
Black turkeys were developed in Europe and these medium to large-sized birds have lustrous, metallic black plumage with a greenish sheen on top. Here are some suitable names for a beautiful black turkey.
Coal
Ebony
Onyx
Raven
Blackberry
Blackjack
Ace
Zorro
Voodoo
Crow
Magpie
Ninja
Morticia
Tux
Jet
Talon
Raisin
Zorro
Cosmos
Night Rider
Bronze Turkey Names
Bronze turkeys are a popular American turkey breed with plumage similar to that of the wild turkey. They're notable for feathers with an iridescent bronze-like lustre highlighted by shades of copper and blue-green. Check out our names suitable for a colorful bronze turkey.
Toffee
Caramel
Whisky
Copper
Taffy
Penny
Tawny
Waffles
Peanut Butter
Maple
Honey
Molasses
Toast
Hershey
Autumn
Butterscotch
Goldie
Peacock
Sandy
Sesame
Red Turkey Names
The Bourbon Red is a large breed of a domestic turkey named for its origins in Bourbon County, Kentucky, and its unique reddish plumage. Here are some names fit for this majestic turkey breed.
Paprika
Cinnamon
Rusty
Cardinal
Foxy
Ginger
Blaze
Sienna
Garnet
Ruby
Scarlett
Redford
Poppy
Blossom
Barn
Maroon
Brandy
Cherry
Tabasco
Magenta
Cayenne
Bourbon
Chewbacca
White Turkey Names
The broad-breasted white turkey is bred to produce more meat than other turkeys and is commercially the most widely used breed of domesticated turkey. Here are the name selections for white turkeys.
Casper
Arctic
Ghost
Coconut
Crystal
Ivory
Powder
Vanilla
Bones
Dove
Swan
Blondie
Popcorn
Q-tip
Cotton
Magnolia
Yeti
Funny Turkey Names
If you've ever been face to face with a turkey, you know they're pretty funny looking with their red bumpy heads and flaps of skin hanging around their faces. We've included some names to make you smile.
Big Bird
Saucy
Gobbles
Waddles
Walrus
Giblet
Pie
Puffin
Penguin
Lefty
Holiday
Hamburger
Pilgrim
Cranberry
Jellybean
Kee Kee
Kitten
Snood
Bubbles
Dino
Raptor
T-rex
Naming a Turkey
If you have a gaggle of turkeys in your life, you may be looking for a whole slew of turkey names. Be creative and let your imagination loose when brainstorming names. You could be inspired by their color, physical attributes, behavior, or the sounds they make. Maybe you've chosen one of the names we've listed, or our selections helped you come up with one of your own.
We'd love to hear about your favorite turkey names in the comments below.
Find More Bird Names
Here are loads more great ideas for naming your pet poultry!
References and Resources