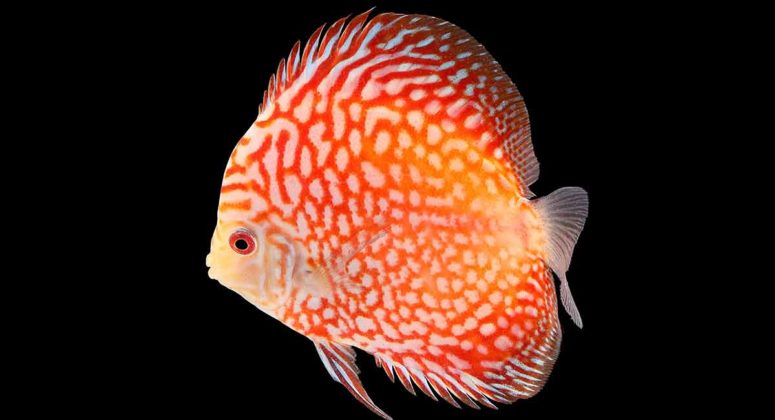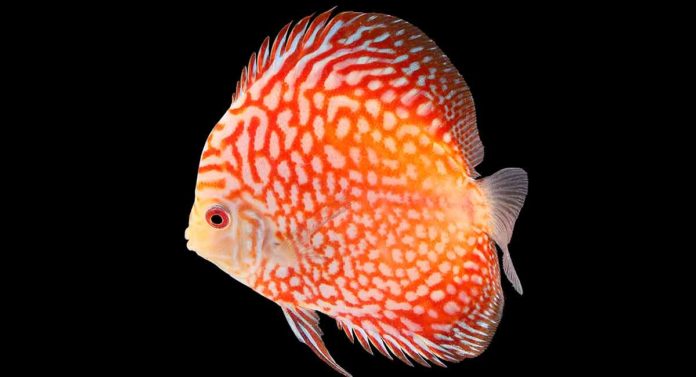 Do you need inspiration for cool fish names? If so, you have definitely come to the right place!
If you love fish, you have great taste. Recent surveys reveal our finned friends are now the third most popular pet choice in the nation.
In fact, an estimated 142 million pet fish are swimming around in aquariums all over the United States right now!
But that's a lot of fish names to think of! Luckily, our cool fish names guide provides creative naming ideas for each new aquatic family member you choose to add to your tank!
So now, let's dive into these curated lists of popular cool, cute, funny, unique and tough male and female fish names!
Cool Fish Names
Whether your pet fish of choice is a ferocious shark or a timid minnow, a saltwater lover or a freshwater dweller, you are naming a new family member. You want to be sure to pick out the perfect cool fish names to choose from.
This can be a tad bit nerve-wracking at first. Especially if the whole family has to agree unanimously on your choice of the new fish's name!
For situations where no one in your family is willing to budge on their favorite fish names, consider giving your fish a first name AND a middle name. (Even if you end up with a fish named Mr. Wiggly Squiggly Splashypants Smith, at least you will know everyone is happy!)
Naming Tips
Here are a few extra fish naming tips we hope will be helpful as you ponder these lists of cool fish names and pick out your favorites:
Be sure your new fish name is short (or can be shortened) and easy to pronounce so even the youngest family members can say it easily.
If you want to name your new fish after a family member or friend, it is always nice to ask their permission first.
It can be smart to choose a name for your fish that you can readily share in mixed company of all ages.
If you get stuck, spend some time studying your fish's unique species, colors and characteristics, such as yellow spots, flowing fins, or a zig-zag swimming pattern. This can give you extra naming inspiration.
Try not to put pressure on yourself to choose a new name right away. The more you relax as you watch and enjoy your new fish, the more likely you will be to land on the perfect name.
Best Cool Fish Names
These are some of the best cool fish names that are popular as of the time of publication. You will notice plenty of references to famous cartoon and real-life fish both small and supersized!
You will also find fun naming ideas for pairs of fish sprinkled throughout the lists to follow. Many fish species appreciate having the company of others of their kind and will fare better when kept in groups. So it can be fun to give a group of new fish related names.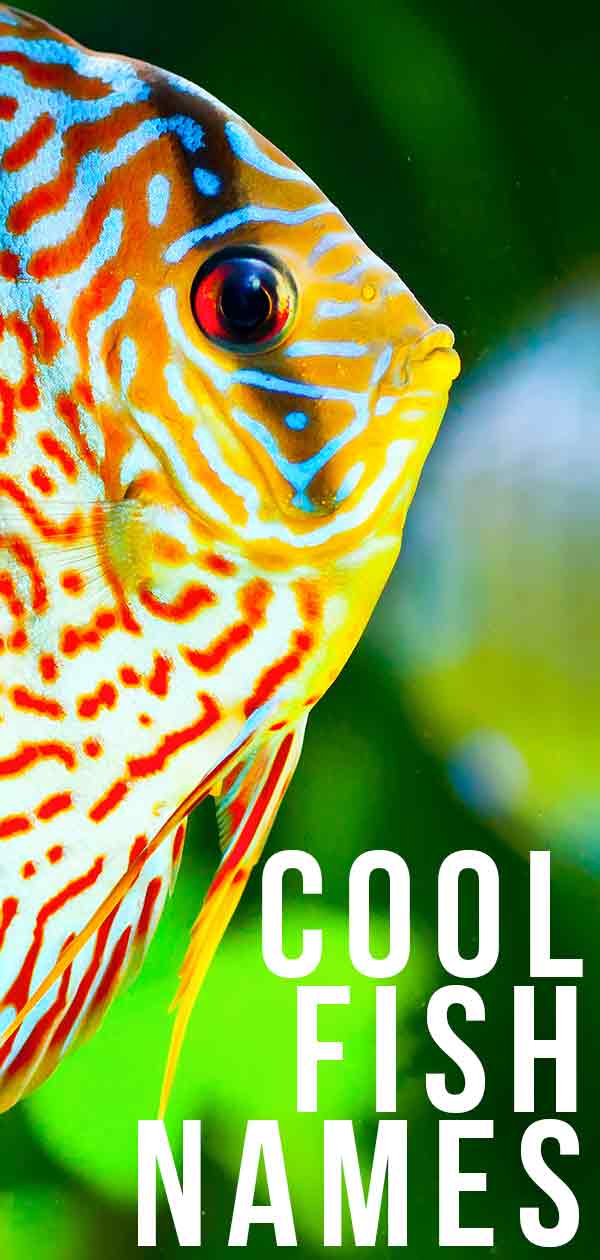 Top Cool Fish Names
These cool fish names draw from pop culture, animation, science and mythology to give you lots of fun fish naming options to choose from!
Cleo
Trixie
Duchess
Bruce
Apollo
Dash
Blinky
Sharknado
Krill
Jabberjaw
Ann Chovie
Tsunami
Hydra
Ramone
Jerry
Colossus
Neptune
Overbite
Female Cool Fish Names
It is not always so easy to figure out whether your new fish are girls or boys. Sometimes you literally just have to wait and see, which can certainly make the adventure of fish keeping even more exciting!
These female cool fish names will suit your aquatic pal even if you are left with the sneaking suspicion they might actually be a boy.
Ms. Puff
Alice
Dory
Wanda
Ponyo
Coral
Ariel
Jenny
Siren
Begonia
Deb
Pearl
Destiny
Angel
Dot
Willow
Molly
Aphrodite
Dorothy
Aurora
Beauty
Cersei
Gabby
Jade
Luna
Nessie
Princess
Male Cool Fish Names
In some fish species, nature has made it easier to tell who is a boy and who is a girl. For instance, goldfish often develop appendages known as tubercles, tiny white spots that appear on the gill coverings.
These male cool fish names range from playful and funny to stoic and serious. So you have lots of options to find the perfect fit for your new addition!
Marlin
Sherman
Mr. Ray
Bill
Sheldon
Bob
Sharktopus
Jonah
Jacques
Ted
Bailey
Nigel
Gerald
Lenny
Kenny the Fish
Patrick Star
Hank
Charlie
Oscar
Guido
Pietri
Spike
Zorro
Mullet
Blimp
Butch
Earl
Cute Cool Fish Names
Some fish are simply cuter than others. You know an adorable fish when you see one. And the cutest fish in the pond (or the bay) deserve cute cool fish names like these!
Nemo
Flipper
Willy
Dinoshark
Bubbles
Squirt
Guppy
Nibbler
Darwin
Tad Pole
Chuckles
Peach
Crush
Zippy
Horsea
Flotsam
Jetsam
Mr. Blobby
Lumpy
Gurgle
Splash
Caviar
Zigzag
Spot
Glimmer
Flash
Barnacle
Funny Cool Fish Names
Fish can have distinct personalities just like people and other pets. In fact, part of the fun of fish-keeping is getting to know the different behaviors, preferences, and habits of each fish in your tank.
If you have a finned comedian who always makes you smile or laugh, you may find a perfect fit in one of these funny cool fish names!
Gill
Flounder
Muddy Mudskipper
James Pond
Mr. Limpet
Fish Zombie
Nurse Fishington
Bubba Gump
Shellsea
Fish Flake
Fish Out of Water
Tad Pole
Robo-Carp
Jawsome
Sushi
Sashimi
Fish Sticks
Fish N Chips
Finnegan
Skipper
Gilligan
Popeye
Tuna
Mr. Limpet
Bloat
Wolf Fish
Filet
Unique Cool Fish Names
Every fish is unique, from how they swim and sleep to what they do to evade predators and nab tasty prey.
Perhaps one of these unique cool fish names will be a perfect match for your new fish's one-of-a-kind personality and behavior!
Keiko
Migaloo
Roysten
Ichthyes
Blenny
Baiiji
Pesca
Anchor
Chum
Boyd
Fangtooth
Blenny
Skipjack
Jinyu
MIzuchi
Ryu
Flipper
Captain Hook
Shark Bait
Crazy Joe
Kevin
Shaobao
Izzie
Chowder
Finna
Flo
Wave
Tough Cool Fish Names
Some fish species are really tough by nature. Either because they are really delicious or because they are always hungry.
These tough cool fish names lets everyone know who the tough guy (or gal) in the tank is!
Moby Dick
Jaws
Pirahnica
Don Lino
Klaus
Captain Finn
Captain Ahab
Cloak
Dagger
Chief
Poseidon
Queen Amphitrite
Aquaman
Orca
Sharkowski
Leviathan
Shamu
Jawbreaker
Tico
Tilikum
Oceanus
Triton
Pisces
Arowana
Big Fish
Swedish
Triton
Fun Facts About Cool Fish
Every year, scientists and researchers discover new freshwater and saltwater fish species. No one is certain exactly how many different species of fish exist on the planet. Current estimates range from between 20,000 and 230,000 species!
In terms of size, known fish species can range from barely 8mm long (the itty bitty Paedocypris), to nearly 13m (the colossal whale shark). Of course, most fish species fall somewhere in between, and those are just the ones we know about!
The goldfish is no doubt the best-known and most recognized pet fish. But even goldfish enthusiasts often don't realize there are actually hundreds of different species of goldfish. Or that they are related to the giant carp!
The priciest pet fish in the world today is the Asian Arowana, a fish that is so endangered and so prized it can (allegedly) fetch prices up to $300,000 on the underground international black market.
What Are Your Favorite Cool Fish Names?
Do you have any favorite cool fish names picked out from these lists here? Or has reading through these name ideas sparked your own imagination to come up with an awesome name for your new fish?
When you make your decision, please drop by and share the name you chose. We love to learn from our readers!
More Fish Name Ideas
If you've still not found the perfect name for your fish, make sure you take a look at some of our other naming guides! We've got plenty of inspiration for you.
References