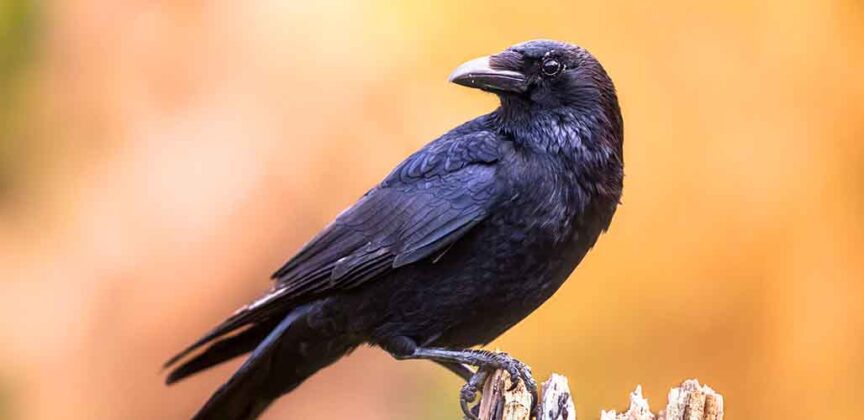 Crow names sound great when they are as intelligent, distinctive and cool as the crows themselves. Although you're unlikely to have a real pet crow, you might well have semi-adopted a local crow. One that visits you regularly, and has got to know you, like a real life bird buddy. Crows' smart nature means they can easily learn their name, so getting them a real good one is a priority. Names that are easiest for creatures to learn are short and snappy, like the selection we share here today.
Contents
In most parts of the world (including the United States), it's illegal to own and capture a crow as a pet. But that doesn't mean you can't own a plush crow alternative. That's a lot safer and less effort to own anyway. The best way to choose the perfect name for your plushie crow is to select one that brings happiness to you (or your child). You should also take into consideration any unique traits of the plushie, such as a white chest or a fluffy body.
Top Crow Names
To help name your plushie crow and match its appearance, below, we have a huge list of names divided into helpful categories: male, female, cute, funny, and more. Discover our top selections, and we promise you won't be stuck for options. If you're in a hurry, we've summarized the top names we just couldn't resist. These include a mixture of female, male, cute, funny, unique, and tough names.
Honey
Magna
Maggie
McFly
Meg
Crown
Johnny
Birdman
Scarecrow
Klutz
Godfeather
Starlet
Murphy
Overcrowded
Romeo
Violet
Daffy
Neo
Diamond
Female Crow Names
Looking for inspiration for a female crow? Here are our top favorites (which includes a selection of pretty and fierce names).
Lily
Roxy
Rachel
Barbara
Linsey
Brenda
Emily
Sophia
Kylie
Magna
Ella
Mai
Maggie
Kim
Julie
Diamond
Ruby
Sophie
Lucy
Louise
Gabbie
Honey
Zoe
Grey
Violet
Samantha
Skye
Ariel
Starlet
Precious
Rose
April
Kate
Sarah
Cristine
Jessie
Christina
Angela
Lauren
Liz
Madam
Justine
Chloe
Lavender
Jade
Kat
Male Crow Names
In need of some male names? Here are our preferred names that we can't wait for you to read.
Johnny
Joe
Craig
Lee
Ralph
Henry
Tyson
Ricky
Charlie
Chase
Arnold
Bowie
Barack
Corbin
Christian
Caesar
Bruce
Hendrix
Hugh
Luther
Alfie
Ronan
Josh
Max
Andrew
Jason
Jack
David
Justin
Brady
Ian
Paul
Peter
Andy
Mick
Neville
Neil
Jerry
Max
Miles
Murphy
Nicholas
Kanye
Kody
Romeo
Chris
Dean
Cliff
Elvis
Rascal
Liam
Alex
Cool Crow Names
There's little cooler than crows, so it's only fair you have an awesome name to accompany that.
Monster
McFly
Daffy
Whisper
Journey
Kobi
Benjie
King
Lex
Lis
Lyric
Zeke
Maddox
Birdman
Clever
Wolfgang
Pilot
Rock
Smith
Slater
Choppy
Shaker
Rhythm
Champion
Turkey
Ari
Habby
Shadow
Lucky
Merlin
Midnight
Big Bird
Cute Crow Names
Prefer to keep your crow's name a little sweeter on the lips and ears? Here are some of the cutest names for your plushie crow.
Meg
Heaven
Cotton
Dash
Hula
Crowy
Plucky
Neo
Mango
Sunny
Pumpkin
Rainy
Screech
Zippy
Chatty
Baldy
Blacky
Kernel
Crowdy
Crown
Butter bee
Snappy
Cookie
Nutmeg
Baby
Teeny
Teeny Tiny
Baby
Bear
Darky
Loa
Alert
Maple
Sweetheart
Princess
Funny Crow Names
Not everything has to be so serious, which is why we have a myriad of hilarious names that'll bring a smile to your face whenever you introduce your pet crow to new guests.
Scarecrow
Klutz
Godfeather
Nuttie
Crown/Crowned
Microwave
Overcrowed
Crowfoot
Wingman
Croaky
Butterbean
Gutsy
Flossie
Unique Names for Crows
Now it's time to really stand out from the crowd with these names that are crowcally unique with a little humor thrown into the mix, too.
Crowcally Awesome
Cawkers
Watcher
Go-Away
Mousey
Mrs/Mr. Crow
Bobo
Browser
Gage
Tweet
Van
Wilder
Wolfe
Katana
Kiwi
Mr. Nat
Couscous
Roo
Kayne Nest
Tough Crow Names
By nature, crows have an intimidating aurora, so we have some of the toughest crow names that are very fitting with this trait.
Destroyer
Hannibal
Hell
Ash
Hawk
Blade
Hunter
Cutthroat
Backed
Lion
Jagger
Blaze
Thor
Arrow
Stone
Black Eyes
Killer
Predator
Claw
Inferno
Crusher
Butch
Bruiser
Devil
Tank
Hulk
Tuffy
Diesel
Beast
Fun Facts About Crows
It's not always legal to own a crow, so ensure that you check before making a purchase. Alternatively, a teddy crow makes an excellent idea if you're unable to have one or want to treat a child to a new pet.
Congratulations on making your way through this list, and we hope you have an abundance of names to choose from (though, you might now be stuck for choice!). Which of the above options stand out to you the most? We'd also love to hear more about your fascination/interest with crows.
Why not share your favorite crow names in the comments!
Other Bird Names Lists
Learn More About Pet Birds
Fischer's lovebirds
Quiet pet birds