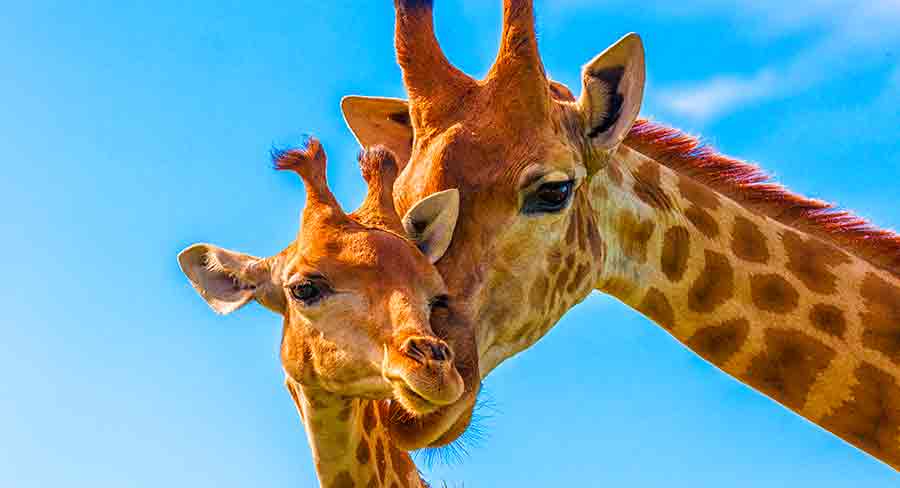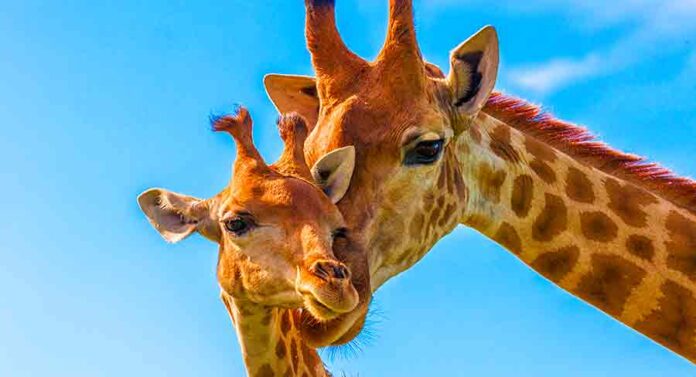 Thinking of the best giraffe names isn't a problem most people will have in their lifetime!
But, whether you're adopting a baby giraffe, naming a cute giraffe toy, or even searching for famous giraffe names, you're in the right place.
The best name ideas don't just need to relate to a giraffe's height! Why not choose a unique and clever name based on a giraffe's interesting pattern, or their country of origin?
Let's start things off by looking at some popular giraffe names from fictional and famous giraffes.
Famous Giraffe Names
Whether you're obsessed with the movie Madagascar or you love the Toys R Us Giraffe, there are plenty of famous name ideas out there.
Here are some popular fictional and famous giraffes and what they're from. Which one is your favorite?
April (Giraffe at the Animal Adventure Park, New York)
Bridget (The Wild)
Geoffrey (Toys R Us)
Georgina (64 Zoo Lane)
Gerald (Giraffes Can't Dance)
Melman (Madagascar)
Nessa (My Big Big Friend)
Nina (Camp Lazlo)
Sophie (Sophie La Giraffe and Friends)
Zarafa (Zarafa: A Giraffe's True Story)
Choosing a name that's already well known won't be for everyone. So, let's take a closer look at some fresh and unique name ideas for male giraffes.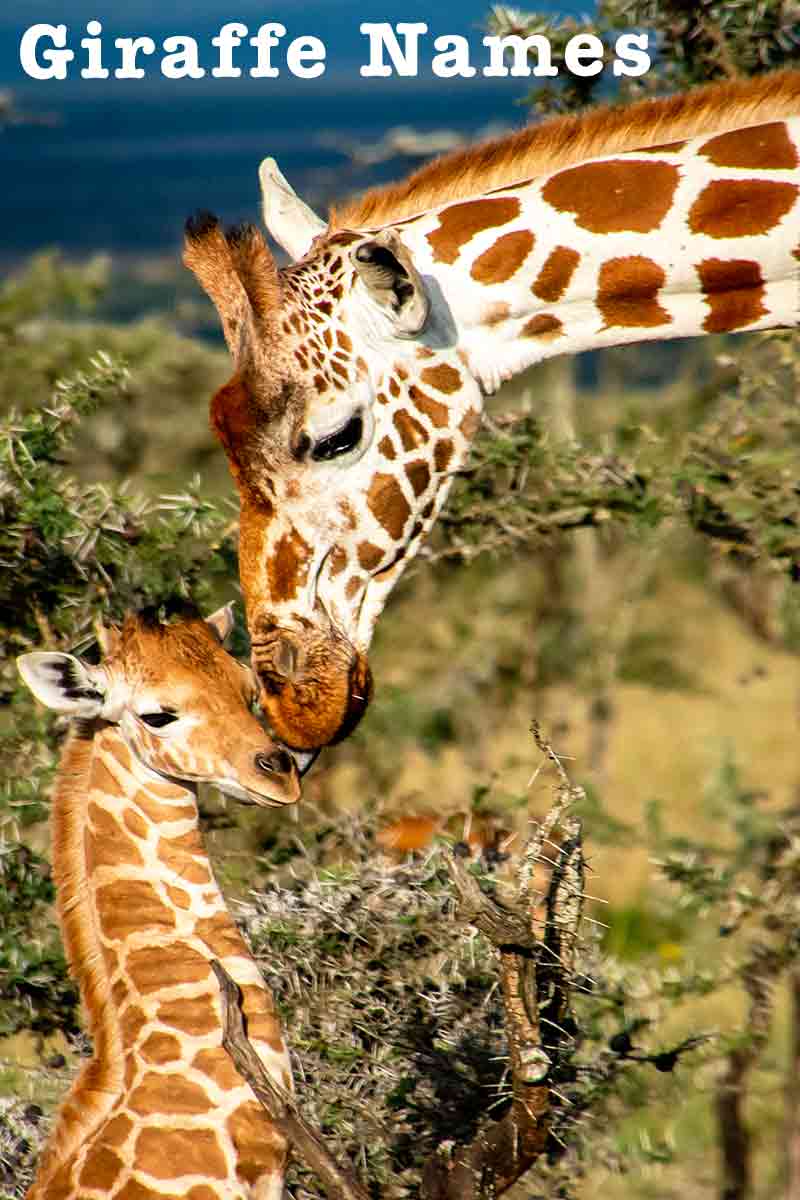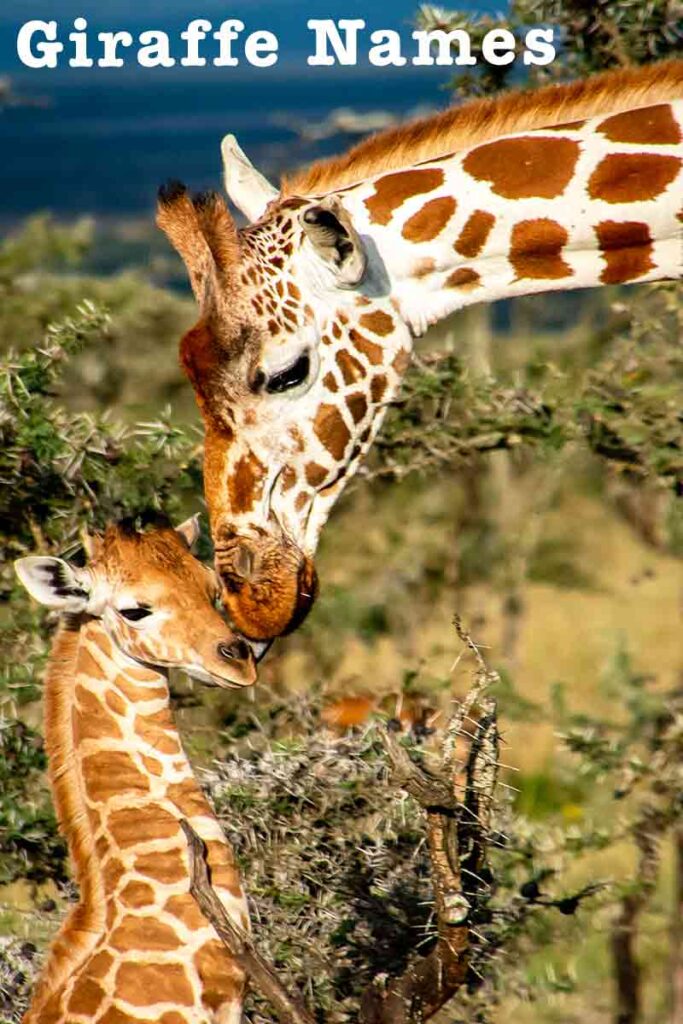 Boy Giraffe Names
Giraffe names boys will love can be masculine, gentlemanly, or even just plain fun. Perhaps your favorite will start with a G.
Or, perhaps one of these will just leap out at you. Here are some of our favorites.
Alex
Andy
Ben
Bruce
Caleb
Curtis
Daniel
Dennis
Ed
Ethan
Finn
Freddie
Gael
Gary
Gavin
George
Gerald
Giovanni
Grant
Grayham
Grayson
Gus
Harry
Harvey
Ian
Igor
James
Justin
Kaleb
Larry
Liam
Matthew
Michael
Noah
Noel
Ollie
Oscar
Pat
Paul
Reece
Ryan
Sam
Saul
Troy
Tyler
Vance
Vinny
Wade
Wyatt
Zeke
Maybe you aren't looking for a boy name at all!
Good Female Giraffe Names
We can't leave the girls out! There are plenty of cute, feminine, and strong female name ideas out there that will suit your giraffe down to a T.
Here are some that we absolutely love.
Abby
Alison
Becca
Boggie
Catherine
Christine
Dana
Demi
Ellie
Eva
Faye
Freya
Gabriella
Gemma
Genevieve
Georgia
Gianna
Ginny
Giselle
Grace
Greta
Guinevere
Gwen
Hattie
Holly
Imogen
Ivana
Joanna
Justine
Katiana
Katie
Lola
Louise
Maggie
Marguerite
Nessa
Noelle
Odette
Opal
Pam
Prue
Raya
Sarah
Savannah
Tessa
Tilly
Willow
Winnie
Yasmine
Zoe
Looking for something a little less serious?
Funny Giraffe Names
Not all of the ideas out there need to be so serious! Names can be a great way to inject a bit of fun into your giraffe's life and personality.
Perhaps you want to poke a bit of fun at their height, using an exaggerated or iconic name. Or, maybe a funny pun!
Here are some funny giraffe names that we love.
Ant
Beanpole
Beanstalk
BFG (Big Friendly Giant)
Big Bird
Bite Size
Chipmunk
Cupcake
Dwarf
Eiffel Tower
Elf
Giant
Goliath
High Tower
Hobbit
Hodor
Imp
Ladder
Lanky
Legs
Lofty
Long John
Model
Micro
Minnie
Moose
Mouse
Munchkin
Peanut
Pez
Pipsqueak
Pippi Longstocking
Pixie
Pylon
Shorty
Skyscraper
Slender Man
Smurf
Stilts
Stretch Armstrong
String Bean
Stumpy
The Mountain
Thumbelina
Tinkerbell
Tot
Tree
Treebeard
Twig
Yoda
Another great way to find awesome name ideas is to look at where our giraffes come from.
African Giraffe Names
Despite seeing giraffes at most zoos, these tall animals are actually native to East Africa and sometimes Southern Africa, living in grasslands.
So, why not choose a beautiful African name for your giraffe, going back to the roots of its origins?
Here are some that we love.
Male African Giraffe Names
Abioye
Adama
Addo
Adisa
Adwin
Amare
Azizi
Babajide
Badru
Beluchi
Bosede
Bwana
Camara
Chaka
Chidike
Dakarai
Domelvo
Edet
Elimu
Emeka
Faraji
Fema
Gabra
Ghedi
Hagos
Hakim
Hanisi
Idi
Imamu
Jafari
Jawara
Jaz
Keyon
Khari
Kofi
Kwame
Mosi
Obasi
Offin
Othieno
Panya
Roble
Selassie
Talib
Teferi
Tewodros
Uchi
Wekesa
Xolani
Zaire
Female African Giraffe Names
Abeba
Aberash
Ada
Ayaan
Bahati
Bayo
Chika
Dalia
Dayo
Deka
Ebere
Efia
Fabayo
Faizah
Hasina
Hibo
Idowu
Ife
Imani
Isoke
Jaha
Jamila
Jina
Kadija
Kambo
Keisha
Kenya
Kibibi
Kulwa
Makena
Malika
Maizah
Mawusi
Naeemah
Nala
Nayo
Neema
Nia
Ngozi
Nomble
Nuru
Ode
Omolara
Onika
Oseye
Pemba
Radhiya
Rashida
Taraji
Zuri
Still haven't found your ideal choice yet? Let's consider something a little sweeter.
Cute Giraffe Names
Giraffes are also adorable. So, why not just choose a name that oozes cuteness? Here are some of our favorite cute ideas.
Angel
Blossom
Bubbles
Bunny
Candy
Cookie
Crumpet
Custard
Dino
Dream
Duck
Eggo
Fairy
Feather
Frodo
Gem
Grapes
Gravy
Happy
Hoopla
Hugo
Iggy
Jewel
Jigsaw
Jolly
Loops
Love
Luna
Magic
Moon
Mustard
Nelly
Noodle
Oddball
Ozzy
Pancake
Petal
Poppy
Prune
Puff
Queenie
Raisin
Ribena
Robo
Rusty
Star
Suki
Tapas
Tootsie
Willow
Cute names won't suit all of our favorite giraffes. How about something cool instead?
Cool Giraffe Names
These options will suit any cool or awesome giraffe. Here are some of our favorites.
Blade
Blender
Casino
Claw
Demon
Drax
Dread
Ember
Exo
Fang
Fender
Flame
Ghost
Gnasher
Guiness
Hera
Indie
Ivy
Joker
Lance
Limoncello
Madness
Marbles
Merlot
Nova
Pepper
Pistol
Poker
Quaker
Quinn
Racer
Rex
Rusty
Savvy
Scale
Shadow
Sniper
Spider
Spike
Tessa
Tex
Trigger
Tyke
Ursula
Vex
Vino
Wanda
Widow
Xena
Zigzag
Which Name is Your Favorite?
Have you found your ideal giraffe names in this guide?
If you can think of any other great ideas to suit giraffes, make sure you leave them in the comments for others to see!
Readers Also Liked
References and Resources