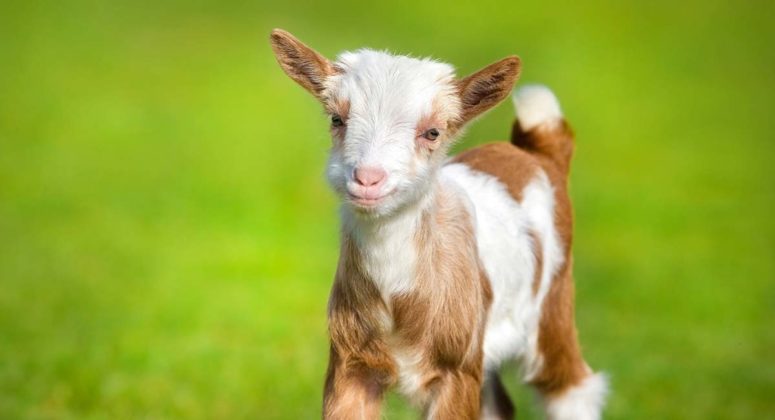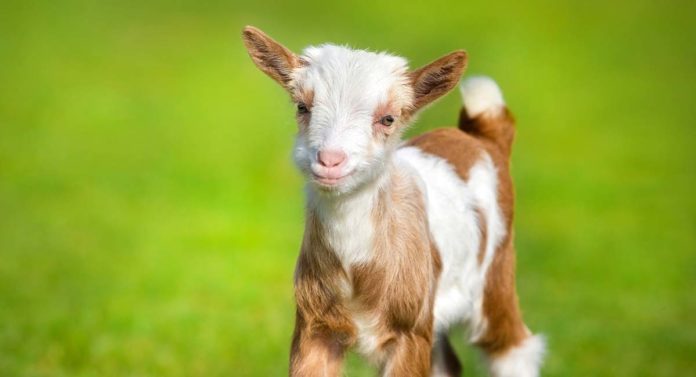 Goat names that fit your pet's personality, looks color and characteristics can be hard to find. You want a name that is as charming, active, silly, happy and sassy as they are, and we can help! Today we'll share hundreds of awesome goat names. Our themed pet name lists will help you narrow down your choices, and our ideas for brainstorming your own creative names for pet goats will help you to come up with some truly unique goat names.
Contents
Whether you are naming baby pet goats, or have an adorable goat plushie that needs a suitably lovable name, we've got you covered. Although they aren't ideal for every lifestyle, goats make great companions, and have really fun and individual characters.
100 Best Goat Names
Choosing goat names is just part of the fun of welcoming your new goat into the family! When you pick the perfect name, it feels like you are already starting to get to know one another and become fast friends. So let's take a look at some great name choices! We've got lots of inspiration, starting with these, our 100 best goat names:
Nanny (Abraham Lincoln's goat)
Nanko (Abraham Lincoln's goat)
Clay Henry (famous beer-drinking goat from the Starlight Saloon)
Whitaker
Tater
Persimmon
Finn
Mellie
Lawson (the most famous of the Goats of Anarchy crew)
Toby
Winchester
Goose
Rigatoni
Poppy
Sweet Pea
Lawson
Jax
Opie
Ansel
Petal
Cora
Nia
Candie
Jenni
Tulip
Gemma
Tori
Minnie
Pippa
Nanny
Lorax
Marina
Delancey
Rorie
Storm's A Comin'
Straight No Chaser
Coral
Dew Drop
Goat-a-bunga
Horton
Black Coffee
Ferdinand
Hemingway
Stanley (Stan)
Fernando
Marvin
Chase
Baxter
Alfie
Charlie
Fred
Pippi Lamb Stocking
Rambling Goat
Not Kid-din'
Happy Meal
On the Lamb
Sundance Kid
Hoof N Holler
Cloudy With a Chance of Hay
Horn of Plenty
Capri-Horn
Hairy Quite Contrary
The Hoofmaster
A Buck & a Half
Goat Home
G.O.A.T.
Little GTO
Dyed in the Wool
Hay Girl
Goat Boy
Twist and Bleat
Pound Cake
Justin Baaaah-ber
Artemis
Silvanus
Agni
Yang Ching
Fan-yin
Shofar
Faunus
Dionysus
Diego
Loki
Chopper
Gunther
Hammerhead
Rawhide
Maverick
Karma
Mojo
Festus
Kahuna
Jalapeno
Majesty
Dave
Babe
Rico
Sybaaala
Cimbeline
Caprica Six
We hope you will consider this article to be your goat names hub as you get to know your new caprine family member by brainstorming goat choices until you discover "the one!"

Female Goat Names
Penny
Lucy
Opal
Blossom
Buttercup
Katy
Daffodil
Callie
Misha
Molly
Blondie
Dolly
Dixie
ZaZa
Sophie
Lady
Goldie
Barbie
April
Chloe
Mae
Suzy
Rosemary
Nina
Mona
Nora
Posie
Daisy
Petunia
Rose
Dahlia
Sabrina
Petunia
Lily
Corrina
Zoe
Emmie
Peggy
Doris
Sandy
Male Goat Names
These male goat names will give you lots of food for thought as you ponder the best choice for your new boy goat.
Clark
Colin
Galahad
Ozzy
Ulysses
Billy
Bernie
Reginald (Reggie)
Nelson
Halsey
Baldwin
Galahad
Bradley
Percival
Nick
Duncan
Peregrine (Perry)
Edwin
Pete
Fitzgerald (Fitz)
Chad
Jeremy
Seamus
Dean
Gaspard
Moses
Gus
Manny
Harry
Montgomery (Monty)
Angus
Stewart (Stewie)
Archie
Bernie
Einstein
Lucas (Luke)
Marshall
Kane
Pierre
Rusty
Cool Idea
Goats are capable of some pretty cool feats. They can climb hills, mountains and even trees! They can also learn commands and tricks. These cool goat names celebrate the new furry cool character in your life!
Winston
Oliver
Charisma
Tuff Enuf
Annie Goat-ley
Diana
Aesop
Heidi
Kid Gloves
Marduk
Aegipan
Renata
Ewe Turn
Graze-aholic
Kid Rock
Petti-goat Junction
Abigail (Abby)
Cherry
The Mad Nanny
Goat Gone Wild
Good Wether
Sun Shower
Glory Ann
Junie Bee
Little Fern
Magda
Horns R Us
Got Your Goat
Go-Goat Dancer
Elsie
Stella
Morrie
Rhubarb
Cherry
Sonnet
Marley
Pedro
Tiger Lily
Jonesy
Bach
Cute Names For Goats
This list of cute goat names gives you lots of options for capturing the particular brand of cuteness that is your pet goat!
Tapioca
Binky
Walnut
Niblet
Button
Nugget
Cutie Patootie
Sparky
Twinkle Star
Pinky
Lucky Charm
Lil Bo Peep
Tom Thumb
Alfalfa
Carrot Top
Nutmeg
Rosebud
Piccolo
Gypsy Goat Lee
Spark Plug
Lambkins
Cupcake
Brownie
Clara Belle
Goaty Cake
Baaaah-nald Trump
Snow White
Nutella
Pippin
Dalai Lamb-a
Sprocket
What the Bleat
Woolly Mammoth
Chief Bogo
Goat-topia
Little Flower
Natural Blonde
Cappuccino
Nuts N Bolts
Marie Antoinette
Funny Goat Names
Blooper
Hoofin It
Murphy's Law
Hill Billy
Billy the Kid
The Goat Father
Goat With No Name
Hot Stuff
Warm Milk
Cow Poke
Scape Goat
Captain Hoof
Baaa Humbug
Butt Heads
Eeyore
Farmer John
Amadeus Goat-zart
Harry Baaaah-tter
Goatye
Bell Wether
My Grain
Auto Baaahn
Tinker Baaaahll
Goats and Soda
Apple a Day
Funky Winker-bleat
Hoof Raiser
Adam Lamb-ert
Socks n Shooos
Milky Way
Driving Miss Daisy
The Incredible Hoof
Blade Hoofer
Wether or Not
Nanny Go Lightly
Just Kidding Around
What the Bleat
Milking Day
Billy Come Lately
Merriwether
Unique Names
Short or tall, big or small, young or old, sassy or sweet, these unique choices can help you find the perfect new name for your new goat. Another great way to come up with more unusual goat names is to pick a random theme that you like, say the countryside or architecture, and brainstorm related words. Picking names from a theme can be a great way to get the family involved in your decision too.
Thistle
Bramble
Clementine
Briar
Almond
Sage
Dewie
Aurora
Mochi
Afra
Capra
Chevre
Feta
Yagi
Aja
Dansdoka
Blacka
Grimma
Glosa
Jael
Terach
Cilicia
Amalthea
Cashmere
Pashmina
Mohair
Kaldi
Zagros
Bacchus
Riley
Theodore
Locket
Mavis
Diedre
Mabdi
Sequoia
Vaquero
Sensei
Tilly
Varra
Tough Goats
There is no doubt that goats are survivors with a history that spans more than 10,000 years. These tough choices strive to capture the essence of a goat's resilience, bravery and smarts.
Ramses
Spunky
Tyrone
Zeus
Thunder
Ranger Rick
Phoenix
Orion
Noah
Pan
Rodeo
Legend
Nikita
Houdini
Duke
Brutus
Apollo
Ripley
Prue
Checotah
Hugo
Goatzilla
Perseus
Hulk
Tarzan
Boris
G.I. Jane
Blaze
Sarge
Caesar
Mack
Bandit
Satyr
Fun Facts About Goats
Goats belong to the same group of mammals, ungulates, that includes both livestock such as cows and sheep and super-smart species like dolphins and elephants. In research studies, goats perform on par with many primates in solving puzzles for food rewards!
There are three main types of goats: dairy, meat and fiber. Most goats happily live alongside people as livestock and as pets. This is even to the point where some say, "Goats are the new dogs." However, they are also remarkably self-sufficient when left to their own devices.