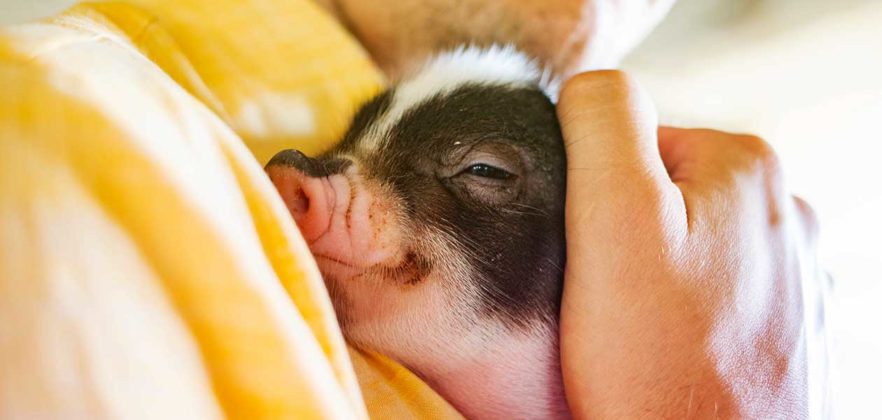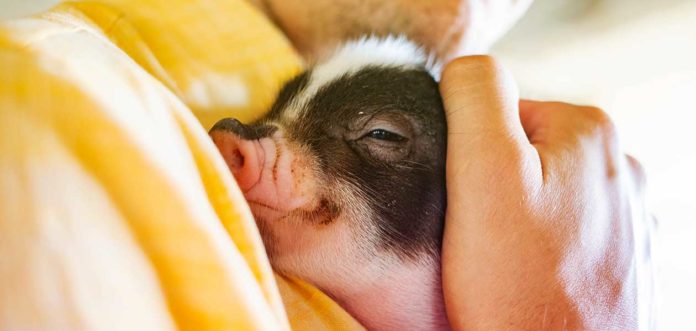 Pig names can be creative, fun, cute, or serious! You can get inspiration from pigs on television or in films, or just look at the world around you for inspiration.
It can be hard to narrow down all of your options to the best ideas, but that's why we're here to help!
Here are some great name ideas for your pet pigs!
Our Favorite Pig Names
Here are some the best pig names for 2020:
| | |
| --- | --- |
| Porkie | Jackson |
| Frank | Polly |
| Squeaks | Snout |
| Curly | Chubbs |
| Pinky | Pop |
| Ellie | Vince |
| Trotter | Gammon |
| Diamond | Libby |
| Henry | Kenny |
| Tubbs | Rio |
| Nelson | Wendy |
| Quentin | Jack |
| Ricky | Pam |
| Ian | Abbey |
| Boo | Gnasher |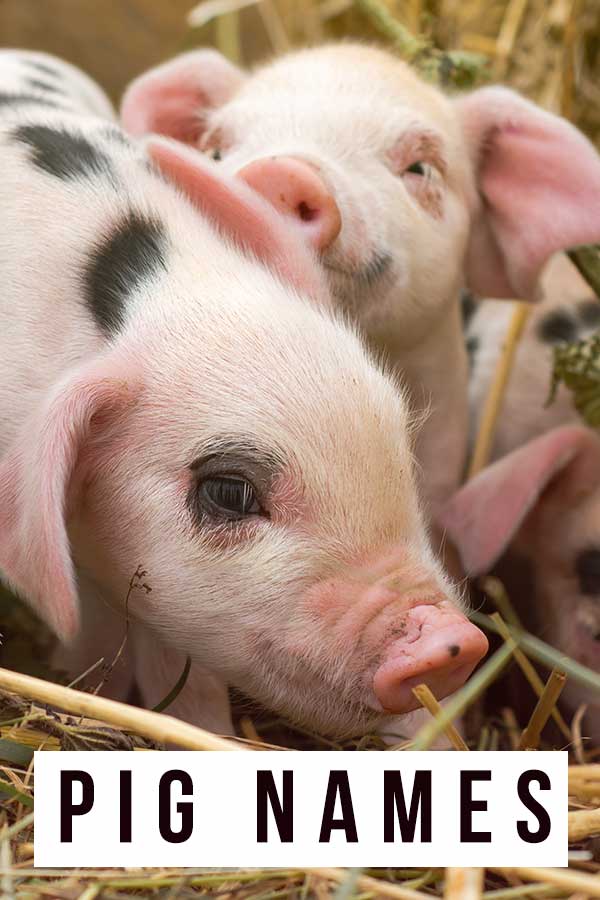 Naming Your Pig
Pigs are great animals to keep on farms, or even as pets! They aren't as messy as lots of people think, and they're intelligent animals.
These are some qualities you might want to express when you're choosing your pig's name.
So, we've split our ideas into categories to make things easier for you. Click the links below if you want to jump straight to a section!
Let's get started by looking at some adorable pet pig names.
Cute Pig Names
Pigs can actually make really cute pets. So, it's fitting that they have an adorable name to match! Here are our 30 favorites.
Princess
Petal
Barney
Bella
Prince
Meadow
Daisy
Monet
Buttons
Paisley
Doc
Pinot
Coco
Radish
Olive
Silas
Petal
Pixie
Stitch
Tank
Willow
Pearl
Tinkerbell
Annie
Sunny
Diva
Portia
Sky
Lady
Famous Inspiration
Whether you're looking for the Moana pig name, or the Charlotte's Web pig name, there are so many piggies in the media to get your inspiration from! Here are some we love:
Pua (Moana)
Wilbur (Charlotte's Web)
Peppa (Peppa Pig)
George (Peppa Pig)
Piglet (Winnie the Pooh)
Miss Piggy (The Muppets)
Plopper (The Simpsons Movie)
Hamm (Toy Story)
Leonard (The Angry Birds Movie)
Porky (The Looney Tunes)
Pumbaa (The Lion King)
Rosita (Sing)
Tattoo (The Secret Life of Pets)
Babe (Babe)
Waddles (Gravity Falls)
Runt of the Litter (Chicken Little)
Snowball (Animal Farm)
Napoleon (Animal Farm)
Old Major (Animal Farm)
Bebop (Teenage Mutant Ninja Turtles)
Cornfed (Duckman)
Dumpling (101 Dalmatians)
Fluffy (South Park)
Dobson (Ice Age)
Hamton J. Pig (Tiny Toon Adventures)
Huxley (Huxley Pig)
Mervis (Catdog)
Nago (Princess Mononoke)
Pansy Pig (Henry's Cat)
Female Pig Names
Girl pig names can be a great way to show off the feminine side of your pet. Let's take a look at our favorite ideas.
Jenny
Isla
Mia
Ava
Sophia
Grace
Evie
Isabella
Freya
Ivy
Jessica
Harper
Rosie
Elsie
Sienna
Arya
Ruby
Esme
Matilda
Millie
Layla
Chloe
Maisy
Erin
Kelly
Imogen
Rachel
Becca
Maya
Male Pig Names
Boy pig names can also be cute! Or they can be masculine. Choose your favorite options from the list below:
Oliver
Noah
George
Alfie
Leo
Jacob
Freddie
Arthur
Logan
Josh
Max
Ethan
Isaac
Mason
Riley
Harrison
Teddy
Tyler
Joseph
Arty
Jayden
Arlo
Reggie
Lewis
Rory
Reuben
Luca
Bobby
Carter
Funny Pig Names
Perhaps you don't want something so serious! We've got a load of funny ideas that could make the perfect new title for your pet pig:
Elvis Pigsley
Hogwarts
Hamlet
Francis Bacon
Piggie Smalls
Albert Einswine
Harry Trotter
Ham Solo
Hamilton
Chewbacon
Porkeypine
Kevin Bacon
Oinksalot
Amy Swinehouse
Tommy Hillpigger
Hammibal Lector
Jimi Hamdrix
Snoop Hogg
Pigtails
Hogsmead
Lindsey Loham
Piggy Azalea
Pjork
Porkahontas
Arnold Porkzenegger
Pigasso
Jennifer Lopig
Hogzilla
Frankenswine
Unique Pig Names
Maybe you want something that helps your piggie stand out from the crowd! Here are our favorite unique ideas:
Scratching
Melon
Oinks
Mud
Bubbles
Opal
Jewel
Addison
Pebbles
Star
Kiss
Wrinkle
Bacon
Cuddles
Snorter
Belle
Vax
Rose
Chorizo
Vanity
Blue
Lolly
Icicle
Crafty
Snout
Dart
Jig
Pancetta
Wish
Cool Pig Names
Cool names are another great way of making sure that everyone knows how awesome your pet piggies are!
Rocket
Dasher
Spike
Runner
DJ
Ozzy
Skater
Bolt
Alpha
Saber
Vader
Jedi
Knight
King
Warrier
Titus
Flare
Bandit
Storm
Tricks
Ripper
Cobra
Shadow
Apollo
Pistol
Solo
Kong
Vice
Bentley
Pink Pig Names
One of the most common pig colors is pink. So, you might want your piggy's name to show off their beautiful shade of pink:
Bubblegum
Fuchshia
Flamingo
Salmon
Rouge
Peach
Coral
Magenta
Cherry
Carnation
Strawberry
Blush
Mauve
Orchid
Cotton Candy
Tango
Lavender
Grape
Raspberry
Wine
Watermelon
Taffy
Lemonade
Lips
Flower
Bud
Sprinkles
Jellybean
Sherbert
Black Pig Names
Another common color for pigs is black! So take a look at some of our favorite ideas for darker piggies!
Ebony
Midnight
Ink
Raven
Crow
Charcoal
Olive
Onyx
Noir
Sable
Obsidian
Sooty
Pitch
Tar
Petrol
Diesel
Fuel
Spider
Jade
Jet
Lead
Iron
Shadow
Ash
Anchor
Pewter
Slate
Smoke
Flint
Farm Pig Names
Farm pigs will often grow to over 200 pounds as adults. So, they could have a big name to show off their massive size!
Mammoth
Goliath
Hulk
Thor
Giant
Bruce
Colossus
Clifford
Terminator
Reptar
BFG
Balrog
Smaug
King Kong
Hagrid
Thanos
Godzilla
Beast
Drogon
Kraken
Ogre
Dino
Bear
Hercules
Maximus
Attila
Moose
Caesar
Sampson
Micro Pig Names
Not everybody has huge pigs. In fact, micro pigs have been popular pets recently! So let's take a look at some size-inspired names for these tiny piggies.
Minnie
Micra
Nano
Atom
Ion
Tinker
Chico
Bambi
Scamp
Cub
Bean
Skittles
Tic Tac
Pickle
Pippin
Twiglet
Bitsy
Gnat
Neutron
Smudge
Pip
Bonbon
Shrimp
Ladybug
Midge
Raisin
Shorty
Teeny
Beans
Squash
Good Pig Names
It can be hard to narrow down your favorite options when naming your new piggy. So, have a look through our lists and try to choose a few that you love!
Then, you can try them out on your pig to see what fits.
Maybe he'll react to an extra special name, or perhaps you'll read one and just know!
More Pig Name Options
If you didn't manage to find your perfect choice here, we have plenty of other guides that can help you choose! Here are even more options for you:
Best Pig Names
We've looked at over 350 ideas here, so hopefully you found a name that you love!
What's your pig called? We'd love to hear the story of how you chose their name!
Let us know your favorite ideas in the comments below!