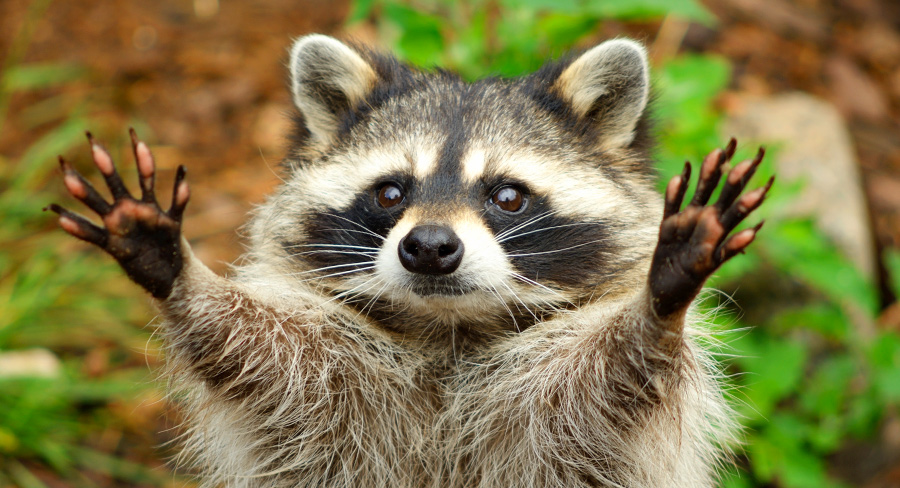 Raccoon names aren't something that everyone will have to think of in their lives. Whether you're trying to name a new stuffed toy, a character you've created, or a real life pet raccoon, you'll want a name that matches their mischievous and lovable personality! And something that's pretty unique. Cause, after all, a pet raccoon is going to stand out a little more than the standard dog or cat, right?
We've gathered some of the best raccoon names out there to help you narrow down your favorites. And, what better way to start than with our favorite 25 options?
Best Raccoon Names
Here are 25 raccoon names we love.
Bandit
Beau
Bolt
Brandy
Dash
Diego
Drummond
Flint
Fuzzy
Gizmo
Jester
Merry
Mickey
Pablo
Pippin
Rascal
Robber
Rocket
Scamp
Shadow
Spud
Trouble
Whiskers
Willow
Ziggy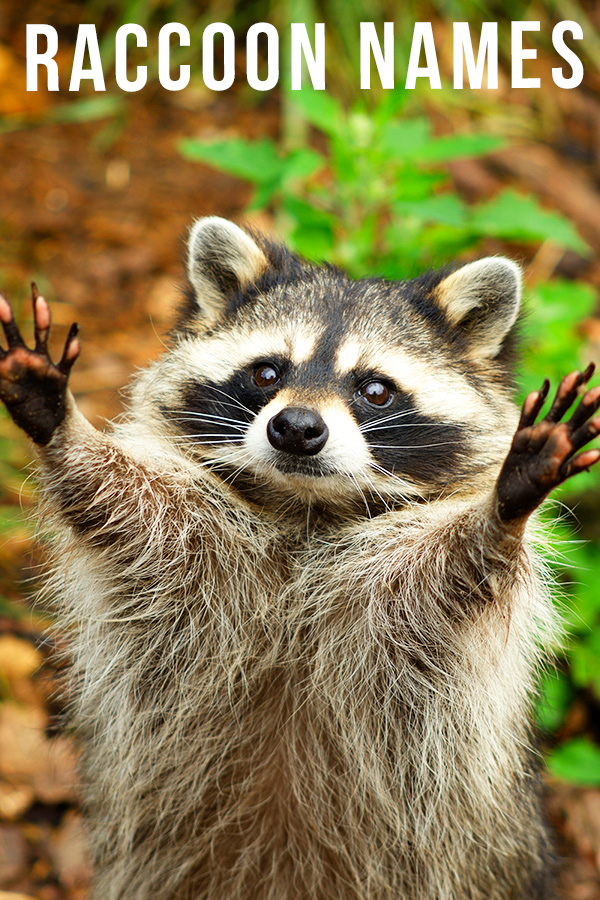 Good Pet Raccoon Names
A pet raccoon is pretty unusual. And not actually legal in all parts of the world – so make sure you check local laws before bringing one home. But, if a pet raccoon lives in your home, they need a suitably unusual name! Whether you're taking inspiration from their dark, furry coats, their cheeky personalities, or their wild natures, here are some names you might love.
Bear
Boo
Bushy
Buster
Cooper
Digger
Foxy
Furby
Greedy
Indiana
Lightning
Loopy
Magpie
Marbles
Midnight
Monty
Ninja
Oreo
Prowler
Rebel
Smokey
Teddy
Thea
Trickster
Tucker
Cute Raccoon Names
Raccoons aren't just popular because they're mischievous, cheeky, and funny. They're also adorable! So, how about some names that just make you smile? Here are some cute ideas.
Adora
Barnaby
Biscuit
Boba
Buddy
Buttons
Clemantine
Cuddles
Cutiepie
Dolly
Ducky
Dumpling
Lemon
Libby
Lucky
Mochi
Moose
Peaches
Petal
Pickles
Pumpkin
Squish
Titch
Waffles
Zippy
Famous Raccoon Names
Have you found yourself wondering what the raccoon in Pocahontas is called? Or what the raccoon in Guardians of the Galaxy is called? Well wonder no more! Here are some famous raccoon names and the shows or films they're from!
Abe (Urban Vermin)
Bert (The Raccoons)
Bright Heart Raccoon (Care Bears)
Constable Raccoon (Franklin)
Don (Regular Show)
Joey (Dr. Dolittle 2)
Ken (Urban Vermin)
Lifty (Happy Tree Friends)
Marine the Raccoon (Sonic Rush Adventures)
Maynard (Paw Patrol)
Meeko (Pocahontas)
Pinch (PB&J Otter)
Raccoon (The Nut Job)
Randolph (64 Zoo Lane)
Ranger Rick (National Wildlife Federation)
RJ (Over the Hedge)
Rick Raccoon (Shirt Tales)
Rigby (Regular Show)
Rocket (Guardians of the Galaxy)
Rory the Raccoon (Linus the Lionhearted)
Roy (Talking Tom and Friends)
Ruddiger (Tangled: The Series)
Scootch (PB&J Otter)
Shifty (Happy Tree Friends)
Timothy (Timothy Goes to School)
Funny Raccoon Names
Want a hilarious name to show off the funny personality of your raccoon? Here are some ideas you might like.
Bandit
Batman
Dustbin
Garbage
Gene Simmons
Goblin
Goth
Hangover
Hoover
Hungry
Kohls
Low Saturation
Magpie
Masked Singer
Not a Dog
Rabies
Robber
Rocky
Stinky
Thief
Tom Nook
Trash Panda
Treasure Cat
Tycoon
Wastebin
Unique Raccoon Names
If you still haven't found your ideal name choice, how about some ideas that are totally random? Here are some that you might not have heard before.
Aja
Arnold
Arrow
Baggins
Bambi
Cinder
Denali
Dino
Floss
Galaxy
Grogu
Imogen
Kibble
Kiwi
Koby
Lionel
Oscar
Penny
Pins
Reese
Ritz
Spanner
Tails
Treasure
Warden
Which One is Your Favorite?
Have you managed to find your perfect raccoon name in this guide? If you've managed to think of any great ideas we missed off this list, add them to the comments!
Related Articles